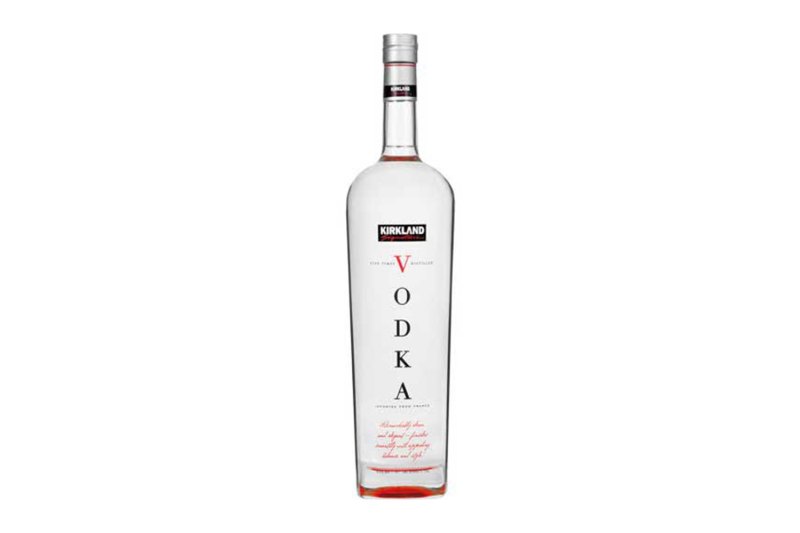 Drinkers who aren't fans of clear, un-aged spirits often have preconceived notions about vodka. They might assume that all vodkas are harsh and taste like ethanol and other awful ingredients. They possibly believe that all vodkas taste more like they belong as fuel for your lawnmower than a delicate sipper. While there are nuanced, flavorful, sweet, mellow vodkas on the market to make you change your mind, some recent batches of Costco's Kirkland Signature American Vodka didn't fit that bill, and now people want their money back.
Generally, the Kirkland liquor brand is highly beloved by alcohol drinkers because of its low price and (usually) high quality. Its single malt Scotch comes from Alexander Murray, a well-known independent bottler in Scotland. Some believe its rum comes from the popular St. Croix distillery Cruzan. Its Kirkland Signature American Vodka (until recently) was so popular that people surmised that it was actually made by one of the big, famous brands like Grey Goose or Tito's (it's only listed as being produced by the LeVecke Corp. in Mira Loma, California).
But drinkers definitely don't believe that it comes from one of the highly-rated global brands anymore. That vodka-soaked ship has sailed. Maybe they changed the producer, maybe it was a bad batch, but drinkers are not happy with Kirkland Vodka, and they are taking to Reddit to complain about the awful aroma and even worse flavor.
What happened to Kirkland-brand vodka?
In a notice that someone posted on Reddit, Costco announced, "It has come to our attention that the taste profile of units marked with certain lot codes may not have met the expected profile normally consistent with this product." They added that it isn't a food safety issue and won't make you sick, but that the vodka simply "does not meet our quality expectations." Luckily, if you happened to buy a bottle of this unpalatable potable between June 12th and August 10th, you can get a full refund of your purchase.
We were glad to see that the company realized something was wrong with these batches and did the right thing by offering refunds to anyone who purchased a bottle. (Even if you managed to choke down half the bottle, go in and return it. Spend your hard-earned money on one of its other spirits instead.)
Costco didn't reveal what exactly was wrong with the vodka, but the fact that they identified particular lot codes makes us think — and hope — that this was a one-time issue and we can soon go back to drinking our beloved Grey Goose-esque Kirkland vodka. But until Reddit alerts us to that fact, maybe try one of Kirkland's other spirits instead — there have been no complaints about them.
Sadly, things like this don't help change the minds of the "vodka is harsh and terrible" crowd. Thanks a lot, Costco.
Editors' Recommendations