Just because summer is almost over doesn't mean that it still isn't hot as hell outside. The thought of spending a long time in front of a heat-spewing cooking element is not yet appealing (though, we will heartily welcome it come December when it never seems the heat in our apartments actually works).
Instead, we still want to spend time outside, drinking beer and generally enjoying life. With great beer comes great responsibility to eat, though, so if you're planning on doing the whole day-drinking thing, it's good to be prepared.
That's when we came across this shrimp and noodle dish served cold. While it does take some cooking, you'll only be spending about 20 minutes prepping, which can easily be done before the heat of the day starts, leaving you plenty of time to do the above.
This recipe comes to us from chef Simone Tong of Little Tong in New York City. The restaurant specializes in dishes with mixian noodles, a type of rice noodle that hails from the Yunnan province in China. The noodles are unique due to a fermentation process that happens during the production.
(Note: 1 gram is equal to .03 oz, making 10 g equal to .35 oz, so you'll just need to multiply from there.)
Banna Shrimp Recipe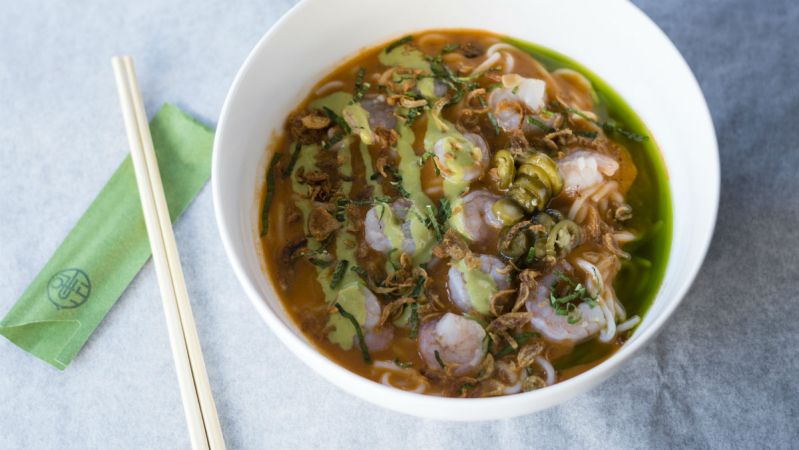 Ingredients:
Shrimp*
1 cup banna sauce**
2 tbsp green herb sauce***
1 tsp pickled Serrano peppers
Rice noodles****
Handful of fried shallots
Mint leaves
Pinch of smoked salt
Method:
To plate, place rice noodles in a bowl.
Add in shrimp, 1 cup of banna sauce, 2 tablespoons of green herb sauce, a sprinkle of fried shallots, several mint leaves, a teaspoon of pickled Serrano peppers, and a pinch of smoked salt.
Shrimp*
Ingredients:
65 g (around 2.3 oz) shrimp, deveined and peeled
Lemon zest
Lime zest
Method:
Place in 5 percent salt brine for 5 minutes.
Boil water and drop shrimp in for 1 minute until just cooked.
Dress shrimp with lime and lemon zest.
Banna Sauce**
(Yields 20 portions)
Ingredients:
3 whole Spanish onions, diced large
1 cup canola oil
4000 g water
500 g lemongrass
430 g smoked tomato paste (smoked with alder wood chips)
100 g crab paste
100 g garlic oil (house made)
70 g fresh ginger
50 g garlic
30 g fish sauce (Red Boat brand preferred)
30 g salt
20 g sugar
5 g bonito flake
Method:
Warm oil in pan.
Sauté all ingredients (except water) till fragrant.
Add seasoning (salt and sugar),and keep stirring to prevent burning.
After 10 minutes, add water, bring to boil, and reduce to simmer for another 10 minutes.
Cool for 5 minutes then blend it in blender (like a Vitaprep). Strain through a fine mesh strainer or chinois. Serve cold.
Green Herb Sauce***
Ingredients:
1 13 oz can of coconut milk
8 g of mint leaves
8 g of Thai basil
8 g of cilantro
4 g of salt
3 g of sugar
Juice of 1 lemon
Method:
Bring coconut milk to boil.
Add in all the herbs and simmer for 2 minutes.
Add in salt and sugar.
Blend in a blender (like a Vitaprep) with lemon juice.
Chill and serve cold.
Rice Noodles****
Ingredients:
1 package rice noodles (mixian noodles, ideally, and fresh if possible)
Method:
Boil water.
Drop noodles into the water and stir for 10 seconds.
Boil for 7 minutes.
Strain and rinse with cold water.
Editors' Recommendations