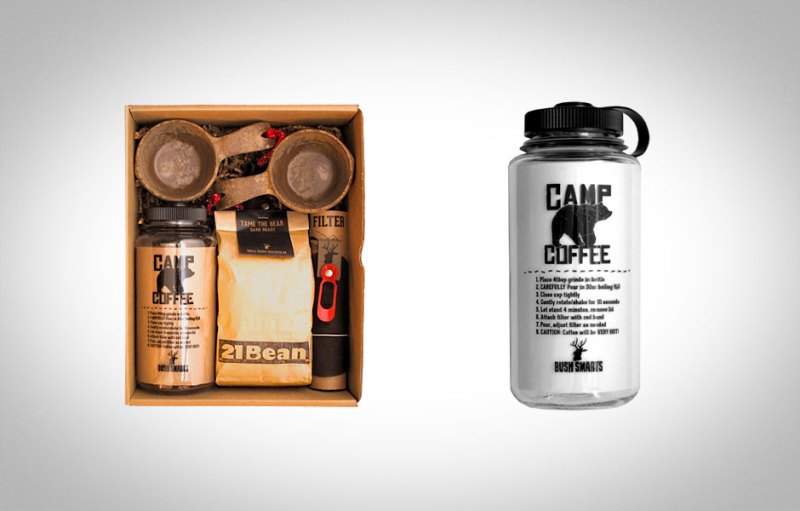 We recently stumbled upon this website called Bush Smarts, which is basically full of really cool small-batch, hand-crafted gear for folks who like to do outdoorsy rugged stuff, like woodsman suspenders, pack axes, and bear stars . One handy item we discovered on their website recently is their Camp Coffee Kit, which has everything you need to start your day right when you're out there in the wilderness sleeping with the bears and the trees underneath the stars.
That includes two Kuska cups, one BPA-free bottle, 12 ounces of coffee from Guatemala, and the secret weapon: "a feather light mesh filter that brews superb coffee without a bunch of bells and whistles or moving parts." Cowboy brewing inspired the folks at Bush Smart, except instead of using a bandana like the cowboys do, you use that mesh filter. Simply heat your water, put the grinds in the water bottle, then pour that piping hot water into it, let it steep, then secure the mesh filter to the top. Once it's steeped long enough, pour that freshly brewed coffee into the Kuska cups, and there you have it — coffee for two.
In case you're wondering what a Kuska cup is, here's Bush Smarts's explanation: "It has the traditional shape of a wooden cup from the Scandinavian Arctic, but is made from eco-safe resin that is incredibly durable and lightweight and doesn't absorb flavors. Another update is a hi-viz reflective cord for keeping track of your nightcap around camp."
This handy vessel will surely get more use out of it than the coffee mugs we keep in our kitchen. So next time you plan on going camping, bring the Bush Smarts Camp Coffee Kit with you; so you can get up bright and early with that dose of caffeine that will give you the energy to hike, hunt or hang out with your friends.
Bush Smarts Camp Coffee Kit, $89 at bushsmarts.com.
Editors' Recommendations