The Hangover Cure Burger (we'll give you the recipe in a minute, just hold on) is a patty developed by the masterminds at Denver's Ignite— a recently renovated eatery located in the Coors Field Ballpark neighborhood. (Go Rockies!)
Recently renovated to subdue some of its intense industrial energy with warmer, historical notes including brass, capiz chandeliers, and whitewashed brick, the hungover crowd that flocks to Ignite for its Hangover Cure (and other burgers, which the spot is notorious for) is now met with an atmosphere that helps them recover (or at least not feel so bad about wanting to put their elbows on the countertops).
Although during the day and evening Ingnite serves a range of upscale plates (i.e. tuna poke bowl, wood roasted Brussel sprouts, and burgers with bourbon-bacon jam), it's the breakfast menu that holds the real gold: a cure for the craptastic hangover you've garnered yourself.
And since we at The Manual fully understand that one, hangovers happen, and two, the right hangover meal is a make or break, we got Ignite's recipe for its "Hangover Cure," for you to recreate at home. (Lucky the making of this burger doesn't involve any bougie cooking methods, so you should be able to manage with the Irish flu.)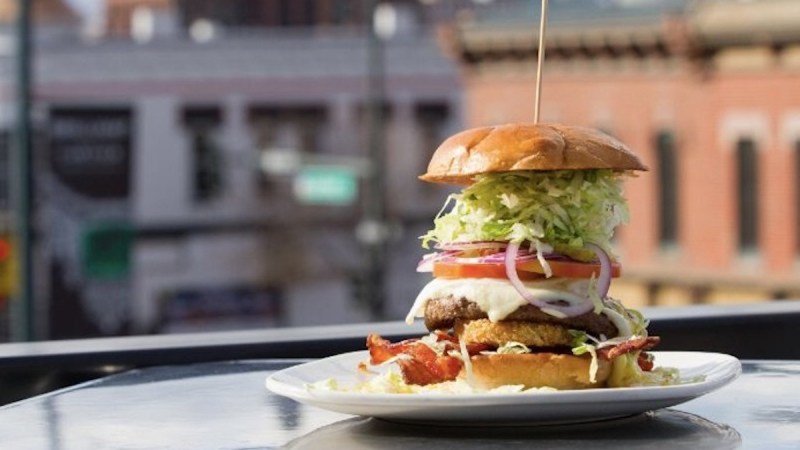 Here's what you need: (good for 1 burger)
1 Sesame Seed Bun
1, 8-Ounce Burger Patty
3 Ounces Hash Browns or Hash Brown Patty
2 Pieces Apple smoked Bacon
2 Slices American cheese Slices
1 Whole Egg
2 Leaves Green Leaf Lettuce
2 Tomato Slices
4 Pickle Slices
Salt
Pepper
1 Tablespoon Butter
Here's what you do:
Season hash browns with salt and pepper and cook in a non-stick skillet with ½ the butter, until golden brown and crispy.
Season burger patty with salt, pepper and cook burger patty on grill or griddle to desired temperature.
Add cheese to patty and allow it to melt.
Cook bacon while burger patty is cooking.
Toast sesame bun to golden brown.
Heat a non-stick skillet on medium high heat and add remaining butter.
Once butter has melted add egg and season with salt, pepper, cook egg to over easy.
Build burger as follows: Bottom bun, lettuce, bacon, patty, cheese, hash brown, egg, tomato, pickles, and top bun.
Enjoy with a refreshing Strawberry-Basil Lemonade or keep the ball rolling with a Spicy Bloody Mary or Mexico 70.
… you're welcome.
Photos courtesy Ignite
Editors' Recommendations