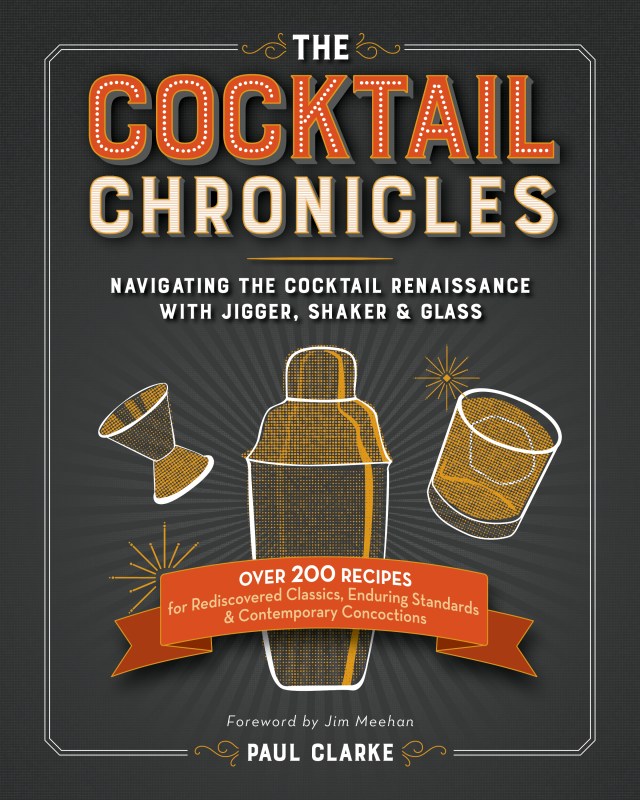 Paul Clarke is the Executive Editor of Imbibe Magazine and the author of the new book The Cocktail Chronicles (Spring House Press). The Manual sat down with Clarke to talk cocktails past, present, and future.
Can you tell me how this book came about?
I saw a milestone coming up both for myself and for the Cocktail Renaissance. Personally, I was approaching my tenth anniversary of writing about this professionally and personally through my blog (Cocktail Chronicles), which I launched in 2005. I was looking ahead to that milestone and looking back at the work I'd done over the course of the decade and I realized that I was fortunate in that I was getting into writing about cocktails when they were really starting to make a comeback. Pegu Club, which is one of those hallmark bars of the Cocktail Renaissance, is also celebrating its tenth anniversary this year. A lot of things started to seem connected and I felt it was important to take a snapshot of how far we've come and record that for people just getting into cocktails.
In the book there are four main sections, how or why did you decide to do it in such a way?
After I talked to my publisher about doing this, I went through my archives from the past ten years to see what I had and how it breaks down. What did I want to come back to and what did I want to discard? The themes seemed to be: What are the drinks we've rediscovered during this cocktail phenomenon, what are the drinks that have come out of the phenomenon, and what are the cocktails that have provided a framework for creativity and interpretation.
Related: Dropping White Isn't Only For Fashion: Check Out These 5 Brown Liquor Drinks For After Labor Day
Which cocktails speak to you the most? How do you go about drinking?
The book is an example of how I go about drinking. One of the clear lines that presented itself early on was, "How complicated do I want to get?" If you look at a lot of contemporary cocktail manuals you'll see recipes for house-made bitters or complicated syrups or shrubs, and those things are fantastic—they're lots of fun, don't get me wrong—but in selecting the cocktails for this book I thought about what cocktails I'd actually make and enjoy making and going back to. Typically those are the simpler, more straightforward drinks that typically follow a classic format that you can recognize in books like David Embury's Fine Art of Mixing Drinks, which first came out in the forties. I didn't put anything in the book that I didn't want to drink myself.
Are there any cocktails in the book that stuck out to you while doing research as drinks that you may have been wrong about or had new revelations about?
When I first put together the list of classics for the book, I put the Blood and Sand in there and I honestly had stopped having the Blood and Sand—my enthusiasm for the drink had faded years ago—and I came to think that, "You know, this really isn't a good drink," and people were in agreement with me. I was about to strike it from the list and went online and engaged in some social media research through Facebook about the Blood and Sand to see who actually likes the drink and could speak to why I should reconsider. Some of the feedback I received was eye-opening—people looking at it and tweaking it in different ways to make it much more approachable and much more exciting. In the end I kept it and added some of those different approaches to make it a little more exciting.
What trends did you see in the cocktails you researched and where do you see cocktails going?
It's been interesting looking at cocktails over the past ten years and the avenues that we follow over time. There was a point maybe five or six years ago when the Manhattan and descendants of the Manhattan were really the things you saw in cocktail bars—they're brown, bitter, and stirred. They're white hot and bartenders were really showing off to each other and showing off to their regular guests, but then at a certain point they realized that those are all really strong drinks and they're really not made for spending a night out on the town. They're strong, not for beginners—really for cocktail nerds. So maybe we should start playing with other directions.
One of the trends that's happened more recently is moving towards refreshment and fun. We're starting to see more bright and citrusy drinks. There's also more drinks built around wines or aperitifs like the Sherry Cobbler or vermouth-centric bars. That's fantastic because they're complexly-flavored, very interesting drinks, but they're also approachable. Newcomers can get around them, people who don't drink much can get around them and you can build an afternoon around them.
Blood and Sand (from The Cocktail Chronicles)
1 oz. blended Scotch Whisky
1 oz. orange juice
.75 oz sweet vermouth
.75 oz Cherry Heering
Method: Shake ingredients with ice to chill; strain into chilled cocktail glass. Garnish with a cherry.
Editors' Recommendations