We're slowly emerging from the long winter chill here in the Northern Hemisphere. That means it's just about time to head outdoors. The only thing better than getting outdoors is drinking outdoors, both of which are made better still with the help of a great view. So, let's check out five of the world's best rooftop bars.
Sky Bar (Bangkok)
Let's start from the top, literally. Situated on the 64th floor of Bangkok's Lebua at State Tower Hotel, the legendary Sky Bar is suspended on a panoramic precipice at an elevation of 820 feet. That makes it one of the highest open-air bars in the world. Grab one of the bar's popular ice poptails to cool off amid the city's notorious summer heat. The shimmering, nightclub-esque bar boasts neon, color-changing LED backlighting and was featured in The Hangover Part II. So, drinking there practically makes you famous.
Order this: Bartenders created a custom drink, the Hangovertini, specifically for the cast during filming, and it's since become one of their signature drinks.
O2 Lounge at The Ritz-Carlton (Moscow)
While it lacks the vertigo-inducing elevation of Sky Bar, O2 Lounge more than makes up for it with incredible views. This swanky rooftop bar on the 12th floor of Moscow's Ritz-Carlton hotel offers some of the best views of St. Basil's Cathedral and Red Square. It's backed by a menu that's equally as luxurious, including caviar, sushi, and seafood. The mostly Russian-inspired cocktails are crafted with gourmet house-made ingredients like truffle tinctures and gin-infused tea.
Order this: Our go-to drink? A Moscow Mule, of course — among the best we've ever had.
Sevva (Hong Kong)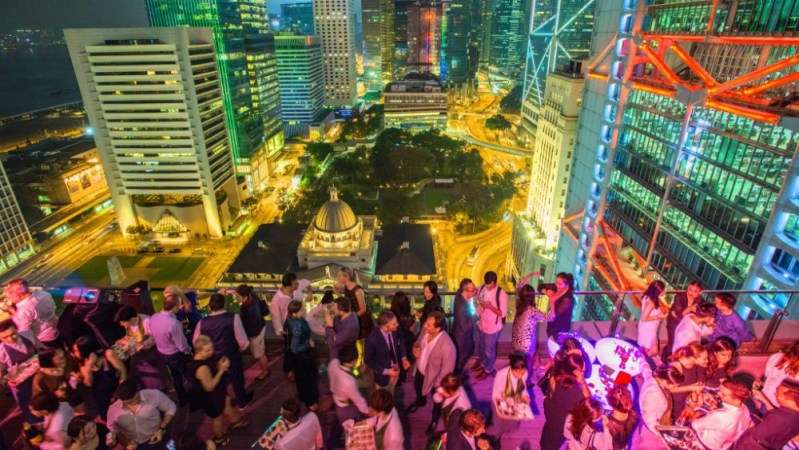 Even amid Hong Kong's chic rooftop nightlife scene, Sevva (like "savor") stands out. Inside, a lush, vertical garden wall, a glass-heavy foyer, and a gourmet cake shop (yes, really) all set the stage for a one-of-a-kind bar scene. However, it's the outside terrace that's the real showstopper and why locals line up to get in every night of the week. The 360-degree balcony offers stunning, panoramic views of the city's skyline including the harbor, the Bank of China Tower, and the Hong Kong Observation Wheel from a distance. It's also the ideal spot to take in A Symphony of Lights, a massive urban sound and light display which Guinness recognizes as the world's largest.
Order this: A Cucumber Starfruit Martini, if only because … where the hell else can you order a Cucumber Starfruit Martini?
Mama Shelter (Los Angeles)
We like Mama Shelter Los Angeles for what it isn't. The relaxed, accessible atmosphere leans heavily on a bright, bold, playful design that feels more like a friend's comfortable outdoor patio than a too-cool-for-the-room urban rooftop bar. It's the antidote to most every other trendy L.A. "hotspot" bar. The panoramic rooftop space includes an outdoor yoga area, regular movie screenings, and a game room, all overlooking the Pacific Ocean and the Hollywood sign.
Order this: It may or may not still be on the menu, but the bartenders will happily mix you an After Hours (Four Roses bourbon and Prosecco with strawberry, lemon, and saffron).
The Culpeper (London)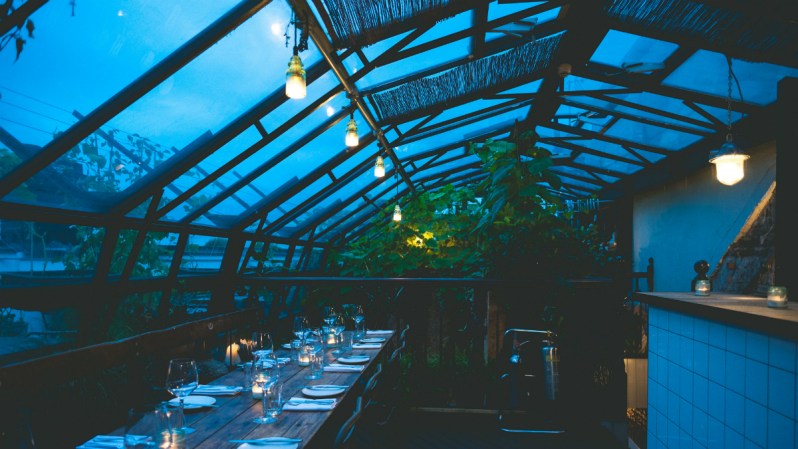 The Culpeper is perfectly, exquisitely London. It's charming and upscale with an understated sophistication. In their own words, it's "a pub, the way we think a pub should be." The fourth-floor rooftop bar is situated in a rustic, beautifully designed greenhouse that features a large, raw wood dining table and a wood-fired grill. The limited seating provides a sense of intimacy and the distinct sense that you're imbibing somewhere quite special. On the outside terrace, the bar hosts regular cocktail workshops, skyline-sketching sessions, and even astronomy talks.
Order this: Bespoke, botanical cocktails are their specialty. Spring for a Lemon-Thyme Ambrosia, a unique blend of brandy, Prosecco, and calvados.
Editors' Recommendations