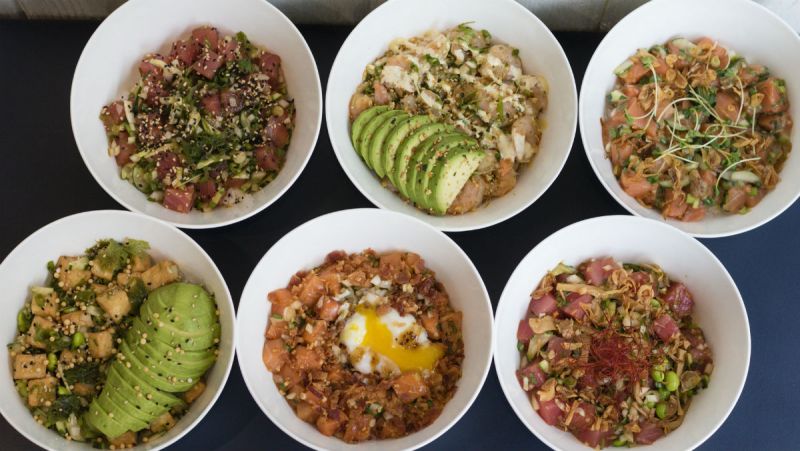 If you are a seafood lover of any sort, chances are you've become aware of poke , the classic Hawaiian dish, sometime in the last few years. Maybe you saw it on television, or maybe you're living in a city where fast-casual poke joints are opening up every other day (you wouldn't be far off on that, as there are now almost 700 poke restaurants on the mainland alone).
A fish salad made from raw tuna (though it is also popular with octopus) poke was originally a dish fisherman made with the leftovers from their daily catch. The fish would be marinated and mixed with ingredients like seaweed, limu (the Hawaiian word for algae), and candlenut (also known as Kukui nut). Depending on who was making it, you might also get green onions, Maui onions, or furikake (a mixture of sesame seeds, dried seaweed, and dried fish).
If you're not a fish fan, you're probably over this recipe already, but if you like fish — especially sushi — you're probably at the point where you're looking at your watch to see if it's time for your next meal. If it is, you should make it poke. (If it isn't, you should go out and get the ingredients so that you'll be ready for the next meal to be poke.)
The great thing about poke — aside from the relative ease to find it in most major cities now — is that it is an incredibly quick and easy dish anyone can make at home. Literally, all you have to do after you've made the marinade is chop the ingredients, make some rice, and boom. Done.
To get the best poke recipe to make at home, we asked Takanori Akiyama of Young Street Poke in New York City for a quick, easy, and delicious option. Akiyama, who is also the chef of Big Apple institutions SakaMai and Bar Moga, shared with us his recipe for the Big Island Classic.
Big Island Classic Poke
250 g Sashimi-grade tuna, cut into 1/2" cubes
20 g chopped white onion, minced
20 g chopped scallion, cut in to 1/4" slices (both white and green parts)
20 g chopped cucumber cut in to 1/4" dice
10 g sliced green tosaka seaweed, cut in to 1/2" squares
3 tbsp sesame soy sauce*
1 tsp sesame seed
Method: Combine all ingredients in mixing bowl and put over rice or salad.
*Sesame Soy Sauce
200 g soy sauce
120 g

dashi

35 g

mirin

15 g sesame oil
10 g spicy sesame oil
13 g sugar
15 g

mochi powder
Method: Combine all ingredients in blender to mix. Use as dressing for poke.
If you happen to mate it Hawaii for some real-deal poke, make sure to check out these bars while you're there.
Editors' Recommendations