It doesn't have to be National Bloody Mary Day (January 1, if you were wondering) to enjoy the delightful drink that is the Bloody Mary. Whether you're going to day drink or you're just going to brunch (or you're in need of a little hair of the dog), the Bloody is the perfect drink to consume.
Outside of garnishes, Bloody Marys are incredibly malleable when it comes to what you put in them. To highlight that, we've collected four new Bloody Mary recipes to try out next time you're planning a brunch.
If you're too lazy (or hungover) to make your own, you can always check out the best Bloody Mary mix you can buy.
Diamond Reserve Bloody Mary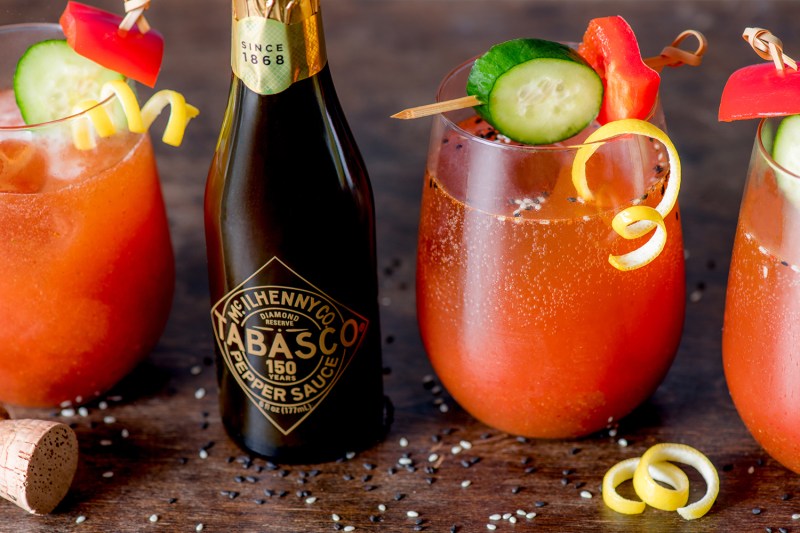 (Created by Tabasco)
1.5 oz vodka
4 oz Bloody Mary mix*
2 drops sesame oil
2 oz dry Prosecco
Black and white sesame seeds, for garnish
Long cucumber slice, for garnish
Slice of red pepper, for garnish
Lemon peel, for garnish
Method: In a mixing glass, add all ingredients, except for the Prosecco and garnishes, and stir with ice to chill. Strain into a stemless wine glass with a large square ice cube. Top with Prosecco and garnishes.
*Bloody Mary mix
1.5 cups tomato juice
1 tbsp Worcestershire Sauce
1 tbsp celery salt
1 tbsp Tajin seasoning (or .5 tablespoon chili powder)
Method: Combine all ingredients and chill until ready to use.
Ferris Bloody Ferris
(Created by Jenny Lakin, Ferris, New York City)
2 oz vodka
2 oz tangerine juice
McClure's Bloody Mix, to top
Tajín seasoning, for the rim
Parsley, for garnish
Celery plume, for garnish,
2 peppadew peppers, for garnish
2 olives, for garnish
Method: Rim a highball glass with Tajín seasoning. Add ice to the glass and pour in vodka, tangerine juice, and Bloody Mary mix. Garnish and enjoy.
Rising Sun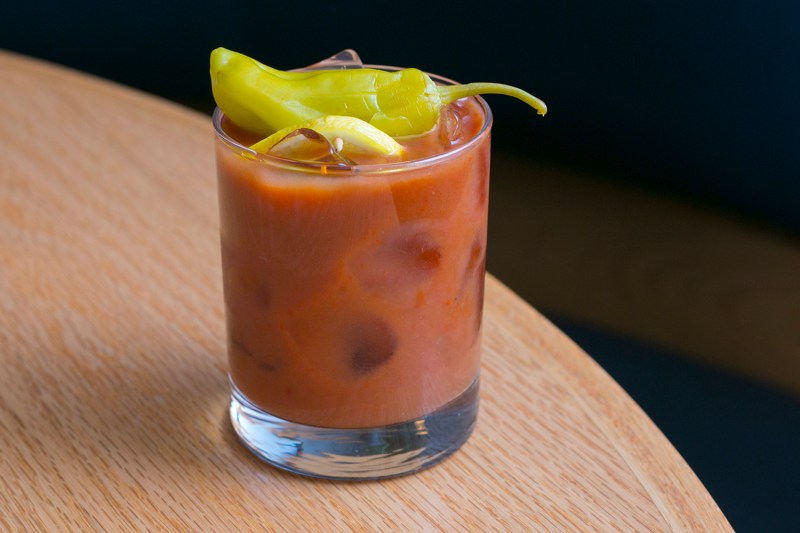 (Created by Lucas Swallows, Momofuku Nishi, New York City)
5 oz high-quality tomato juice/puree (preferably Pomi strained tomatoes)
1.5 oz Breckenridge Chili Vodka
.5 oz Bull Dog Tonkatsu Sauce
.25 tsp wasabi
1/8 tsp yuzu koshu
Soy sauce, to taste
Pinch of white pepper
Pepperoncini, for garnish
Lemon wedge, for garnish
Method: Fill a highball glass with ice and add ingredients. Garnish with pepperoncini and lemon wedge.
Belle Isle Honey Habanero Bloody Mary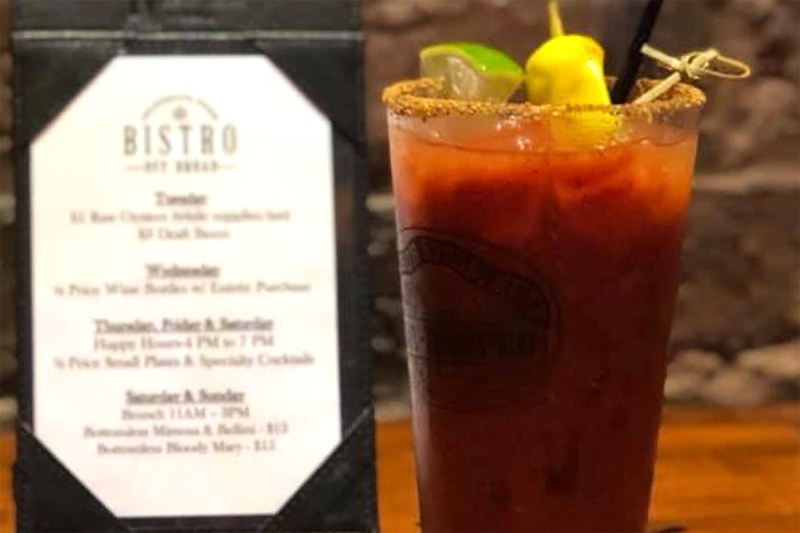 (Created at Bistro Off Broad, Winder, Georgia)
1 cup Bistro Bloody Mary mix*
Old Bay, as needed
Pickled vegetables, for garnish
Bleu cheese stuffed olives, for garnish
Pepperoncini, for garnish
Lime wedge, for garnish
Method: Rim a pint glass with Old Bay and fill with ice. Add Belle Isle Moonshine and Bistro Bloody Mary Mix. Garnish with pickled vegetables, olives, pepperoncini, and a lime wedge.
*Bistro Bloody Mary mix
1 46 oz can Sacramento tomato juice
2 tbsp prepared horseradish
4 tbsp Lea & Perrins Worcestershire sauce
6 dashes Tabasco sauce
2 tsp celery salt
2 oz lemon juice
2 oz olive brine
2 tsp ground black pepper
Method: Combine all ingredients and refrigerate overnight.
Editors' Recommendations