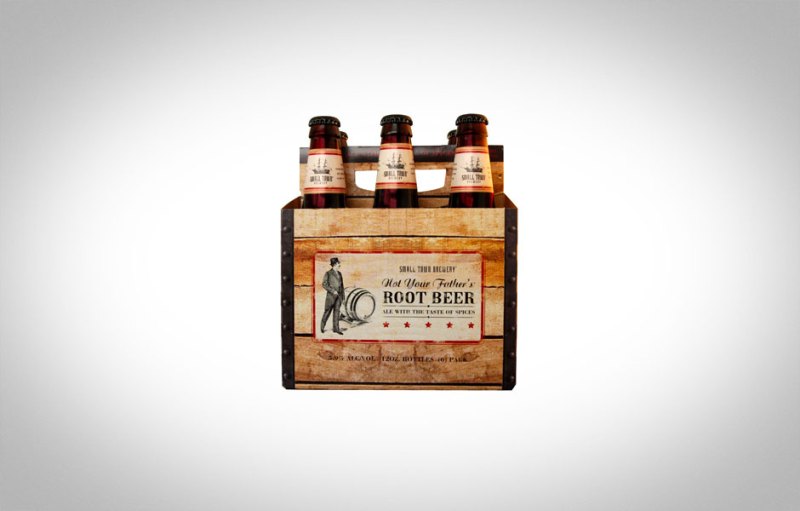 It starts with a family legend: a brewery was won in a poker game by an English sea captain who then brewed beer for his voyages. He and his beers may have even transported early settlers to America. Now his great-great-something-grandson uses those original recipes as inspiration. Even if Small Town Brewery offered shit beer, they'd still be winning with this kind of legacy. As it happens, founder Tim Kovac has an amazing backstory and equally delicious, unique craft beers.
Thanks to Kovac, the world has been given Not Your Father's Root Beer, an alcoholic version of a perennial favorite, root beer. The idea behind it was to find a way to appeal to beer drinkers and non-beer drinkers alike, giving everyone something to enjoy. It's worth a taste even for people who don't love mass produced root beers– Small Town Brewery's version is much more flavorful and mature than what you'll find in the vending machines, including sarsaparilla and classic anise. It's won numerous awards in the beer world and continues to reshape what we think of as craft beer. Want to live your best life? Order it with a big ol' scoop of vanilla ice cream on top.
Small Town also offers Not Your Father's Ginger Ale, because apparently your father has nothing good to drink. Kovac's family members are clearly overachievers as they made their own ginger ale, so he took that recipe and created a ginger ale adults would be excited to drink, even when healthy. It's a familiar taste, spiced up with black currant and floral additions. It's the perfect order on a hot day or when you need a little pick-me-up.
Kovac currently only offers the Root Beer and Ginger Ale, and draft of Not Your Father's Root beer is only available in Illinois, where they're based. Fortunately, the bottled versions are widely available in the US. Their website has a tool for helping you find the closest place to get a lovingly-crafted hard root beer or ginger ale. You and your boozy inner-child will be so happy you did.
Editors' Recommendations