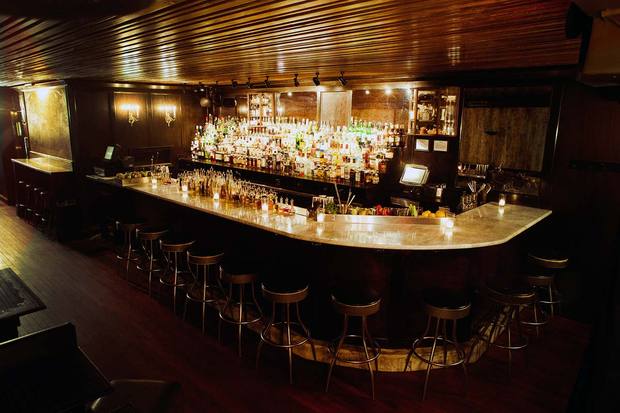 A year ago, Dave Kaplan, Alex Day, and Nick Fauchald published Death & Co: Modern Classic Cocktails (Ten Speed Press), the definitive cocktail guide of the eponymous New York bar, which has since its opening in 2006 won just about every award you can win in the industry.
The book itself contains over 500 recipes as well as a craft cocktail education that is, pun intended, to die for. The Manual caught up with Kaplan to talk a little bit about the book in the year since it has been published as well as about craft cocktails and where and what to look for.
Death & Co is known for being on the edge of cocktail trends. How do you guys stay on top of things in such a way?
For a bar to stay ahead of the trend, they kind of have to ignore that trends occur and they also have to look inward which is what we've always done. Our bar program has always been led by the bartenders we have on staff. Anything that's their passion, that's the direction that the cocktail menu goes.
In staying really true to our team and encouraging them to pursue their individual interests and passions—we have someone, for example, that's really into obscure South American spirits—we work to foster that. It doesn't mean Death & Co. is trying to capture that trend, it means that the opportunity for us to put forth the best drinks possible is only going to take place if its coming from people who are really passionate about those particular spirits or methodologies.
What's most exciting about what is going on in the cocktail world right now for you?
The democratization of drinking and great cocktails is really fun. Also, I've enjoyed of seeing places that welcome both the high and low—we've certainly tried to do that in our own bars [Kaplan and Day, through their company Proprietors LLC run 6 bars total, Death & Co, Nitecap, and One Fifty One in New York City and Honeycut, The Normandie Club, and The Walker Inn in Los Angeles] and our bars run the gamut everything from 20-dollar cocktails that are served in a venue that seats 27, and are labor-intensive with a lot of tech and prep involved in their creation to 10 or 11-dollar cocktails at a place like Honeycut that is much more high volume.
Related: Blood and Sand and Cocktails: An Interview with Paul Clarke
How best does the book benefit the home craft cocktail connoisseur?
So much of the emphasis of the book (the first two-thirds) are on educating yourself and educating your palate and understanding what these cocktails specs are really going for so that you don't have to strictly abide by them, but you can see and understand the direction then make your own choices from there.
For me, great cocktail books should be tools and ways for you tog et information so that you can make your own educated choices.
The more people that are able to create cocktails and entertain at home, the better-educated our consumer base is going to be and the more fun we're going to be able to have as bar owners and as guests because there's going to be a much more open and free exchange of ideas and a willingness to try new things.
After your own establishments, where do you like to go when you go out?
In New York, I love going to Booker and Dax because its never too crazy, what they're doing is so phenomenal and it's in a very laid back and unpretentious environment—it almost doesn't feel like a bar. I'm really excited to go to Mace. The holiday pop-up they did last year was brilliant.
In LA, one of my favorites is The Spare Room in the Roosevelt.
You were recently on a book tour that took you all around North America. What were a few bars that impressed you most on your travels?
365 Tokyo (Las Vegas), Bar Raval (Toronto), and Midnight Rambler (Dallas)
Editors' Recommendations