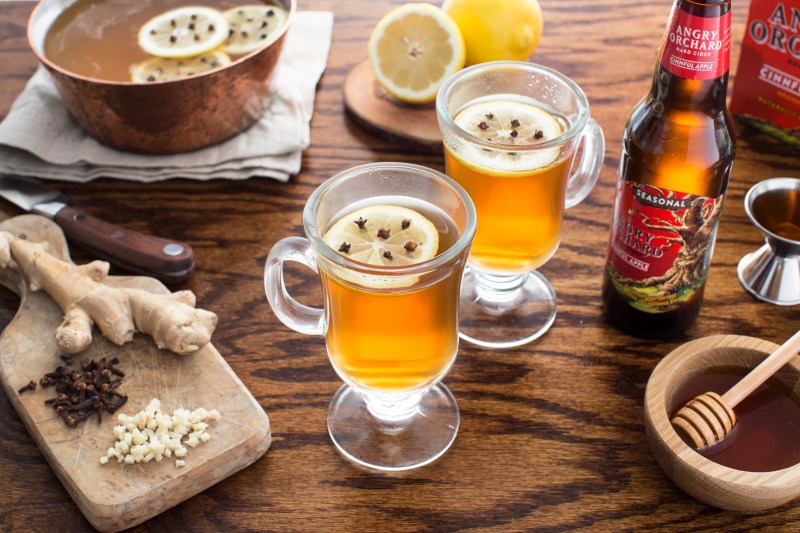 Behind pumpkin carving, apple picking is one of the most iconic fall activities out there. The thing is, apple picking involves finding an apple orchard, going to the orchard, then actually walking around and picking the apples. It's a lot of work and great for Instagram selfies, sure, but at the end of the day, do you really want to spend all that time to get a few apples?
We have a better idea, one that'll save you the time and effort of apple picking, but still deliver one hundred percent of the apple flavors: mix up these apple-based cocktails and use those hours in more meaningful ways than trying to decide if that Granny Smith is ready for picking or not.
Then again, if you're really feeling athletic (and Insta-worthy), mix up some cocktails, toss'em in mason jars, and do both.
Basil Hayden's Autumn Sour
(By Jon Feuersänger Denver, CO)

2 parts Basil Hayden's Bourbon
1 part Fresh Lemon
3/4 part Honey
2 dashes Apple Cider Vinegar
1 dash Angostura® Bitters
1 sprig of Charred Rosemary (for garnish)*
Method:Add all ingredients to a cocktail shaker with ice. Shake vigorously and strain into a rocks glass. Serve neat or on the rocks. Garnish with a sprig of Charred Rosemary.
*To char the rosemary sprig, place it over an open flame (either on a grill or stovetop) and rotate for 5-10 seconds until herb begins to smoke and brown slightly.
Ruby Salted Dog
Method: Add ingredients into a salt rimmed Collins glass filled with ice, and stir together to combine/chill. Garnish with apple slices and fennel.
The 'Merican Dream
(Created by North American Brand Ambassador Gary Hayward)
1.5 oz Bombay Sapphire Gin
.5 oz lemon juice
.25 oz pumpkin syrup
1.5 oz apple juice
Small pinch of nutmeg, cinnamon and saffron
Foam: Equal parts egg white, lemon, simple syrup and apple syrup.
Method: Mix liquid ingredients with small pinch of nutmeg, cinnamon, and saffron. Shake and serve over ice.
Foam Method: Shake hard with 1 ice cube and spoon onto the top of the cocktail.
Orchard Toddy
(pictured)
Method: Add all ingredients to a Crock Pot and set at low heat. Allow to heat up and then serve and garnish with a lemon wheel studded with cloves. If using a stovetop, add all ingredients to a small saucepan and simmer over low heat. Be careful not to allow the mixture to get too hot because the alcohol will boil off.
**Honey Ginger Syrup:
2 cups Honey
1 cup Water
2 tbs Finely Chopped Peeled Ginger
Method: Peel the ginger and then finely chop. Add all ingredients to a pot and cover. Simmer over medium to low heat for 20 min. Strain, allow to cool and store in the refrigerator
Effen Green Apple Mule
Method: Squeeze the lime half into a Copper Mug filled with crushed ice and drop in the squeezed lime. Add vodka and ginger beer and stir.
Gilded Apple
(Created by Jesse Marino, Wine & Spirits Manager of David Burke fabrick)
1.5 oz Breckenridge Bourbon
.5 oz Breckenridge Bitter Liquor
1 oz Apple Pie Shrub
Garnish: Candied Lemon Peel and Apple Slice
Method: In a stirring glass, combine bourbon, bitter liquor and shrub. Stir over ice. Strain over fresh ice in a rocks glass. Garnish.