Mattresses are made from all kinds of materials these days, but few can claim to be so wholly rooted in nature as Earthfoam products. Made with fair-trade, sustainably harvested natural rubber tapped from trees in Sri Lanka and encased in organic wool from New Zealand sheep, Earthfoam is one of the most eco-friendly choices a mattress shopper can make. Natural rubber, unlike the waterproof, squeaky material that may come to mind when you hear the phrase, is breathable and soft. I've slept, napped, and sat on the Earthfoam for three months, and I've had a wonderful (and restful) time.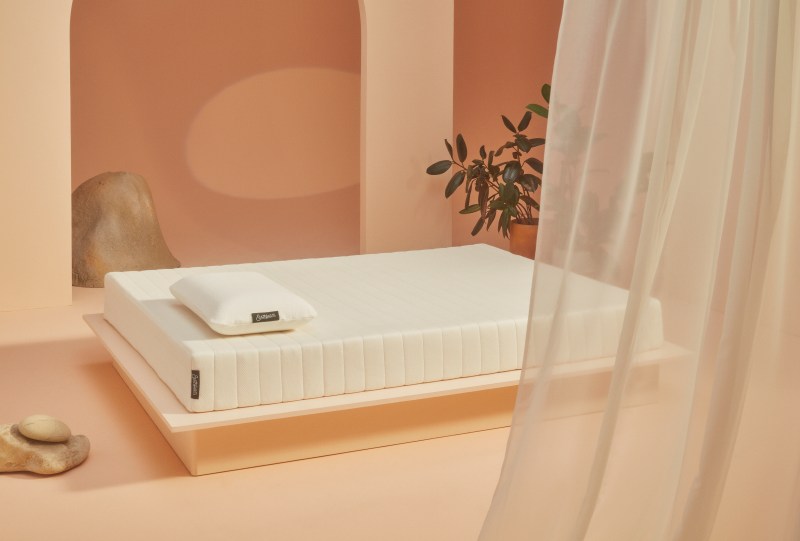 Photo: Earthfoam
Which mattress did I try out?
Earthfoam puts thought and care into every aspect of its products, from sourcing raw materials, to creation and assembly. The company is confident in the durability of Earthfoam mattresses and toppers come with a 10-year warranty, and all products ship free within the continental United States from its factory in Illinois. Each mattress and topper comes with an automatic 100-day Sleep Trial period. Earthfoam's catalog of products is refreshingly minimalist — it currently offers just two levels of firmness in addition to a mattress topper and pillow. I chose the queen size in medium firmness level and tested it for support, motion transfer, comfort, breathability, and overall ease of use.
Photo: Earthfoam
Earthfoam's five plush layers
The Earthfoam Base: A firm layer of foam rubber that provides stability and support while dissipating body heat and absorbing pressure.
The Earthfoam Comfort Layer: An extra cushion-y layer of foam created to conform to the body and prevent back pain.
Organic Wool Batting: Wool keeps the surface of the mattress soft and cool, and it's naturally fire resistant (no chemicals needed).
Organic Cotton Quilt Backing: German-made organic tricot wool holds together the outer fabric and wool for extra durability.
Organic Cotton Knit Face: Custom-designed cotton knit fabric to keep the outside of the mattress soft without restricting the foam.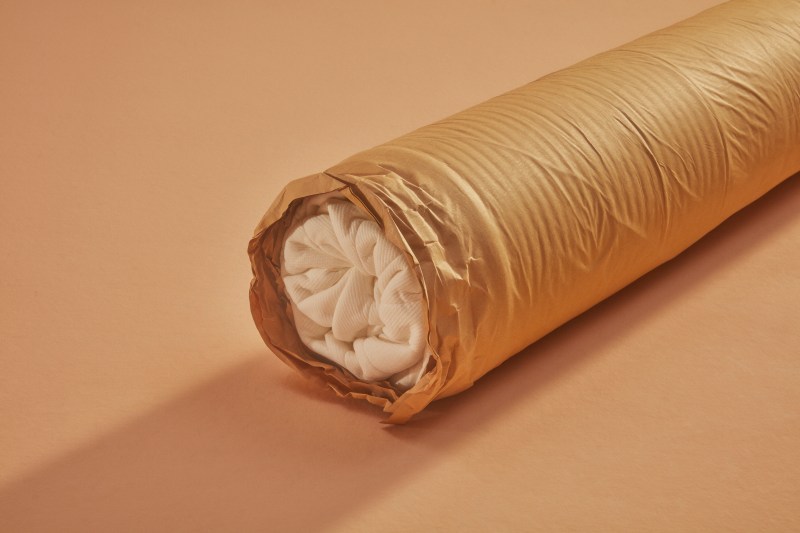 Photo: Earthfoam
First thoughts and unrolling
The Earthfoam arrived in a long, rectangular box which, while not impossible to handle on my own, was certainly easier with two people. I was lucky enough to have a hand truck and a helper, but handles or indentations for hands would have been welcome. The mattress and topper were packed mostly in butcher paper; Earthfoam has pledged that it's working toward a zero-plastic packaging system. Once the box was cut open, the mattress and topper began to do their thing.
I was able to leave the mattress to its own devices for a few days to let it expand fully and off-gas, but I didn't need to worry about any odor. The mattress and topper had practically no smell at all despite having been tightly packed in thick plastic. That's not surprising, considering how carefully Earthfoam avoids harmful chemical treatments and dyes. As someone with allergies and a sensitive nose, I find this to be a huge point in Earthfoam's favor.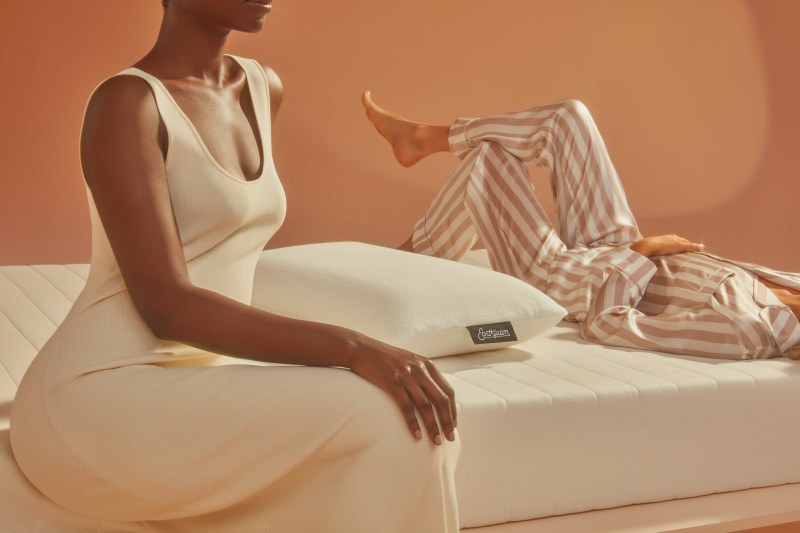 Photo: Earthfoam
Setup
The queen size measures 60″ by 80″ and, fully expanded, is 8.5″ thick, with the mattress topper adding 2″ to the overall height. While unrolling and moving the mattress and the pad around, I was struck by how dense and floppy they both are. It was a little like putting a huge pancake on top of a thick stack of them. This density and weight is what makes Earthfoam feel substantial and supportive during use, but it of course also calls for a supportive bed frame.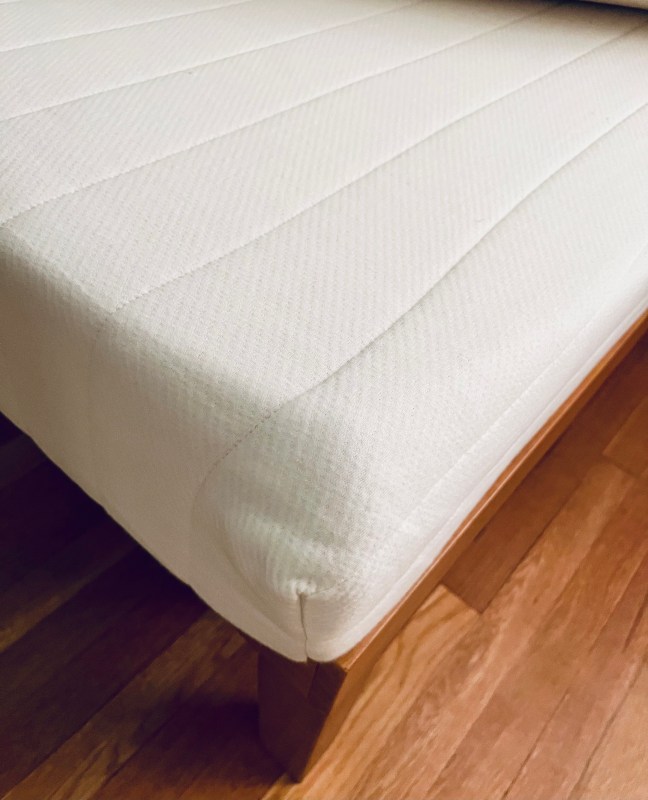 Photo: Claudia Savin
"Tapped like syrup, molded like Jello, baked like a cake"
This quote from the Earthfoam mattress website brings to mind the baking aisle of the grocery store, and I will say I enjoy imagining myself to be sleeping on a huge, thick slice of cake each night. The strain of dragging massive baked goods around aside, I am pleased with my Earthfoam. It feels like a real, solid, adult's mattress. The finishes, including the cotton knit face, are soft and durable-feeling throughout multiple sheet changes, and the mattress topper adds an indulgent plushiness. The mattress, even at "medium" firmness, is about as firm as I would ever want, and I would recommend it to those with back pain looking for reliable support.

Photo: Claudia Savin
Pros:
Comfort
After more than three months of diligent testing, I find the mattress comfortable when I'm in any position. Although I'm a stomach sleeper, I spin around enough to have concluded that the mattress would suit just about any sleep position. As the website promises, Earthfoam does not cause any "sinking feeling" at all, and I've only experienced even, soft support throughout the night.
Edge support
The Earthfoam is firm and has definitive enough edges so that sitting on it does not produce the "quicksand" effect sometimes seen when sitting or lying near the edge of a modern mattress. I would definitely rate the edge support as high to the person looking for a more traditional edge feel.
Cooling
My test period has not included much hot weather, but there have been a few warm nights. On those nights, I have forgotten to worry about the breathability of the mattress, which is a five-star temperature rating in and of itself.
Motion transfer
If the motion transfer on a water bed is a 10, on the Earthfoam it's a 2. The foam rubber seems to effortlessly absorb force and motion, so no one feels jostled.
Cons:
Weight
While it's not the heaviest or most unwieldy mattress I've ever unboxed, the Earthfoam's solidity comes at a cost. As mentioned, dragging the unrolled mattress onto my bed frame was a Herculean feat, and even if I had my bed frame already assembled and waiting, getting everything in place by myself would still have been extremely difficult. Even though the mattress topper is about as thick as a traditional sleeping bag, it's also quite difficult to move around.
Affordability
As the queen size clocks in at $999, the same-sized topper at $349, and the pillow at $100, I would definitely describe the Earthfoam as a luxury mattress brand. Earthfoam puts workers, the planet, and consumer safety first. Unfortunately, fair trade, fair labor, and organic farming practices come at a price, as do quality and craftsmanship.
The pillow
The pillow I find delightful, but odd. It is extremely springy and interestingly lozenge-shaped, like a pillow from the year 2055. It's both heavy and light, floppy and firm. It cradles my head very nicely, but as soon as I start to raise it, the material seems to add to my momentum as if it were trying to launch my head toward the ceiling. The large, thick, black Earthfoam tag is a tad misplaced on a pillow, as it pokes out of the case and makes crinkly noises. I also find the pillow, unlike the mattress and topper, to have a faint but enduring industrial smell. While I still use it, it's probably unlike any pillow you own, making it a bit hit or miss for the price.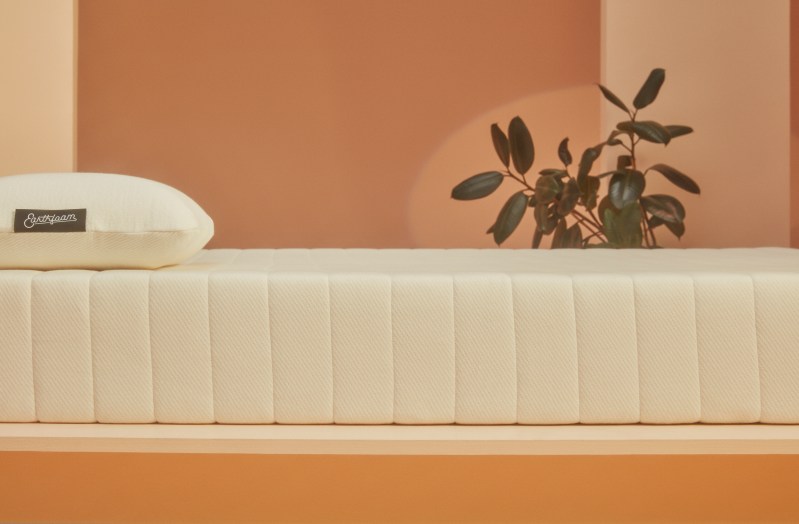 Photo: Earthfoam
Is an Earthfoam for you?
If you're looking for a mattress in this price range from a company that prizes human rights, renewability, and health, then the answer can only be yes. Despite being made from such unusual components, the Earthfoam mattress is quite a subtle addition to your bedroom. It simply supports, effortlessly and endlessly, while you rest.