Free-weight exercises have been proven to torch calories and build muscle, and weight lifting can easily be done at home or in the gym. If you are a beginner, weights are a great way to see immediate results. There are a ton of dumbbell workouts to tone your whole body in a short amount of time, getting your entire body toned in as little as 30 minutes a day.
Dumbbells are a must to add to any total-body strength training program. You can easily find 5- to 25-pound dumbbells online, but if you belong to a gym, you can work your way up to 60-, 80-, or even 100-pound dumbbells — or more. Just make sure as you are beginning that you start with low weights and understand exactly how to do each move to avoid injury.
We found some of the best dumbbell exercises for beginners. For this dumbbell workout plan, start by doing 10 reps of each, working your way up to 20. Pause for 30 seconds in between each exercise. Do this two to three times through.
Hold one weight in each hand and stand straight up with your feet hip-distance apart. Slowly bend at the knees and lower your body into a squat position. Make sure you are keeping your knees behind your toes with all your weight in your heels, squatting as low as you can, and squeezing your butt. Slowly stand up, keeping your spine in a neutral position until you are back to the original position. That's one rep.
Hold one weight in each hand, feet hip-distance apart, arms at your sides. Slowly bend your arms toward your biceps, pausing at the top to squeeze your bicep muscle. Slowly lower the weights back down in unison. That's one rep.
The shoulder press is a great exercise because it works many muscle groups at once, including your deltoids, triceps, and traps. It doesn't take long with this exercise to start seeing muscle definition. Stand straight up and hold one weight in each hand, even with your shoulders. Place the palms of your hands facing toward your body. Press both arms upward over your head and end with your palms facing forward at the top. Squeeze at the top and then lower them slowly back to the original position. That's one rep.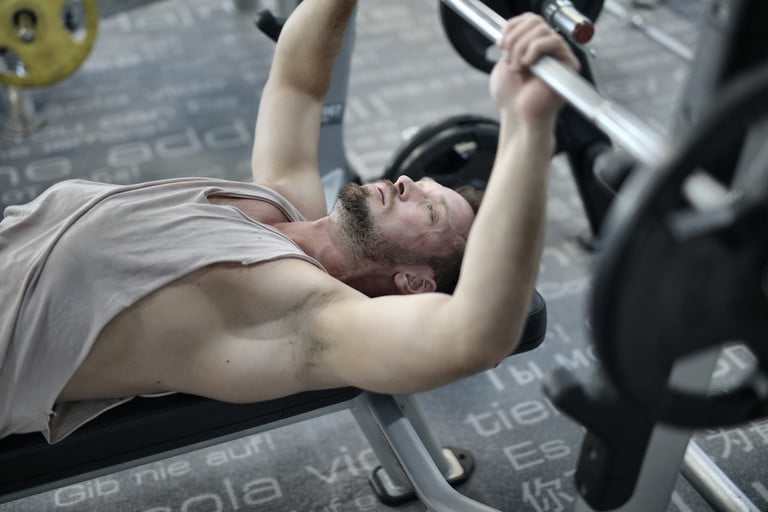 A bench press works your triceps, shoulders, and pecs all at once, and it feels a little bit like a break because you get to lay on your back! Lie with your back against a bench and make sure your feet are planted on the floor. Place your palms upward and extend your elbows and arms up, pressing both weights straight above your chest. Squeeze at the top, then slowly lower the weights back down for one rep.
Stand with your feet hip-distance apart. Hold one dumbbell, bending your elbows behind your head.
Straighten your arms, lifting the dumbbell into the air, then slowly bend your arms to their original position behind your head. That's one rep.
This is one of our favorites. Stand with your feet wide on either side of your body, toes pointing out, and hold each dumbbell in front of the chest or laying on the top of your thighs. Bend your knees, lowering your hips as far down as possible so your thighs are parallel with the floor. Keep your weight in your heels. Rise back up into your original position, straightening your legs completely and squeezing the glutes at the top of the movement. That's one rep.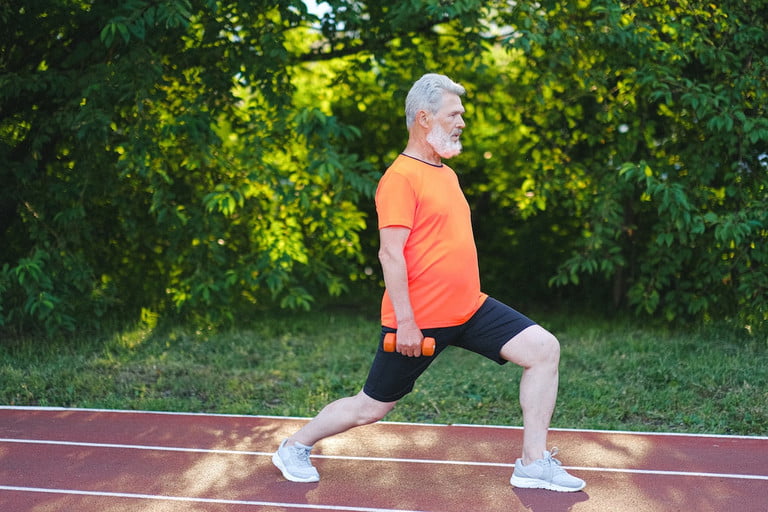 Lunges are a great way to engage your quads, calves, and glute muscles and throw a bit of cardio in for good measure. Lunges can be done two ways — by stepping forward or backward, keeping one dumbbell in each hand. Step out from a standing position so your bent leg is at a 90-degree angle to the floor. Hold the move, and step back to your original position. That's one rep.
Once you feel comfortable doing this routine consistently and with higher weights and reps, you can search online or YouTube for more advanced dumbbell exercises to add to your routine. Whether you're looking to lose fat, build muscle, or improve your cardiovascular fitness, dumbbells will do the trick. What's more, scientists working at Iowa State University reported that lifting weights for less than an hour a week can "reduce your risk of suffering a heart attack or stroke by 40 to 70%," making them a top choice for your overall health.
Editors' Recommendations