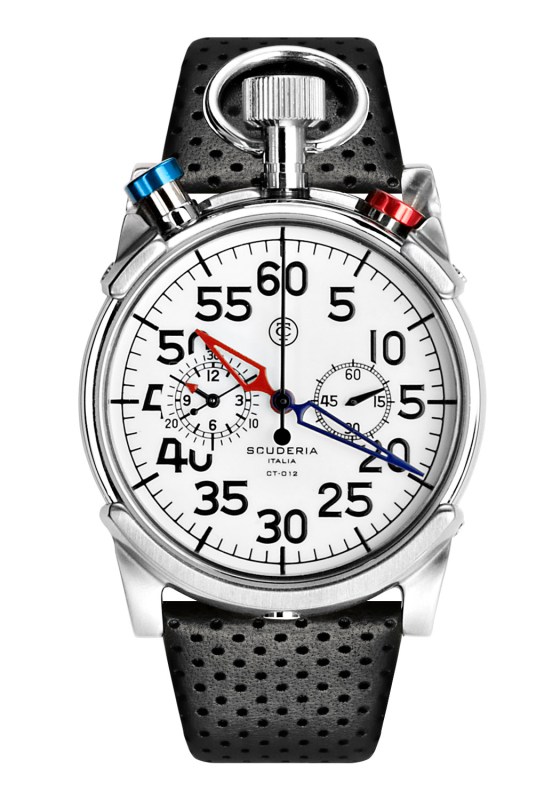 Enrico Margaritelli, a third generation Italian watch-maker whose past work includes collaborations with Emporio Armani and Fossil has designed a new line of watches inspired by the stopwatch, the CT Scuderia.
Margaritelli cites his grandfather, Ariodante Margaritelli as being his biggest inspiration. His grandfather, a watchmaker who worked in Parma, Italy, crafted high tech watch instruments during World War I and World War II, and clearly the talent of the timepiece runs in the family.
With its interchangeable straps, intricate details and fine lines and curves, this watch exudes Margaritelli's passion and strong vision for his family's legacy and the art of watch making.
"The clean lines of CT Scuderia were envisioned by Enrico's enthusiasm for experimenting with unusual shapes, lines, and patterns," the company says.
This ultra stylish and sporty watch is on the larger side, 46 mm and can be separated from the wristband and worn around the neck in true "stopwatch" fashion. The watch also features a reinforced stainless steel buckle and a unique case back that sports in enamel the colors of the Italian flag.
Since the watch's straps are interchangeable, you can opt for an ultra-soft silicon version.
This watch is perfect as a sportier, everyday watch. The perforated leather strap which is hand assembled in Switzerland resembles the same type of leather used inside luxury sports cars, which makes sense since the company notes that the CT Scuderia is "the perfect match for the world of elite sport-racing."
For more information on the CT Scuderia or Enrico Margaritelli check out the company's website here.
Editors' Recommendations