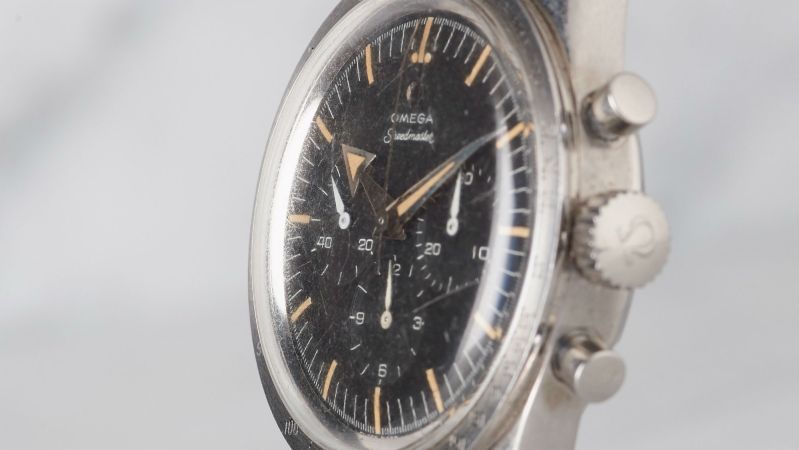 We here at The Manual think that the Speedmaster is one of OMEGA's most iconic watches. The design of this essential chronograph has stood the test of time in terms of style and functionality.
A recent buyer at Bukowskis auction house in Stockholm thought so, too — so much so that the anonymous bidder paid 2,226,250 kr (Swedish krona) for a first-generation model from 1958. That's equivalent to around $265,508 for those trying to calculate the exchange rate at home. Factoring in the buyer's premium, the final tally came out north of $275,000, making this watch the most expensive Speedmaster ever sold.
This particular Speedmaster (reference number CK 2915-1) was made from stainless steel and features a black dial with broad arrow hands and a high-quality internal caliber. The watch has paperwork to prove a build date of June 6, 1958.
A major factor in its astronomical price was the original, unpolished condition of the timepiece. It's almost impossible to find one with its original dial as well. The promenance of the watch, combined with the fact that the prior owner found it sitting in an attic, created a once-in-a-lifetime opportunity for a discerning watch collector. The selling price is sure to set precedence for other non-exclusive watches that share a similar age and condition across different manufacturers.
OMEGA has been on a great run this year, introducing special edition watches like this one for one for 007 himself. Although the James Bond watch was a Seamaster, its extremely limited release is sure to make it a similarly sought-after watch in the years to come.
Currently, the Speedmaster comes in eight different editions, from a basic Co-Axial Chronograph to a special Anniversary Limited Series. There are even two models that pay tribute to the 1957 edition of the watch, replicating the model year's timeless design seen then (and resembling the 1958 model).
All of this just goes to show that the old, dusty finds in the attic might be worth a second look.
Editors' Recommendations