It seems that every time daylight savings time strikes, we early-morning or late-night runners, commuters, and outdoor enthusiasts have to be extra aware of our surroundings while on the go. Just last month, one of our editors was almost hit by a car on multiple occasions in one evening because it was so dark.
Of course, drivers have a responsibility to be alert and act accordingly to times of low visibility too. But when your life is at stake, it's not a bad idea to take matters into your own hands. Twinery's new NOVA running jacket has an innovative solution to help you shine through those dark times.
Boasting a sleek design and functional attributes, the lightweight, waterproof jacket is also self-illuminating This new technology, dubbed LightGuide, includes LED light strips powered by a tiny, detachable, rechargeable battery that lasts up to eight hours.
It's the first jacket that features an on-demand illumination embedded in the fabric, providing visibility up to 450 feet — about a tenth of a mile, or the length of one and a half American football fields. NOVA also invluces a collapsible hood and thumb holes for added comfort, an earphone cord hole, and a water-resistant smartphone pocket on the sleeve. Oh, and it's machine washable.
"Because traditional reflectors are not efficient in low light conditions or blind-spots, 40 percent of runners are at high risk of injury due to night time motor accidents," said Sid Amalean, co-founder of NOVA, in a release.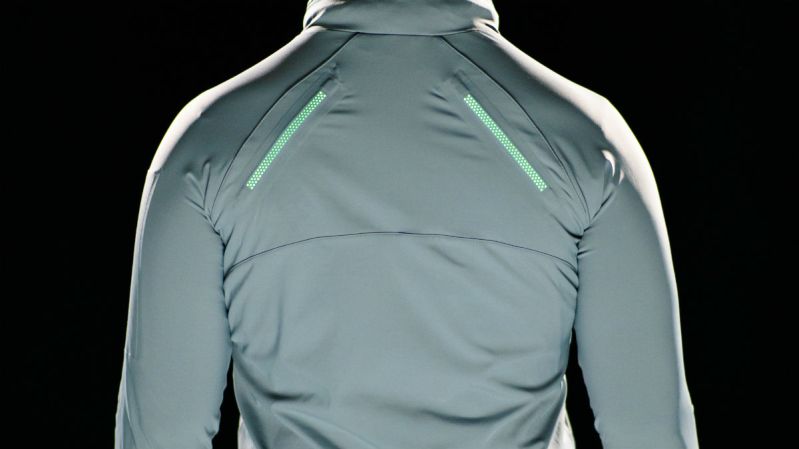 Twinery, the innovation arm of MAS Holdings, has over 30 years of experience in developing groundbreaking solutions for activewear, apparel, and other performance gear. Past innovations include LUMO Run, the first wearable sensor and app that analyzes your running form and offers real-time audio coaching to help you meet your goals.
Twinery's newest creation was crafted specifically to help people that travel in moonlight and are susceptible to auto-pedestrian accidents. Not only is the jacket potentially life-saving, it's thoughtfully designed for enhanced mobility and flexibility.
NOVA is available for pre-order starting at $139 on Indiegogo; Twinery will begin shipping to consumers in spring 2018. The jacket comes in three colors (black, gray, and blue) and four sizes (small, medium, large, and extra-large) for both men and women.
Editors' Recommendations