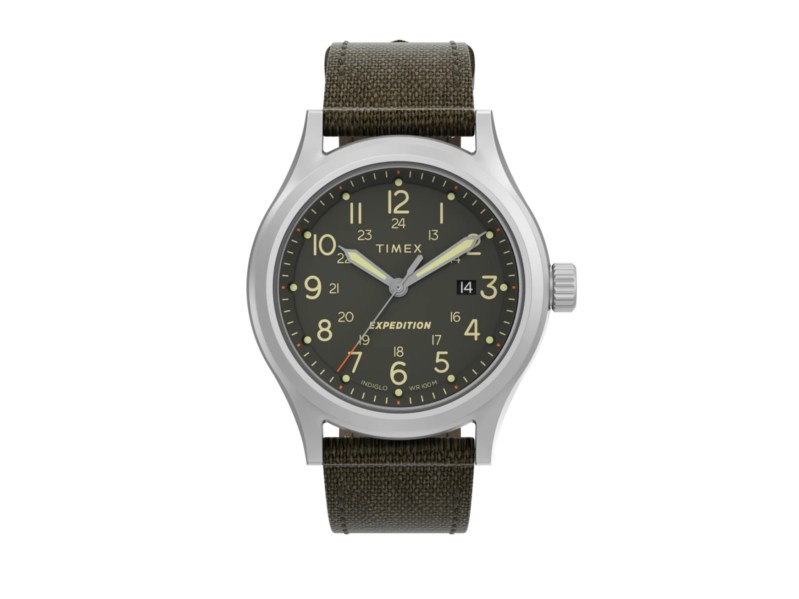 While there are some truly incredible timepieces out there, especially from the top Swiss watch brands, not all of our favorite watch styles come from these masters of craftsmanship. Timex is another well-known brand lauded for its great designs, especially when it comes to outdoor-friendly watches. One of their best offerings, the Expedition North Sierra, is discounted quite heavily today, down to just $70 from its usual $99 price tag. The watch has a stainless steel frame that's water-resistant up to 100 meters and utilizes the brand's Indiglo backlight with luminescent hands. We'll dig a little more into why this is one of their best watches, but if you're interested, you should go see it for yourself — this deal won't last long.
Why you should buy the Timex Expedition North Sierra
For those who don't know, Timex is fashionable again, and the backstory about how that happened is pretty interesting.
As far as reasonably priced watches go, look at this thing, it's a stunner. With its stainless steel case, matching accents, and green fabric strap. It's also ready to rock and roll in the wild, thanks to incredible protection, like the water-resistance rating of up to 100 meters. It comes in a 41mm size, so it's great for medium to large-sized wrists but won't cause problems for anyone with smaller wrists either. You can always swap out the band too, but the included band is built to take a beating out on the mountain, trails, or wherever you're exploring. The quick-release strap means you don't need any special tools to remove or swap it out — it's quick and painless.
The Indiglo backlight technology ensures you can always read the time, day or night — even in pitch black. Moreover, the watch hands are luminescent, so you can always see those. The traditional military-inspired dial will help you keep the time, and it's not a smartwatch, so you don't have to worry about those phone notifications chasing you down while you're off the grid.
More functional watches like this Timex are certainly a welcome sight these days, especially with so many devices incorporating distracting screens and touchscreens, smart features, and beyond. It's nice to go back to basics when it comes to timekeeping.
Normally $100, the Timex Expedition Sierra North watch is yours for just $70 today, saving you about $30. You could put that money towards a new band if you don't like the one included or save it for some trip supplies if you're headed out to the wilderness.
Editors' Recommendations