I​t's easy in today's whiplash-inducing culture to feel like we've missed the boat–often never knowing the boat had even left. Or sometimes, that there was a boat at all. After honing his skills as a cobbler for ten years in Europe, Noah Waxman redirected the metaphorical boat, moving back to the US in 2012 to begin his eponymous brand of shoes.
It didn't take long before Nordstrom took notice, followed soon thereafter by a Hickey Freeman collab. And just weeks ago, he was voted Best Footwear at this years Blogger Project Awards (NYC). The Manual caught up with Waxman to ask him about all things shoes.
Inspiration, where do you seek it and as you go season to season, how do you redefine it?
I was afforded the opportunity to live in Amsterdam for ten years. The Dutch attitude toward life and design is a big part of what I take with me: The beauty in the simplicity and the value of quality materials. Holland is a Calvinist culture; The churches aren't ornate like Roman Catholic churches, they're more simple brown wood, white walls, but there's a certain beauty in that simplicity that's always attracted me.
What was the inspiration behind the SS15 collection?
Coney Island. One minute you're whizzing by on the Cyclone, the next you're chilling on the beach with friends. Pops of amusement park blues and reds against beachy tans and whites provide a Summer-ready palette. There are two new loafers in the collection, on leather and rubber soles, along with derbies, Summer brogues, and your go-to sandal for this and many seasons to come. Hand-woven calf makes its début in the collection, imbuing a quiet luxury to a range of styles, from loafers to sneakers.
What was the scariest part of uprooting your life?
I know a lot of expats that lived over there and reached what I like to call 'the point of no return,' when you've lived abroad for so long that all of your relationships and all of your business is over there. As much as I loved it over there, there was a point when I realized it was time to come back to NYC. The slow pace of life in Holland afforded me the time to study shoemaking and really reflect on what I wanted to do with my life but some of the more challenging things in Europe are starting a business. Life there is much more geared to established things sticking around whereas there's a more entrepreneurial spirit here in the US. I'm at heart American in that sensibility.
What gave you confidence to pursue your own line?
I think there was a sense of 'Where do I begin?' but I already had this decade of life experience working as a cobbler, so I didn't feel like starting on the ground floor somewhere. I also felt this pressure because I wasn't 22 anymore–I was in my thirties–and if I really wanted to build a business, I didn't feel like I had the five, ten years to spend working for someone else. I accepted there would be a lot of learning on the fly and making mistakes.
I went to a very competitive University where I studied pre-med and got my EMT license working in the ER. I feel like those years taught me about discipline and to think in a certain way, but it wasn't the path for me. when I got to Holland and removed that pressure and found the focus to get in touch with myself, I wondered if it was a waste of my time. Maybe in one sense it was, but it taught me how to tackle hard things that seem impossible at first and do them. In the beginning that meant mastering organic chemistry and later it was learning the different ways you can fold and stitch leather.
If you had to pick one pair of shoes from the current collection that you feel most proud of?
The Kensington Brogue in Summer shades.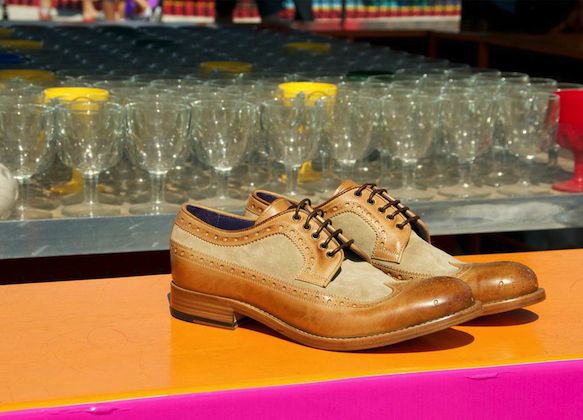 When you're not designing, what can you be found doing?
The piano is my time, like cobbling, to not be at a computer, using my hands, and it takes the perfect amount of focus that you can't be multitasking to do it well. You have to be in it, but it's also time to let the mind wander in a nice creative way.
If you could pick two or three celebrities you'd want wearing your shoes on the red carpet?
Paul Simon. Paul McCartney. And get me Rafael Nadal or Federer in my shoes and I'll be a very happy guy.
Editors' Recommendations