Steven Tiller grew up in Oklahoma, but always dreamed of California and living on the West Coast. Instead, after college Tiller moved to the East Coast outside of Boston and began working for Cole Haan, Ked's, and Sperry's.

During a yearly trend spotting trip to Tokyo, Tiller found an old, abandoned pair of SeaVees in a thrift shop and realized it was the sneaker he'd spent his life obsessing over.

Upon returning home to Boston, he researched the company and learned that SeaVees was founded in 1964 by B.F. Goodrich, a tire company which, like many, used their rubber in footwear. The B.F. Goodrich's sneaker division was purchased by Converse in 1969, however in 1971 the Justice Department declared it a monopoly and converse shut down SeaVees.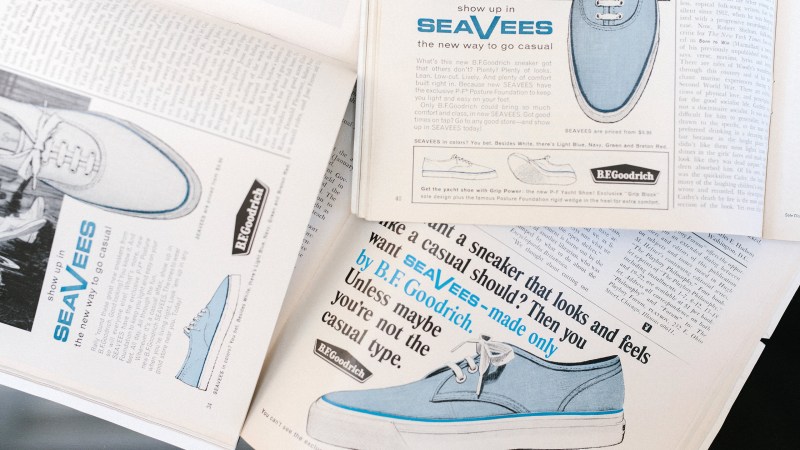 During the time SeaVees was active, the brand was advertised in Playboy and Sports Illustrated as the first crossover sneaker. SeaVees transformed the sneaker from the gym shoe to an everyday sneaker one could wear to a social affair. SeaVees were the original way to go casual.
In 2010, Tiller relaunched SeaVees and moved his wife and two children to Montecito, California. Tiller finally achieved his goal of owning his own company and the dream of living in California.
Today, SeaVees are sold at over 300 stores around the world and his team of eight employees design 35-40 styles each for men and women. Today, the brand still preserves the casual California lifestyle.
Steven Tiller, CEO of SeaVees, came to the brand with over 20 years of footwear brand building success. Before SeaVees, he served as the President and Creative Director of Steve Madden's Fix. Prior to that, Tiller was Senior VP of Global Design for Steven Madden's Fix, and the Senior VP of Global Design and New Business Opportunities for the Stride Rite Corporation (owners of Sperry Top-Sider, Keds and Saucony). Tiller began his career at Cole Haan and Lands' End before becoming VP Design and Development at Nine West Group.
We spoke to Tiller to get the scoop on his own personal style:
Jeans: Although there are some great denim brands that have emerged over the past several years, I will only wear Levi's. Regardless of trend you can never go wrong with the iconic 501 and I'm especially partial to the vintage variety.
Shirts: For basics like short and long sleeve crewneck tees and henleys, I live in Goodlife. I love their simplicity – no pockets, scalloped hems, great fit.
I'm a big fan of the classic crewneck sweatshirt – whether grey heather or navy – I can never get enough. Reigning Champ is my current curiosity.
For woven shirts, Todd Snyder is a long time favorite. Freenote is currently doing the worn-in, well-loved look right. And I always have the timeless white oxford shirt in my rotation. Gitman Vintage has perfected the art form.
Pants: RRL Officer's Flat Front Chinos are my all-time favorites. They just get softer and better with age. My only complaint is the flap pocket design on the back – I prefer to keep it simple with rear welt pockets. I get around it with my RRL's by tucking the flap into the pocket.
Style note: I almost always roll the leg of my trousers as a nod to the origin of the SeaVees brand in the early 1960s. It's a sportswear trend of that enduring era that, to me, evokes beach walks and effortless style. And best of all, it's a great way to show off your SeaVees.
Suits: I don't wear suits often, but J. Crew is really on point with their Ludlow collection. You can spend more but why? Because they're not precious, you don't feel this unnecessary long-term commitment with them. I find I buy them more frequently and I don't hesitate to mix and match the pieces. There's a feeling of freedom I normally don't get in wearing a serious suit.
Shoes: Obviously it's SeaVees for any occasion. My personal favorite is our Legend Sneaker. It's the style that started it all back in 1964. Smart casual, dressy casual… its simple sophistication make it the perfect choice for any social affair.
Accessories: I rotate a couple a watches that have great sentimental value – a Paneri Luminor Marina and a vintage Cartier Tank with a round face. They were both presents from my wife on milestone birthdays. Other than that, I'm not big on jewelry.
I have a weakness for sunglasses so I'm constantly adding to my collection. My newest pair is the Gilman by Raen. My oldest pair I kept from college – the Ray Ban Aviator.
My best kept style secret is no show socks by Smartwool. I've tried them all and these are by far my favorite. You get the stealth, carefree look of not wearing socks, but the cool climate control, moisture wicking properties of merino wool.
Outerwear: I love to layer, so I'm a sucker for jackets. My favorites include an RRL jean jacket, a French chore jacket by Apolis, an indigo ranger jacket by Rogue Territory, and a vintage Levi's corduroy trucker jacket. I also have an arsenal of Patagonia down puffy jackets – sleeves, no sleeves, hooded, no hood – I have issues.
Favorite cologne: I don't wear cologne.
Favorite app: My favorite app right now is Radiooooo. It's a great time-travel music app where you can pick any country in the world, in any decade and stream popular local tunes of that time. Currently I'm streaming New Zealand in the 80s – the Dunedin Sound movement originated by Flying Nun Records.
Favorite piece of technology: No surprise but any answer other than my iPhone would be disingenuous. I'm in constant rotation of the usual suspects: Spotify, Waze, Instagram, Netflix, Bandcamp.
Next style/gear purchase:
Gear: The Sonos Connect. To play vinyl through our existing Sonos sound system.
Style: With the mild climate in Santa Barbara, I can't really justify this purchase, but I'm in the hunt for the quintessential navy peacoat.