Slate Denim & Co. is a new Texas-based men's jeans brand that blends the look of premium fashion denim with good old-fashioned Southern heritage. Or, as it describes itself in its press materials: "Our garments embody the independent, no-frills spirit of the open road, and draw inspiration from the toughness, individuality, and forward-thinking nature that make up the fabric of Texas."
Sold in physical and online stores, as well as its own web shop, Slate is an excellent alternative to other, more expensive products of its ilk. Brandon Van Dyck, Slate's head of marketing, recently shared the story behind this growing — both in size and popularity — denim name.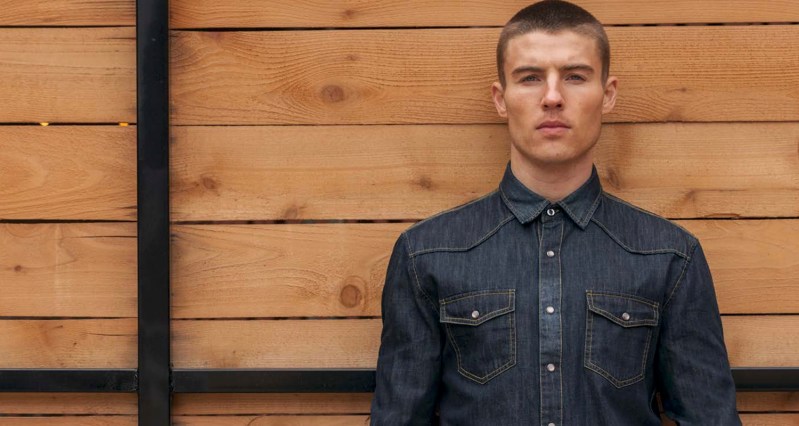 How new is Slate?
Slate is a new brand but we are not a new company. Our parent company is Westmoor Manufacturing, so we've been making clothing and apparel for over 70 years, predominantly in the Western apparel space. We own several core Western brands, like Panhandle and Rock & Roll Denim, that are focused on our core Western business. We are based in Texas and are Texas born and bred.
Slate was a brainchild of our parent company and an opportunity for us to target and bridge that gap between Western and fashion. All of our products sort of have a Texas flair to them, and that's our point of differentiation to a certain degree.
How big is the collection?
The collection is growing every season. We are just launching spring '18 and we added significantly more styles and more tops. The brand started out with predominantly jeans and we've really pushed into more fashionable tops in both short and long sleeve.
As we push into spring '18, we're really taking advantage of very unique indigo washes. Spring '18 will be the first time we have worked even closer with Cone Denim. Our challenge was really to get the best indigo washes that they have, and it really played into this "blue icon" semantic. We've been able to treat them so they come off as if they have been loved and worn — kind of your "favorite pair of jeans" type of aesthetic from the first time that you put them on. And they are just going to get better after that.
We'll continually roll out new fits, styles, colors, and washes, not only in the denim space for jeans, but also in the tops as well.
Who is the Slate Denim customer?
He's the discerning fashion connoisseur. It's people who really appreciate spending a premium price on their clothes and who appreciate things that are well made, well manufactured, and show an attention to detail, so we think we are comparable in terms of price with a lot of our competitors like Joe's, AG, and Diesel. We model our brand positioning after a premium denim consumer, but someone who's looking for something a little bit different. Everything is designed in Texas, so we kind of have this Texas or Southern cool aesthetic to our product and brand. That's really the differentiation that we are trying to bring to our customer.
Where are the products made?
Everything is designed in the United States and we do have a capsule collection that is made in Los Angeles that we're really proud of that is going to be rolling out in spring. We're based in Forth Worth … and we've brought in some of the best designers from New York and LA that are working on our designs. We are really excited about our Made in the USA collection.
What is the general price range?
Our retail prices for the jeans ranges from about $150 to $210 depending on the style, the wash, and whether or not they are made in LA .
Do you have a favorite Slate jeans style?
I'm partial to our slim tapered fit. It's like it was almost exactly tailored to your frame. I'm 6' 2" and I think the slim tapered really does a good job of showing off the longer silhouette and staying slim, trim, and tailored without being too skinny or too loose. That's a personal favorite, but obviously we have a slim straight and a skinny fit, so we really cater to different ranges of people and different body types. We try to put together a variety of fits, washes, and finishes that can really cater to anyone's aesthetic or fit.
What would you say is the No. 1 reason a reader of The Manual should check out Slate Denim?
If your readers are looking for something that is kind of off the beaten path from the well-established denim brands like Joe's and AG, I think Slate Denim is a really good fit because it embodies individuality a little bit more, and it has a little bit of our Texas spirit, our Southern flair, and this kind of unique brand identity which is portrayed down to the product in both in our tops and our unique pieces of denim.
I think the fashion-conscious consumer is looking for what's next, and we think we've put together some really great products and a really great brand story that is trending to be what's next. If people are looking for product that other people see and say, "Wow! What is that? What brand are you wearing?" then our name can enter the conversation.
Editors' Recommendations