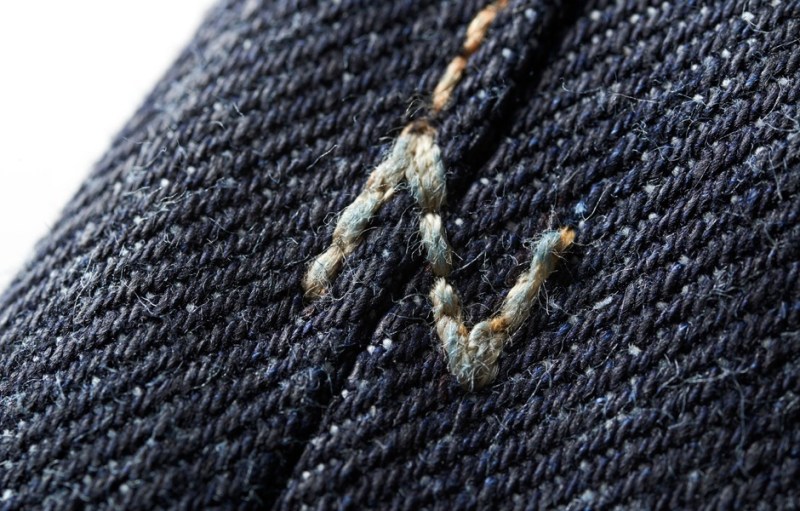 People can't stop talking about Noble Denim this spring. Maybe it's to do with the fact that it joins Raleigh Denim and Baldwin Denim as some of the best-looking denim America has produced in recent years. Or maybe because after selling exclusively online since its 2012 launch the brand will land this fall in 13 of the finest independent stores across the country. One thing's for sure: its founder Chris Sutton is giving budding entrepreneurs everywhere plenty of inspiration to follow their dreams and do good in the process.
Three years ago Sutton, then an event producer who relocated from Washington state to the Northwest to be with his wife, didn't even know what raw denim was. But, fueled by his passion to create jeans from scratch, Sutton bought his first sewing machine and never looked back. Today, the fledgling business Sutton started with an apprentice doesn't just make great denim; it's a force of good, forging partnerships with small craft businesses, including one of America's oldest and most exclusive denim manufacturers in Tennessee, which it rescued from the brink. Once employing about 160 expert craftsmen at its peak, the Tennessee factory now works exclusively with Noble Denim to produce 20 to 40 jeans a week—slow by industry standards. Yet each piece is painstakingly chalked and cut individually and hand-pressed. Pocket bags too feature the exclusive handwork of a local letter press. Noble Denim, as Sutton would have it, strives to conceive, design and manufacture the best-made garments possible. "We didn't want to just be a denim brand, but we also didn't want to a brand that has 60 items a season," insists Sutton.
As a result, Noble Denim less resembles a conventional fashion brand than a lab, consisting of everyday basics executed to perfection to create the ultimate, edited wardrobe for guys. A case in point: its new athletic fit jean, which answers the call for jeans that would accommodate the guy who works out and rides a lot so he's small in the waist but built up in his quads. Another new style on the way fits comfortably like Noble Denim's best-selling regular fit down to the knee, but narrows from there to the ankle to create a flattering, modern silhouette well-suited to any guy. In shirting, Noble Denim is gearing up to offer a new over-shirt, made from an exclusive Japanese fine vertical stripe fabric with corozo buttons. The company, we also learn, has plans for a limited edition run of denim sourced from Kuroki Japan. The label's recently launched sweatshirts are sourced from Canada for their superior quality, but overall the company focuses much of his attention on growing the local economy, whether it be through the local coffee roaster or letter press, and paying its tradesmen nearly double the going rate. Might Cincinnati be the next hub of cool? Says Sutton, "There are just so many people doing exciting and cool things."
Look for Noble Denim this fall in stores such as Man Ready Mercantile in Houston, Armitage & McMillan in Denver, North Menswear in Laguna Beach, as well as Journal Standard in Japan, and online at East Dane.
Editors' Recommendations