Roark stands as a brand that encapsulates the essence of adventure, cultural exploration, and aesthetics. With a wide array of offerings, including their signature board shorts, they are committed to authenticity, cultural immersion, and the art of storytelling.
In Roark's new Hokkaido Tiger Club collection, the brand draws inspiration from the iconic Sukajan jackets that emerged as symbols of post-WWII insurrection and cultural fusion. The Sukajan jacket, worn by American GIs returning from overseas after World War II, became an emblem of their experiences and the exchange of customs between nations. Its intricate embroideries narrated tales of distant lands, and soon, these jackets began symbolizing more than just mementos – they became a fashion movement that resonated globally. In the 1960s, the Sukajan evolved into a symbol of insurrection among the youth, celebrating a fusion of traditions and embodying the spirit of non-conformity.
Roark's Hokkaido Tiger Club collection reimagines the Sukajan's allure, weaving its rich history into contemporary fashion. The Hokkaido Tiger Club line, like the Sukajan jackets, tells a story – one that blends heritage, innovation, and the thrill of voyages far and wide.
Unveiling the Hokkaido Garage Jacket
Standing at the forefront of Roark's Hokkaido Tiger Club collection is the Hokkaido Garage Jacket in Club Hokkaido Black. This piece easily marries the essence of the Sukajan with contemporary elegance. Crafted with meticulous attention to detail, the jacket pays homage to the elaborate embroideries that adorned the original Sukajan jackets.
While the Hokkaido Garage Jacket takes center stage, Roark's Tiger Club collection extends its innovation and craftsmanship to other pieces as well. Each item tells a story of its own, uniting the past with the present in a harmonious blend of style and symbolism.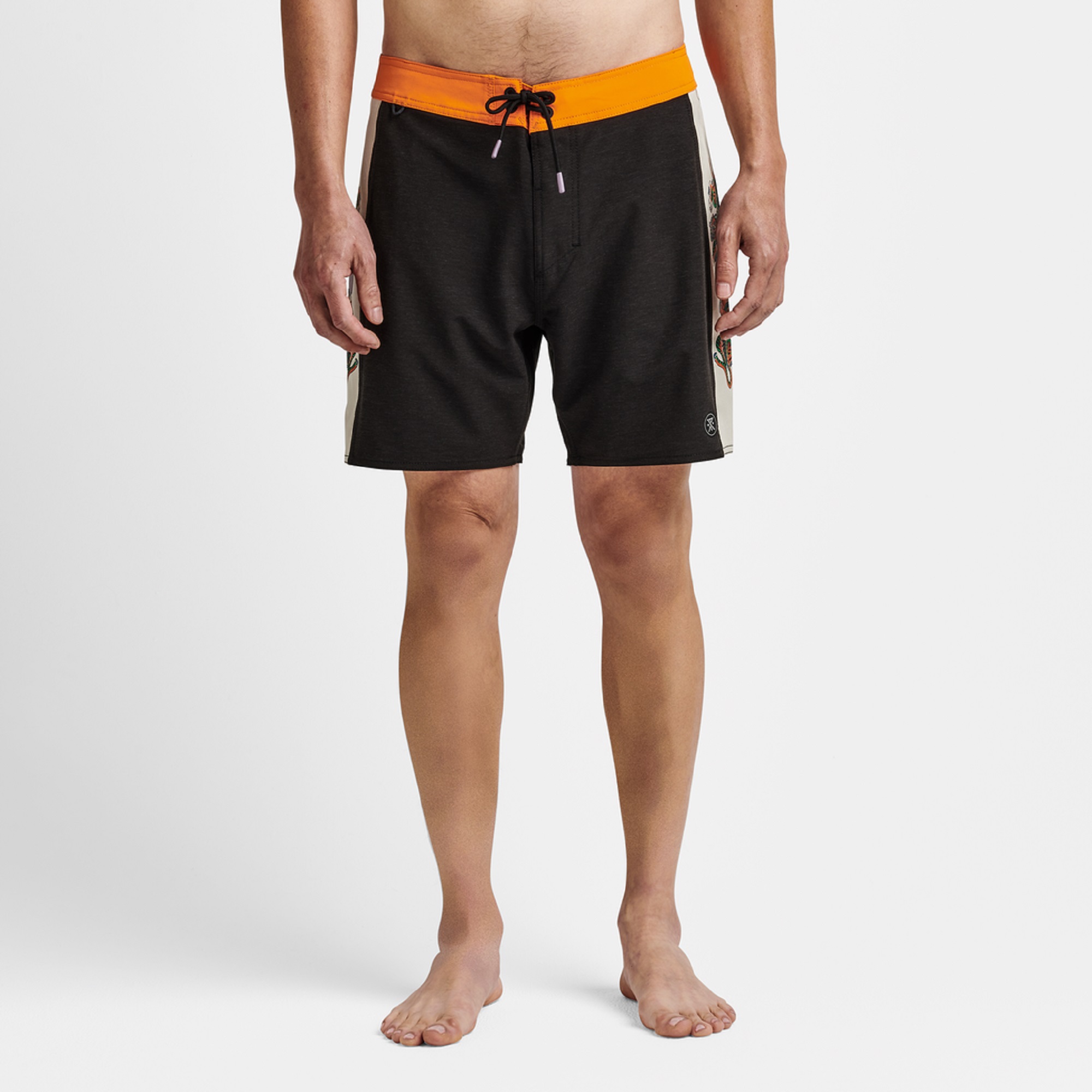 Roark's Hokkaido Passage board shorts
Roark's Hokkaido Tiger Club board shorts blend versatile functionality with distinctive design. Crafted from a unique Hemp / Recycled Polyester Blend 4-Way Stretch, these board shorts offer a seamless fusion of comfort, style, and sustainability. The artwork screen printed side panels not only add a touch of individuality but also pay homage to the cultural influences that define the Hokkaido Tiger Club collection. They are ideal for both active water sports and leisurely beach days.
The Hokkaido Tiger Hoodie: Where tradition meets modern comfort
Expanding upon Roark's Hokkaido Tiger Club collection, a standout piece that demands attention is the Hokkaido Tiger Hoodie. This hoodie seamlessly blends the iconic style of Sukajan souvenir jackets with modern comfort, creating a garment that not only honors history but also serves as a practical and stylish addition to any wardrobe. While the Hokkaido Tiger Hoodie draws inspiration from the past, it is designed to cater to the needs of the present-day thrill seeker.
With the Hokkaido Tiger Club collection, Roark invites us to walk the path less traveled, embrace our individuality, and weave our own narratives into the fabric of fashion history. This collection isn't just about what we wear; it's about who we are and who we aspire to be. As you wear a piece from this collection, remember that you're not just wearing clothing; you're carrying a legacy of rebellion, culture, and adventure, wherever your journey takes you.
Editors' Recommendations