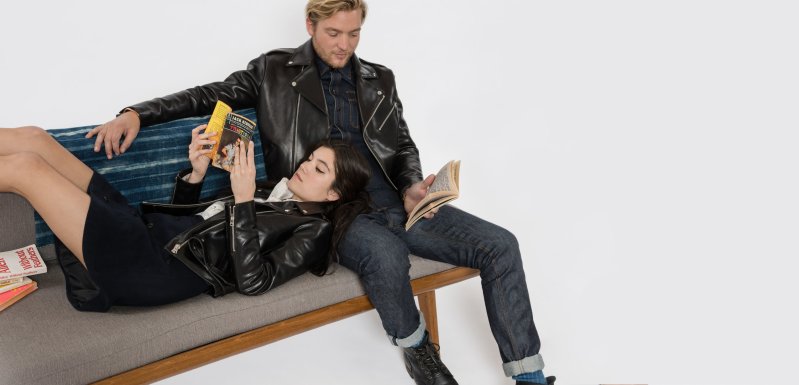 On a mission to provide customers with long-lasting modern essentials, designers Krys Maniecki and Meghann Stephenson founded Vacation, a new brand of vintage classics.
Maniecki and Stephenson met while working at a New York-based fashion label. The two quickly bonded over their love for travel, quality craftsmanship and vintage design.
Eventually, they decided to branch out on their own and develop a line of updated versions of their favorite vintage pieces, a collaboration that would lead to Vacation.
"Vacation was born out of a difficulty in finding pieces that reflected the quality and attention to detail that we were looking for, at a price point that felt appropriate," says Maniecki.
"The design process began pretty organically, with a lot of conversation," he states. "We talked at length about vintage clothing: what we loved about it, how scarce the really good stuff has become and how even the pieces we loved were not without some issues that we wanted to adjust. Finally, we jumped headfirst into meticulously developing our patterns and samples."
This meticulous attention to detail manifested in the brand's first men's collection, which draws inspiration from the classic styles of the 1950s and 60s.
Related: Retromarine Gives Men's Swimwear A Vintage Makeover
The line features the worker shirt ($160), a chambray double-breasted top inspired by the utilitarian aesthetic of the post-war era. It's a simple, durable garment that features an array of interesting details, including side gussets and natural corozo buttons.
The collection also boasts a pair of raw selvedge jeans ($175) based on an iconic 60s cut, but updated with a roomier feel in the seat and thigh. The denim is dyed a dark indigo, which lends the pants a certain richness and depth of color. This same denim is used in the line's raw selvedge denim jacket ($225).
Maniecki and Stephenson's main goal is to create pieces that will stand the test of time, by combining high-quality materials with tried-and-true designs.
"Our customers view clothing as an investment and treat it accordingly," explains Maniecki. "They're not motivated by trends or fast fashion—they understand the value in buying fewer, better made things."
View the full collection, here.
Editors' Recommendations