Over the past several years, hosts of up-and-coming startups and companies started calling the New York borough of Brooklyn home, helping rejuvenate the storied city. These companies — as varied as they are many — helped transform Brooklyn from an industrial wasteland into the bustling, creative hub it is today. One company doing its part to boost Brooklyn while offering a supremely stylish product is the luxury swimwear company, Retromarine. Brought to life by former chef Juan Pablo Jaramillo in Manhattan's Garment District, Retromarine now resides in Brooklyn's business-diverse Industry City, providing yet another feather in Brooklyn's cap.
Related: See life through a photo filter with Tens sunglasses
When Jaramillo decided to ditch his toque for swatches of fabric, he did so looking to revolutionize men's swimwear from the ground up. Feeling most products looked ill-fitting or unflattering, Jaramillo decided to bring vintage back by designing a pair of trunks which boasted clean lines, high quality material, and uniquely exclusive prints. The lavish yet exquisite styles of icons like Alain Delon, Julio Iglesias, and even John F. Kennedy drove inspiration for the product line, and influenced many of the brand's prints.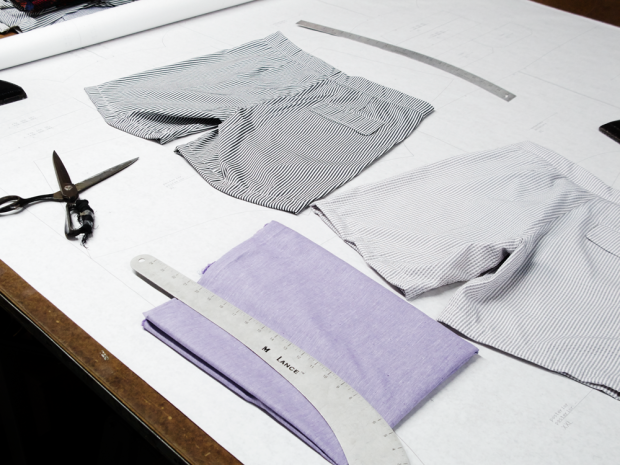 Designed for someone with a proclivity for an active and energetic lifestyle, Retromarine effectively redefined style, design, and luxury for the men's swimwear industry. Each pair of trunks features optimum quality polyester, top-of-the-line water repellent technology, and a host of UV filters which aim to keep each of the unique prints vibrant and lively all summer long. Topping off Retromarine's timeless swimwear is the company's signature yellow anchor logo emblazoned on the left leg of each product; a classy touch for a classic pair of shorts.
Aside from its achievement in the swimwear field, Retromarine's forward-thinking approach to business makes it an absolutely ideal fit for Brooklyn's Industry City. While its designs contribute greatly to the area's creative subculture, the company also prides itself on remaining sustainable while boasting a product proudly "MADE IN NYC." Moreover, sustainability isn't just a loose term used to draw attention to the area but rather Retromarine's — and every other Industry City inhabitant's — sincere promise to live up to the word's definition. It does this by offering bike racks for employees, robust fitness facilities, and childcare solutions for the working parent. This effort shows it's committed to not just its products, but to the people who contribute so wholly to the company.
It's eerily fitting a brand which brought vintage style back to a modern product now resides in a workspace which put a modern touch on a historical location. Regardless of coincidence, expect Retromarine to stay fixed within Industry City's ecosystem for years to come, spearheading the area's continued revival and cultural renaissance. The trunks are a stylish, quality piece of summer attire worthy of waistlines all over the globe; it's a massive plus they come from a company as progressive and ambitious as Retromarine.
Editors' Recommendations