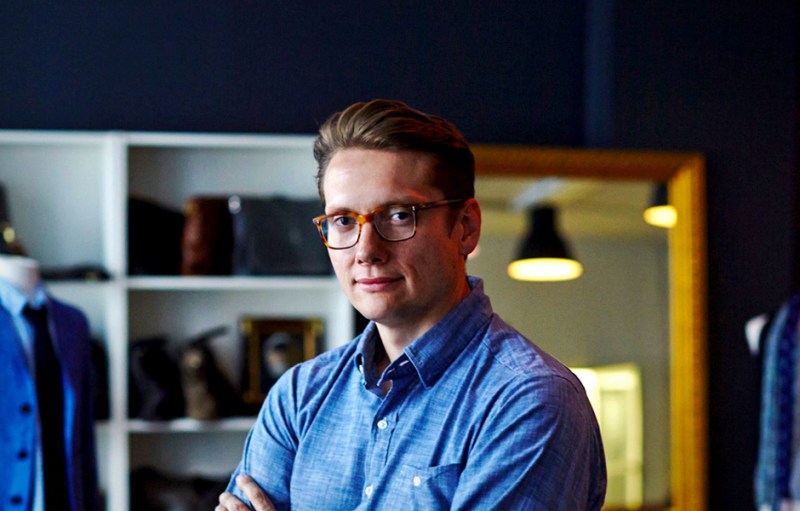 Named GQ Magazine's 2013 Best New Menswear Designer in America, Ernest Alexander has been steadily evolving its accessories and tailored business since 2009 into the definitive American menswear brand for the next generation: born out of necessity and cut from tradition with the entrepreneurial spirit, sheer perseverance and contemporary eye of one Ernest Sabine, who grew up just outside of Boston summering in Cape Cod, attended an all-boys school and picked up a few tricks of the trade from his seamstress grandmother and great-grandmother. The brand didn't come immediately, however. After Boston Sabine pursued a BA in Art History and a MBA from Columbia, then landed in the creative department at Laird + Partners. A quest for the perfect men's bag then led to the idea for his own men's accessories label. Shifting gears from corporate branding to product design, Sabine launched Ernest Alexander in 2009 beginning with his now ubiquitous signature messenger bag. Since then, the label has grown into a complete lifestyle brand comprising clothing, shirting, denim and tailored suiting, conceived in the vein of "new American luxury" with all of his products manufactured in the USA. Here, our recent conversation with the rising star of American designer menswear.
M: Ernest, you've come a long way from your bags. What's it like to be growing into a full lifestyle brand?
ES: It's been a bit surreal to see how the brand has grown so rapidly over the last couple years. In 2009 I was just a guy with an idea to create a bag because I couldn't find anything in the market I liked for myself. Now, we are a multi-category brand with several employees, showing during New York Fashion Week and have a store in SoHo. Our Spring 2014 collection was a real statement for us, I think. It was the first time we put out a complete ready-to-wear collection. It's the first step in creating this sort of lifestyle brand we're talking about.
M: The word craftsmanship is thrown around a lot today. To you, what's the definition of fine craftsmanship and where do you look for inspiration?
ES: We've been fortunate enough to work with some great manufacturers in and around New York City as we continue to try to produce domestically. All the men and women we work with are true masters of their craft. They are emotionally invested in the product they are making and want to help us develop a superior product that is done with the best practices possible. To me, craftsmanship is about having the knowledge and skill in a specific field, but, more importantly, I think it's about having a desire to create a quality product that one can be proud of. Again, I think we've been lucky this far to work with people who are proud of their work.
M: Manufacturing is slowly but surely returning stateside. What else can we or the country do to change things?
ES: The biggest thing would just be to do your best to be aware of where products are made. There are definitely some good products coming from overseas, but there is similar quality that can be found right here in NYC and in other parts of the country. There is something genuinely gratifying about working with people in the garment district and knowing them by name. It makes us all proud that we're trying to bring business back here.
M: Whenever I buy a bag, I always wonder how it's going to wear. How do Ernest Alexander bags wear over time?
ES: When designing we try to choose materials that will develop overtime. I like the idea of something aging with the user and developing specific characteristics according to how it's been used by each individual. I think our bags, made mainly of wax cotton and supple leathers, develop a super rich texture and soft feel with every wear. There is a very unique patina that is developed on our wax bags specifically that creates an antique and marked effect that is really interesting and appealing to men and women. They are designed to be used and should hold up to your toughest daily activities. Whether that's somewhere in the office or on a long cross country trip, each bag is meant to last.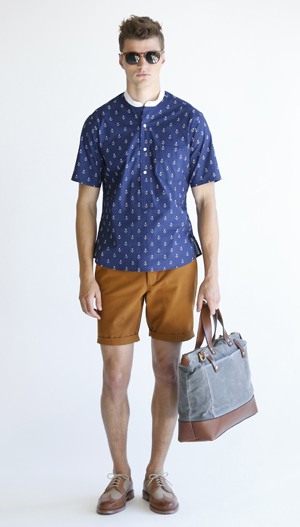 M: I think designing is a tough job—tough because it's all about convincing people to fall in love with your product. Just how do you do that?
ES: It's about consistency and making something with a specific image in mind. I think customers come back to us because we're making quality product over and over again that has a certain lifestyle associated with it.
M: So ultimately what makes a brand successful in this day and age?
ES: Staying true to vision and standing behind what you are creating.
M: And how has success changed you? Where does celebrity sit with you?
ES: It's definitely nice to be recognized for all your hard work, but at the end of the day it's about making cool accessories and apparel pieces that I hope appeal to a wide customer base. I don't think I've changed with this welcomed recognition, at least I hope I haven't.
M: Any plans to go beyond fashion and go into more lifestyle products, say grooming for example?
ES: My dream has always been to create a full lifestyle brand. I admire people like Paul Smith and Ralph Lauren for their genius in creating brands that are respected across many product categories. Down the road I'd love to have something similar, of course, but for now, we're taking things one step at a time. Our biggest thing(s) next will be to expand our ready-to-wear collection and offerings as well as expand our small goods and accessories categories.
M: What are three accessories every man should own?
ES: A wallet (a man needs to keep himself organized), a watch (a Swatch, a Rolex, whatever. At some point in life you'll need to know what time it is), a bag—of course.
M: And what are three things Ernest the designer can't live without?
ES: My iPhone, coffee (regular with a little milk or cream), my family.
M: Your favorite drink and hangout in the city?
ES: I really just prefer a beer or a glass of whiskey or bourbon, or something straight up. I've been into rye lately. The Breslin on 29th street is a good place to hangout, especially because it's right around the corner from our office.
M: Finally, your most prized possession?
ES: I have an antique bag that was my grandfather's when he was in the war. It's nearly beat to shreds and it's incredibly delicate, but it's this family heirloom that I've had in my possession since I started my brand. I actually just recently went through it for the first time and found all these old documents and maps that told a small part of the story of his life when he owned it. It has some history to it that's irreplaceable.
Editors' Recommendations