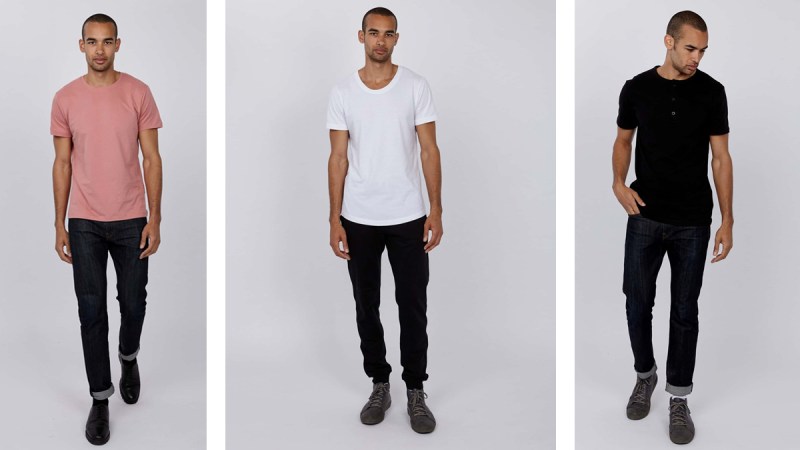 Kotn is a two-year-old clothing brand out of Toronto that makes and sells "elevated essentials." Created by three friends – Rami Helali, Mackenzie Yeates, and Ben Sehl – the line was born when the trio discovered that they couldn't find a quality plain T-shirt that wasn't super expensive. Now offering other wardrobe must-haves such as henleys, sweatshirts, tracksuits and underwear, Kotn stands apart because it employs Egyptian Cotton only – the finest variety of this natural fiber in the world. Helali and Yeates recently shared their young brand's story with me from their office/store on Queen Street…
How did Kotn come about?
Helali: All three of us were working in New York and the uniform across all the industries we were working in, which were anything from finance to branding agencies to startups, were tending toward tees and that kind of thing. And we found that our closets were either not so great with Hanes or Fruit of the Loom or your "going out" tees that were 100 bucks. There was a big discrepancy there, so we decided that we wanted to perfect what we thought would be a really simple item – the plain white T-shirt. That's what got us started and that's what we launched with, a T-shirt in black, white, and grey in three cuts. We found that it is much harder to find "the perfect T-shirt" than we thought when we set out.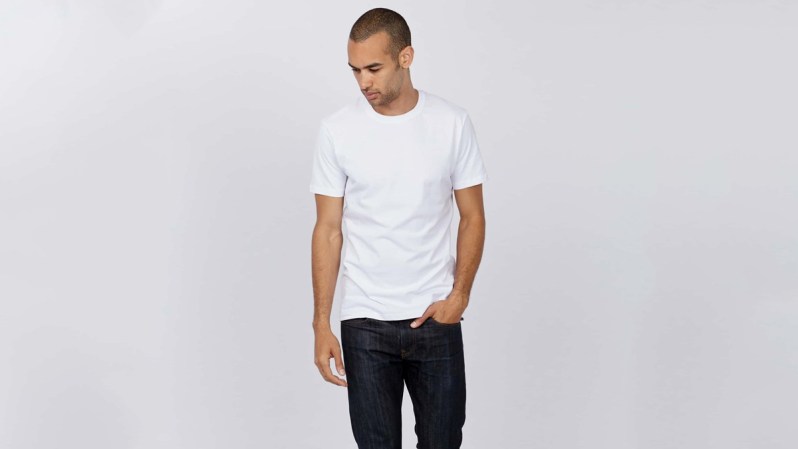 So what does make "the perfect T-shirt"?
Helali: It's really a combination of price that makes it accessible so that you are able to replenish your white T-shirts every six months or so and at the same time the quality of the materials, the cut and all that type of thing. That's what's what we did for the first year – just the tee. And since then we have added more and more of these staple items, these essentials that you can wear every single day.
What are some of your favorite new pieces?
Yeates: We just launched a pique T-shirt that's made from fabric that they typically use for polo shirts. That is our favorite item this season and a lot of our customers are really liking it as well. It's soft and can be worn every day but it's a slightly different twist on your everyday white tee. The fabric is really breathable for the summer and it hangs a little bit differently than a plain jersey does.
Helali: I like the dusty rose pieces. I'm not a pink person per se. I just own black T-shirts but I think the pink ones we just put out are awesome.
Where do you manufacture?
Helali: Everything is done in Egypt. We buy the cotton directly from the family-owned farms in Egypt and provide subsidies to those farms. When we set out to do this we wanted to use the best natural material in the world and that is Egyptian Cotton. But what we found out really quickly was that industry was on the brink of extinction – and I am not being an alarmist when I say that. The independent farmers were saying, "I don't want to grow this cotton anymore" and were switching their fields to rice. And this thing that 20 or 30 years ago was called "white gold" and was coveted across the world was on the brink of extinction essentially because of fast fashion. So we decided we were going to subsidize these farms and buy directly from them.
We control the process from the second the cotton leaves the ground to the final product and we make sure we partner with right people. We have really intense audits with our partners and we make sure everything is really ethical and sustainable. Just like how we want to elevate the lives of our customers we want to do that with the people we work with too. So it's all made in Egypt within a 100-kilometer radius of the farms and then shipped over.
And you recently opened a physical store?
Yeates: We opened the store in March. We decided to open a flagship store that also doubles as our office. It has been a great opportunity to try things out and talk to our customers firsthand and better understand who they are.
So who is the Kotn customer?
Helali: It's a little bit older – probably 28 to 38. It's 70 percent male even though a women's line is coming in the future. It's a lot of creative industries.
Yeates: We jokingly refer to our customers as "architect dads." The neighborhood we are in is a really cool, creative neighborhood with a lot of bigger international brands and also a lot of small independent shops. A lot of people who live and hang out in this area work in creative industries or have young families. So many brands say that they are for the creative class but the price point doesn't really reflect that. We are just trying to be the go-to stop for those pieces that you need to restock every once in a while.
And now you are selling some clothes as part of a kit?
Yeates: Yeah. We started the kits a couple of months ago and now we have revamped versions of those. We are creating classic products that don't really go out of style which also means our stuff won't go on sale. But we do want to create different offers for our customers and the way that we are doing that is bundling in the way that we see people shopping. A lot of people are coming to our site and buying one tee or one pair of underwear to try it and then coming back and buying three more or a seven-pack or underwear. So we have a starter kit that is a T-shirt, a pair of socks, and underwear to basically just try the stuff out.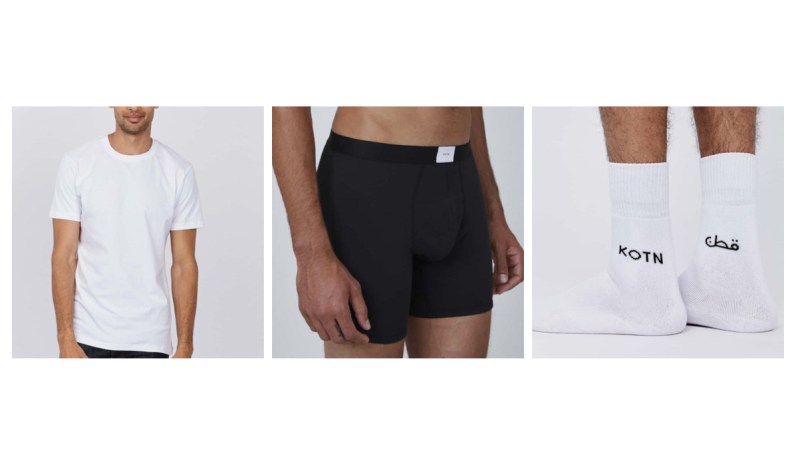 We also have a "Suit Up" kit where you can get a full sweatsuit at discounted price. We'll be switching those out once a month to offer new deals. It's a way that we can offer a bulk pricing deal and hopefully with our new kits we'll be adding in little surprises and cool items.
What's next for Kotn?
Helali: We can't exactly say all the things but there are going to be more physical locations popping up across North America and then continuing to flesh out what "essentials" mean – things that you can live in.
What are the top reason readers of The Manual should check out your brand?
Helali: I think a lot of what out there right now is a lot of fast fashion that really takes shortcuts on the quality. I think your readers can really appreciate the focus on the craft and making those classics perfect and always available. I think that's something that most men really appreciate.
And thing is: It's the softest T-shirt you will ever touch and I am not making that up. It's crazy! Egyptian Cotton is absolutely absurd. Just like Champagne can only be made in one region, Egyptian Cotton can only exist in this little Nile delta area and there's a reason why it has the reputation that it has. It's incredibly breathable and if you touch it you'll honestly feel like you've never touched cotton before.