In less than three years, CEO Artjem Weissbeck and his team at Kapten & Son started a watch brand and turned it into one of the fastest-growing timepiece brands outside the United States.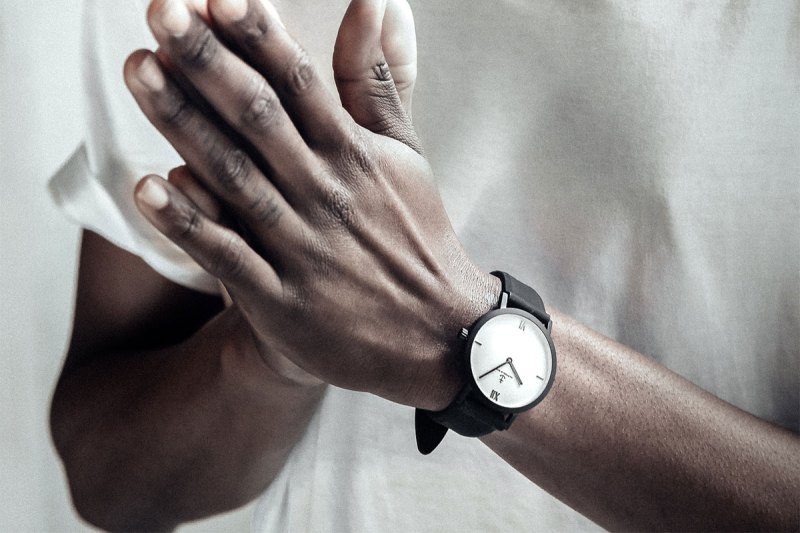 The Germany-based company has risen through the ranks on the backs of a few key dial designs with a number of interchangeable bands. For now, all of their products are under $200 and reflect a quality many other brands in the same price category don't have.
We caught up with Weissbeck fresh off of last week's launch of their PURE line. The decidedly design-focused lineup of two $99 watches (one black, one white) reflects a change in tone for the young brand, while signaling their approach for 2017 and beyond.
The PURE line is built on this idea of "less, but better." Where did the inspiration for that idea come from?
We were really inspired by Dieter Rams (former lead designer at Braun and a giant in the design world). His biggest guideline is "good design is as little design as possible." We also wanted to design a watch that we would like and our friends would like. First, the watch had to be easy to read. Second, it had to be a reflection of the urban, tech-centered lifestyle and lastly, keep Kapten's DNA – the Roman 12 and 6 numerals (featured on all of their dials). Overall, we got a little bit older, wiser and with new tastes (from our first collection). We wanted to build the next iconic watch. As Germans, our principles of design reflect quality, functionality and simplicity.
Influencer marketing and social media are a big part of K&S. Who is the influencer you see PURE appealing to the most?
Ultimately, we dedicated the watch to the modern creatives that are kind of taking over big cities these days. [We're appealing to] those that care about design and visuals. Because there's a lot of stuff out there without much thinking, we're showing there was plenty of thought put behind this watch.
Normally, our innovation timeline is 3-6 months, but it took us close to a year to bring PURE to life. We wanted to build a watch that could bring us, again, an iconic piece, something like some of the early Swatches. We're really happy with the result.
What is the connection specifically with PURE that you want to create with new and returning Kapten buyers?
Our brand is always about the journey. When we think about the journey, we kept connecting it with traveling – visualizing beaches and the world. We wanted to add a slightly older demographic to our buyers, while retaining those young wearers as well. PURE is for the watch buyer who is a little bit older and little bit more mindful.
After PURE, what's the next chapter in the Kapten & Son story?
You'll see that we are innovators. We will drop products like sneaker brands do with colorful, playful and timeless designs that will shout out to the world.
We're going to shoot to a higher price point too. We'll maintain great sunglasses (as well as an eventual PURE line), but also head into new categories, K&S will not be a watch brand, but a brand to watch. We want to prove that. We'll always keep our DNA, but we have a lot of room to play.
You can scope out and purchase Kapten & Son's PURE line here.
Editors' Recommendations