Today we speak to the James Beard nominated Executive Chef at Minton's, JJ Johnson.
Chef Joseph "JJ" Johnson first fell in love with food in his family's kitchen. Johnson was born in 1984 in Long Island, New York, but spent his youth in the Poconos, where at the age of seven was inspired to become a chef by learning at his grandmother's side and watching her make traditional Puerto Rican dishes. While most boys his age were playing with cars, he was in the kitchen cooking his heart out with his family.
After graduating from The Culinary Institute of America, Johnson spent time in Ghana studying West African cuisine, before returning to cook at several New York City restaurants, including Tropico, Jane, Tribeca Grill, and Centro Vinoteca. In 2013, Chef Johnson helped open The Cecil in Harlem with Richard Parsons and Alexander Smalls. Soon after, he joined the kitchen of its sister restaurant Minton's, the revived jazz supper club located next door.
For most chefs, cooking is a way to make a living, but for JJ cooking is his life, you can taste his passion in every meal that he makes. His culinary skills will always take you on a unique journey, expressing his passion for food, people, and the art of a good meal.  Chef JJ is a game changer, and his recipe for success is simple: work hard, be good to people, cook with your heart, buy the best ingredients, share your story in every meal you prepare, feed the people you love, and never be afraid to get in the kitchen and step out on faith.
Johnson himself was ranked among Forbes' 30 Under 30 in the Food & Wine category (2014), Zagat's 30 Under 30 (2014) and Eater's Young Guns (2014).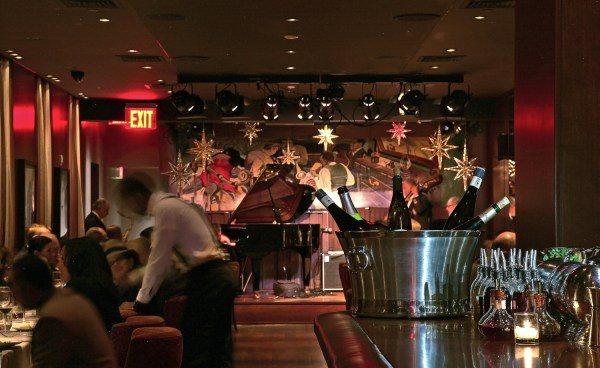 As for his personal style:
Jeans:  I cannot lie…my go-to pair right now is my ‪Adam Levine Jeans.  They fit me perfectly – I guess we have the same body type, so it works. I came across them during a photo shoot in LA.
Shirts: Brooks Brothers for the dress white pressed shirt that's my swag. For plaid, I go to J. Crew – the fit is right.
Pants: I am a J. Crew dude — the Bowery Slim.
Suits: I love the suit game, I just do not wear them enough but if I did, I would have style! Double breasted dark blue suit is my look, with a little pocket square.
Shoes: For sneakers, always my colorful Nikes, and I do have these black and gold Pumas that I love with black pants, a crisp white shirt and a blazer. For dress shoes, Paul Smith,  you have to do it – lol!  On the everyday, Logan for boots.
Accessories:  I love watches… I have a classic Movado, and a clean Hugo Boss that I love.
Outerwear: I grew up in Poconos so my outward gear is legit!  I like my Red Wing boots and a good pull over from North Face.
Favorite Cologne: Not me! I am in the kitchen a lot.
Your favorite App: Evernote.
Favorite piece of technology: Apple watch– I just got it.
Next tech purchase: More Sonos!
Editors' Recommendations