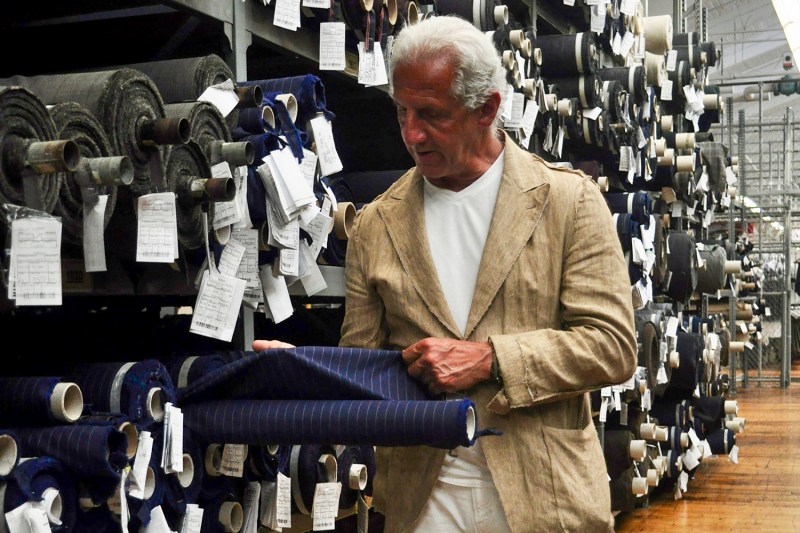 Having a conversation with designer Joseph Abboud is a bit like taking a master class where the syllabus combines men's style, business management, and consumer psychology. His fall 2019 collection, which debuted on a chilly night last February, was shown at New York City's South Street Seaport. The venue was chosen to reflect the city's rich migrant heritage: Abboud's sophisticated approach to tailoring and love for imported Italian fabrics collided with an Ellis Island-era Bohemian panache. There was pattern mixing, texture saturation, sleek leathers and shearlings, kilim bags, and luxurious knits. These were not all necessarily clothes you'd want to wear to work every day but were — like any good designer presentation — those you'd wear in an idealized world, setting the pace for the kinds of wardrobe we will want when the air is a little cooler and crisper. The pieces were designed to show off the artistry and skill of the craftspeople at Joseph Abboud's New Bedford, Massachusetts factory, where we got to catch up with the designer about what to expect from the brand for this season. 
"Each one of those pieces (from the show) was individually made with its own pattern. We spent weeks up here," Abboud tells The Manual. "What I did to this team? We worked on every detail, right down to where each of the buttons would go on the 'button jacket.' I would sit with swatches of fabrics;  'Take this one and cross it with that.' It literally was exhausting. I wanted to show pattern mixing on steroids, truly showing the heritage and beauty of clothes. We know that some of these jackets aren't going to be in every store. It's a piece of art. Fashion is art, but very few people in the menswear industry think of fashion that way."
The Joseph Abboud factory, a former cotton mill, is the largest tailored clothing facility in North America and has operated since 1987. The 500,000-square-foot, 100-year-old shop employs more than 800 people.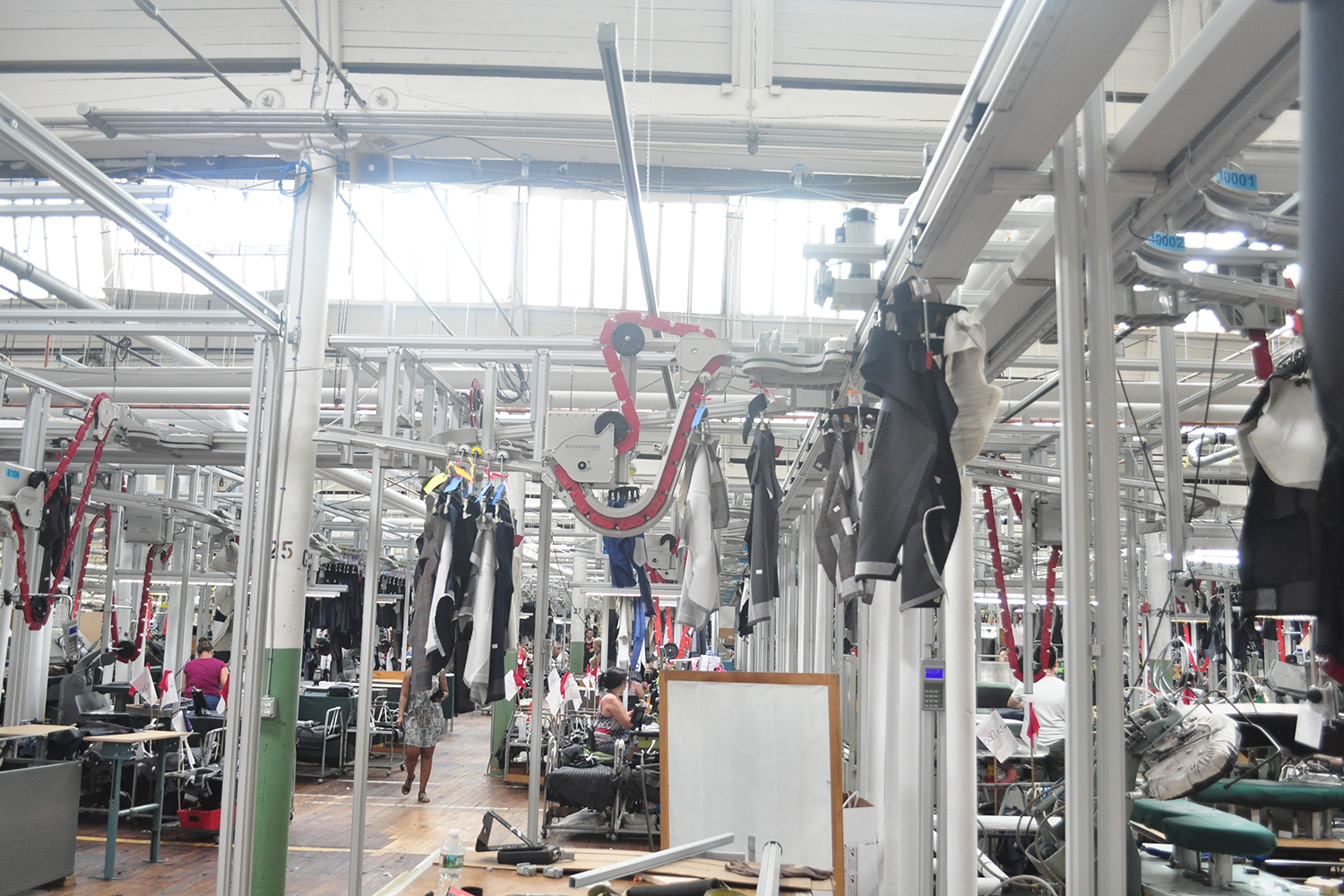 "Making in America is now considered very cool and chic, but my original business partners, [Gruppo Finanziario Tessile], and I thought from the beginning that an American designer brand should be made in America," says Abboud. (Author's note: Gruppo Finanziario Tessile was, at the time, one of the world's leading manufacturers of designer apparel) "They also worked with Giorgio Armani, for example, and that collection they wanted to make in Italy."
"My goal is to be an inclusionary brand for all Americans."
The first stop on the factory tour was an impressive selection of massive rolls of Italian fabric. The very finest wools from Italy's Biella region — Carlo Barbera, Lanificio Ermenegildo Zegna, and Ferla — make up 95% of inventory, and Abboud selects each one. Every yard of that fabric is inspected by someone who has been doing it for nearly as long as the factory has been open. Once deemed perfect, they are moved on to ten different cutting machines. A state-of-the-art automation system takes on a Rube Goldberg -like quality as bits and pieces of suits fly overhead, going through the 147 operations it takes to complete a garment. The company's entire tailored production of more than 300,000 units is handled at this location, including its healthy custom business.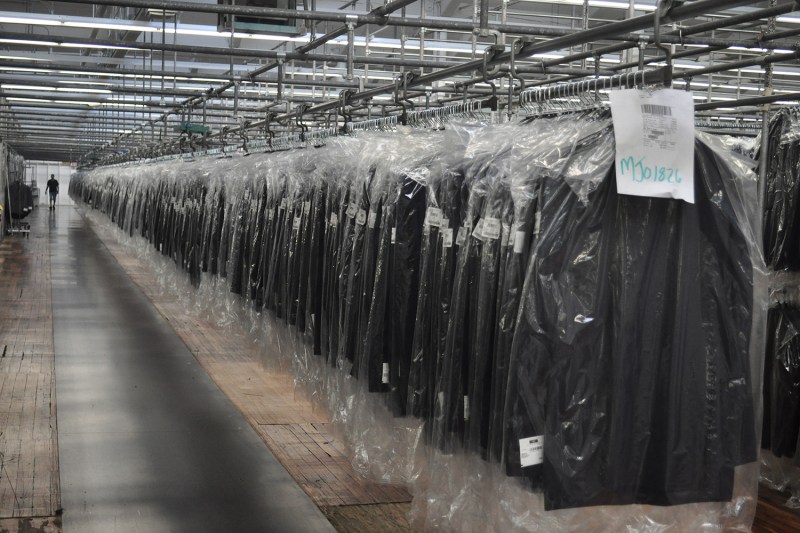 "My goal is to be an inclusionary brand for all Americans," says Abboud. "The Hollywood guy is our customer. The businessman is our customer. I wanted an inclusive brand that reached out to everybody. I didn't want to be exclusive. Why do you have to be of a certain stature to wear a designer brand?"
When football coach Rob Mendez was going to be awarded an ESPY Jimmy V. Award for Perseverance, Joseph Abboud was contacted about making him a suit — with only a few days of notice. The challenge? Mendez was born with no arms or legs. 
"We made him a suit in two days, over the weekend," says Abboud. "He is our customer. We didn't do it for the press … it just shows what we can do. I'm so proud of our factory and our team."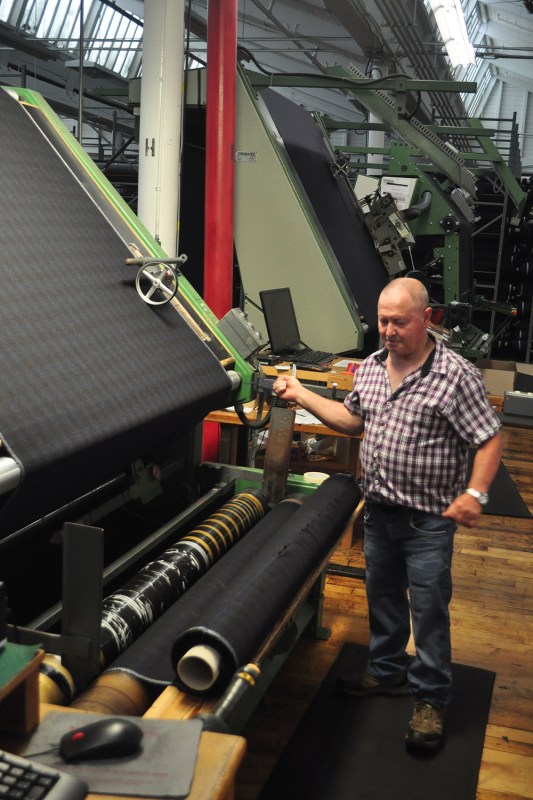 Speaking of inclusive; the starting price point for a Joseph Abboud custom suit is only $895, which includes Italian fabric and canvas construction, all made in America.
Further Reading
"The custom suit business is much more about individuality than it is fit restrictions," says Abboud. "There was a time when the very elite would go to Savile Row to have suits made. Now, if a 40 regular guy wants a double-breasted suit, or … a three-piece suit in white flannel, he can have it. The growth of custom is talking about who you are. And the suit business is morphing. Guys still need to wear them … they are just doing it differently."
Here, Abboud echoes the legendary Steve Jobs: "Our job is to know what they want to wear before they know it. That's the role of a designer and a creator. It's easy to follow, much more difficult to lead. If you want to take leadership, it's about innovation and creative courage, not something spit out of a computer or coming from a consultant. Our business rests on instinct and innovation … and then we have to manage through that."
"The custom suit business is much more about individuality than it is fit restrictions … The growth of custom is talking about who you are. And the suit business is morphing."
What you can you expect from Joseph Abboud for Fall 2019? 
"The one thing that I look at is customer diversity and thought processes: how men use and wear their clothes. There's no uniform anymore. That's gone.  I've been trying my whole career to get men to think like women: think about one wardrobe, not two; not a work wardrobe and a play wardrobe. Get a great suit that you can dress up with a tie for an interview, but wear the jacket with a pair of Bermuda shorts and a T-shirt. I keep coming back to individuality for this fall. Some guys want to be dark and dressy in a beautiful worsted suit. Others want a 'play suit' with a drawstring pant. A young millennial wants a work suit with stretch and performance … it will look somewhat traditional but in a leaner, slimmer silhouette. I'm also seeing lighter construction, like unlined and half-lined garments. It's not black and white anymore. The world is 50 shades of gray flannel."
Editors' Recommendations