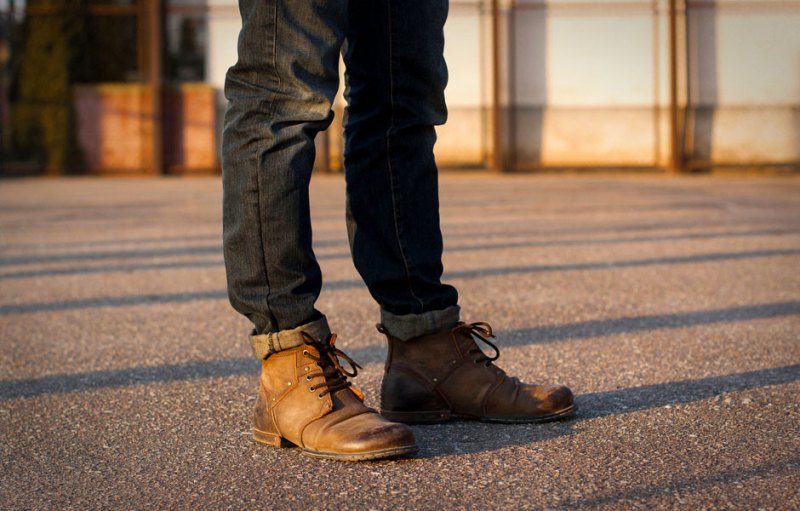 From the drowning-in-fabric parachute pants of the '90s to the circa-2009 ultra skinny jeans that you had to shimmy and shake your way into, men's denim has had some dark days. But despite the horrors of JNCO–which is, shudder, trying to make a comeback–a good pair of jeans is irreplaceable and should be a permanent fixture in stylish men's wardrobes the world over.
Trying to figure out what looks good on you can be a challenge though. White jeans, for instance, look good on very few people, and stacking can make you look like you're playing dress-up in your dad's jeans. But don't worry: we've got you covered with our denim fit guide. We talked to Jonathan Cheung, Senior Vice President and Head of Design at Levi's, about how to find the perfect pair of denim.
We're going to break down everything from the nitty-gritty of properly measuring your inseam and thigh to how to rock some trendier styles like cuffing, stacking, and colored denim.
Know your measurements
First things first: no matter if you're going to rock dark wash raw denim or distressed light wash or anything in between, if you don't have the proper measurements, your jeans won't look good.
There are four measurements you need to know: waist, inseam, rise, and thigh.
The waist is pretty self-explanatory. Measure horizontally around the part of your waist where you like your jeans to sit, and make sure you measure your body, not over your clothes. Interested in raw denim? Cheung says to buy a size up to account for shrink. Cheung uses the following as a guideline for finding the right fit for raw denim: "I like them to feel snug at the waist with just enough room to be able to slip my hand into the waistband." Want to know more about taking the plunge into the world of raw? Check out our comprehensive guide to raw denim.
The inseam is the length of your inner leg. A well-fitted pair of jeans will fall just to the tops of your shoes. There's no magic formula to figuring out your inseam other than measuring. Your measurement will vary depending on how long your legs are, regardless of your height. So don't go buying a 32-inch inseam just because you're 6'1″. Instead, Cheung suggests an inseam that sits just above your shoe without bunching. (If you're going to cuff or stack your jeans and need a little more room to play, see our Life is in the details section below.)
The rise is the distance between the top of the waistband and the crotch seam (right where inseam starts). This one is surprisingly important when it comes to finding jeans that flatter. Rise is anywhere from 6 to 12 inches, with most jeans being considered mid-rise, about 9-11 inches. This is a matter of personal preference, of course, but keep in mind that low rise jeans will make your torso look longer and legs look shorter. Depending on your body type, this can make you look disproportionate and stubby. Conversely, a high rise will give the appearance of longer legs. So if you want to look like you've got legs for days, go for a higher rise.
Let us shout this from the rooftops: your thigh measurement matters. A lot. There's nothing quite as attractive as jeans that fit properly through the thigh. You want to find jeans that are comfortable (i.e., don't feel like the casing around an overstuffed sausage) but give no more than 1/2 an inch of fabric when you pull. If your denim pulls at the knee when you walk, you should try going down a size or have a tailor take in the leg. A pair of denim that is fitted in the thigh is a game-changer.
Pick the right cut for your body
If the jeans aren't working with your shape it'll be hard to feel good when someone appreciates that amazing stitch or beautiful detail in the fabric. Cut, or how the denim is shaped, is everything when it comes to rocking a nice pair of jeans.
Cheung suggests trying the Levi's 511s regardless of your body type. "It's a straight cut, slim leg. It's probably as close as it gets to a magic-bullet fit, as it looks good on pretty much everyone regardless of size and height."
But what if you want to try some other cuts? We've got you covered, no matter your body type.
Thin and Tall
Ever been told you should play basketball or run track? The tallest guys in the room will look most natural in cozier fitting slim cuts, but the trick is to pay attention to fabric. Sturdy, thicker denim will add some pounds to your visual, anything too thin or stretchy will only make you look thinner.
Short and Slender
If your build is small-all-around, stick to slim cut jeans like your tall cousins, but think about going with a more moderate grade of denim and lower rise in the waist to help keep you proportionate. Above all, the baggier you go, the more like someone's child, you will appear.
Average
Being lean but with some meat on your bones makes you one lucky jeans-wearing guy. Your legs will feel at home in slim, relaxed, straight or tapered denim, but pay attention to the micro shapes of your body. If you have thin calves, you can go for a little bit of a slimmer cut. If have muscular legs, veer towards wider straight and relaxed cuts.
Mr. Big Guy
Bouncer body? Your legs will look more put together in wider straight or relaxed cuts, but that doesn't mean you have to go for a blobby denim bag. To make them look as fitted and proportionate as possible without looking slouchy, consider denim that has a small percentage of stretch.
Stocky Guy
Compact and stout? It's the same as above but you can go slim as long as you keep the cut straight and on the wider side.
Life is in the details
We understand that sometimes you want to try something new. And you should! In the section, we're breaking down how to get playful with denim trends.
Cuffing
Who doesn't love a good cuff? It's one of those fine sartorial touches that separates the Robert Redfords and Steve McQueens from the Justin Biebers and Jared Letos. Whether you're short or tall, you can pull off cuffing. But there's a right way and a wrong way to cuff.
"Just go with a discreet cut–about an inch," Cheung says. "Think Steve McQueen or Chet Baker–that cuff." For taller guys, you can experiment with a bigger cuff (as pictured in our header) but don't go too crazy. Any more than an inch and a half and you'll start looking like your legs have been chopped off.
For shorter gents, though, Cheung says to definitely go with the McQueen cuff, which is about a quarter of an inch. This will prevent "stacking the leg [of the jean] on your shoe" which will make you look sloppy.
If you're all about the cuff, remember to take that into account when you're looking at inseams. If you want a bigger cuff, add an inch of inseam to what you would normally buy. If you're doing the McQueen, you most likely don't need any extra inches, though you can always get your pants hemmed to your specifications.
Stacking
Hip hop heads will know all about stacking, or wearing jeans that are purposefully saggy at the ankles.
First and foremost: you want jeans that are fitted through the leg. If you buy jeans that have extra give in the thigh and the lower leg, your stacks will end up just looking sloppy. You'll want a longer inseam. How else are you supposed to get the stacked look without extra fabric?
Perhaps the most important aspects of getting the right look are wearing at least mid-weight denim and getting the proper taper. Make sure you find jeans that narrow from the knee to the foot as much as is comfortable for you to get your foot through.
Distressed denim
It's time to party like it's 2004, and Abercrombie is cool again. Distressed and ripped jeans are back, and you should feel free to rock jeans with the well-worn look. Heck, let the breeze comb through your leg hair if you want to try ripped jeans.
Just do us a favor: make sure you tread lightly. When it comes to distressed denim, less is more. You want the distressing to look like it came from you (and if you rock raw denim, it will come from you), so avoid anything acid-washed or with obvious distress lines. And when it comes to rips, again, less is more. You don't want massive rips with huge chunks of denim hanging down. Stick to one or two smaller rips, and you'll look fashion-forward without looking like you fell into a paper shredder.
---
Matt Bell contributed to the writing of this article.
Editors' Recommendations