JJ Watt and Reebok's outstanding shoe collaboration continues to impress. This month, they debuted the brand new training shoe, the JJ I Insomnia, and it's ridiculously awesome.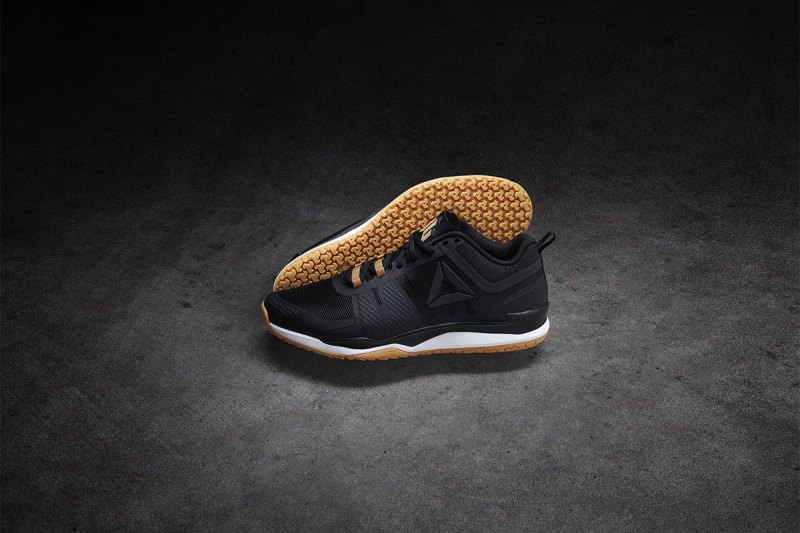 Watt, a defensive end for the Houston Texans, is famous for his dedication to football. He works his ass off, often training well into the night or way too early in the morning, which is no doubt the inspiration for the shoe's name. Reebok made videos of these insane workouts in their Hunt Greatness series, which you can watch here and get some ideas for workouts you can do with his shoes. Flipping a 1,000 pound tire anyone? No matter what you choose to do, this is a shoe that's going to work as hard as you do.
The Insomnia edition of the JJ I series is all about toe-to-heel stability. No slipping and sliding in these bad boys. A raised topline midsole (the cushion-y bit between the insert and the bottom of the shoe) and outsole (the rubber that hits the road), and their FlexCage Technology makes your foot feel "locked in." All of this works together to create the perfect feel without losing any agility or movement. The sleek black design allows the shoe to transition easily from gym to everyday wear.
"The Insomnia edition is the one I've been most excited to launch since Reebok and I began this project. People will love the versatility that this shoe brings, from phenomenal performance in the gym to an extremely comfortable and classic look outside of the gym," says Watt.
Reebok's JJ I series of shoes aren't just a form of branding. JJ Watt didn't sell his name to Reebok and go back to deadlifts. He was incredibly hands-on with the design and development process, which means you are getting a shoe Watt designed for himself.
JJ I Insomnia is available on Reebok's website, Academy Sports + Outdoors, and other retailers for $99.
Editors' Recommendations