I've gotten this far in life without ever paying north of $100 for a pair of jeans, and in most cases, I managed to spend around $50 or less at the mall, department stores, or shopping a deal online. I love myself a good ol' "Buy One Get One 50% Off "sale at American Eagle.
Since I — like most of you — wear jeans almost every day of the year, I'm always in the market for another new pair to add to my rotation.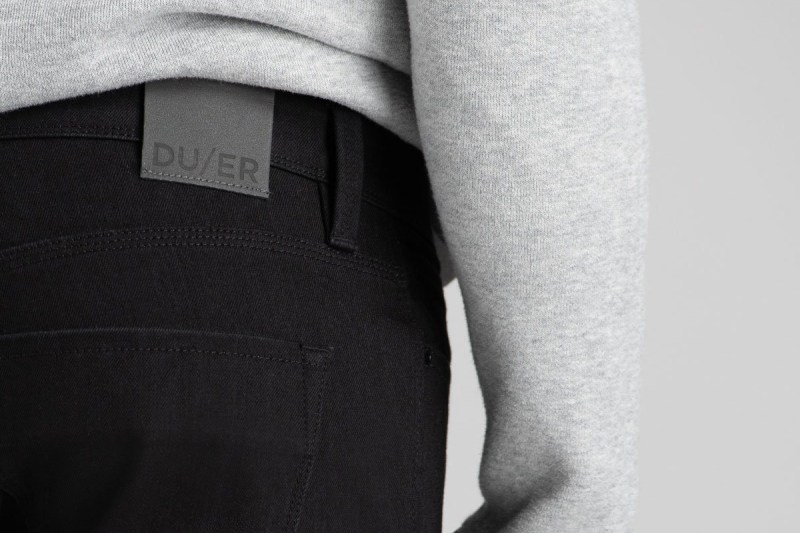 When it comes to buying jeans, I'd often compromise a little here or there — whether it's the fit or style or quality — so long as I'm adding another option to my collection, and finally releasing an overly worn-out pair. I thought I had it all figured out, but that changed after I got my hands on a pair of Duer's All-Weather Denim (we've considered the Duer Performance Denim Slim as one of the best jeans last year).
Duer sent me a sample to test, and it instantly became my go-to pair for rainy or snowy days. They are unlike any other pair of jeans I own. They completely repel water without a single drop seeping through. That's important for someone like me. I live in New York City and commute to work everyday by bus and train. When it rains, it often pours. Having a pair of pants on that can keep me dry at wettest times has been crucial.
Additionally, the fabric also surprisingly repels dirt and other spills. I tested this out by pouring a little bit of my coffee on the jeans. I was able to simply wipe away every drop of my cup of joe in one swoop with a napkin. I stayed completely dry and so did the pants.
The denim's inner lining is made with a cooling polyester fabric so it feels like you're wearing two pairs of pants at once. That may be a lot of pants for wear during hot and humid summer days. I've so far only worn them during the winter months.
The denim does make a slightly noticeable swooshing sound when strutting in them, which I assume is related to the water-repellant coating. It hasn't deterred me from wearing the jeans, but it took a little while getting used to.
Duer is designed by Gary Lennett, who manufactured denim for big brands like Levi's but wanted a pair that worked for his love of cycling. His passion has come across nicely on the All-Weather Denim . They are ultra flexible and stretchy giving them the ability to handle all sorts of movements. Running after the bus or train hasn't been an issue.
I'm always intimidated to buy a pair of black jeans. The color almost always fades after just a couple of wears. One of the most impressive features of the denim is by-far the way it's been able to retain its color. After more than 10 wears, the jet black is still very black and looks brand new. In terms of fit, the slim isn't very slim, which matches my personal preference, but if you prefer a more fitted or skinny style, these may not be for you.
Spending $140 on a pair of jeans was always a hard no for me, but the Duer Stay Dry Performance Denims have convinced me that it pays off to invest in quality over quantity (duh!).
Editors' Recommendations