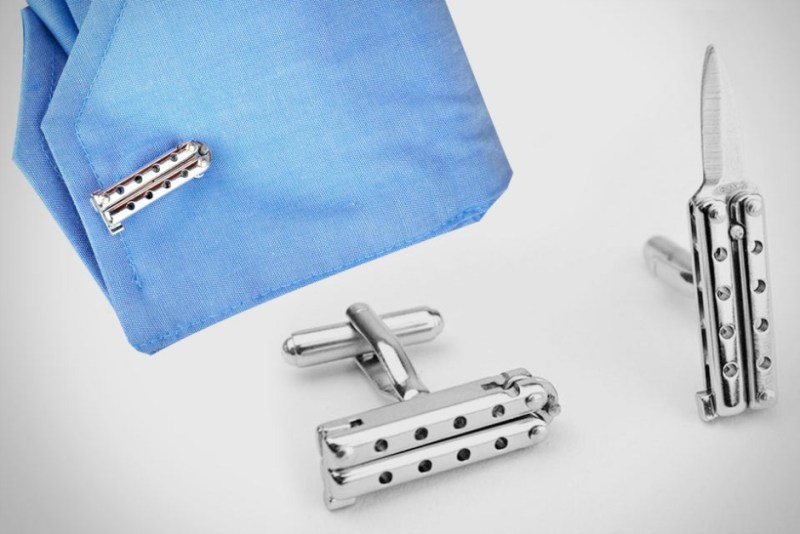 For those of you who have ever dreamed of dressing like James Bond, these butterfly knife cufflinks might just do the trick. Constructed of stainless steel and measuring in at 1 inch when closed and 1.5 inches open, these cufflinks merge function with style — if you're in search for the type of function that a member of the fictional British Secret Service that writer Ian Fleming conceived of when writing the iconic James Bond novels.
When the butterfly knife cufflinks are closed, they look like a standard pair of cool cufflinks. If danger approaches you — or if you need a tiny tool to unscrew something, cut up a miniature steak or poke someone's eye out — simply flip open the cufflinks and out pops a mini blade. They even come with a sharpener so your cufflinks will never get dull. They're just the kind of men's accessory you need to show off to a date or to impress your friends. Unfortunately, unlike their larger counterparts, you can't do any crazy knife tricks with these butterfly knives. But hey, it's not like you can wear a real butterfly knife either.
Now all your secret agent fantasies can come true. Let your inner James Bond come out with a pair of butterfly knife cufflinks, they will certainly kick ass over your grandfather's staid cufflinks any day. Plus, they look really hot with that tuxedo that's been hanging in your closet.
Butterfly Knife Cufflinks, $59.99 at shop.coolmaterial.com.
Editors' Recommendations