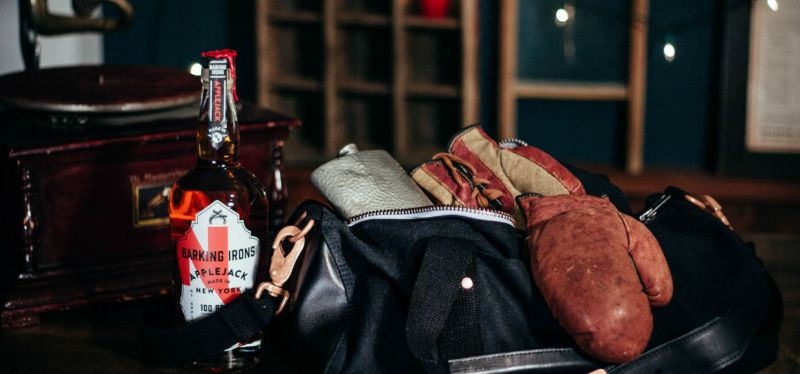 For those nostalgic for a more gritty, edgy era in NYC, Barking Irons is here to save the day with all the gear you need.
Founded in 2003 in NYC's iconic Bowery neighborhood by Daniel Casarella, the brand has now established itself as an homage to classic style that fuses the spirit of rock music with wearable, everyday staples (and a side helping of rugged accessories and sippable spirits). And even among NYC neighborhoods, the history of the Bowery era instantly recalls the type of spirit and grit that the brand aims to harness.
A hit in Japan and in top retailers like Barney's after its launch, Barking Irons quickly gained notoriety for its smartly crafted Brando T — and new colors of the lauded style are precisely why you should look to upgrade your T-shirt game this spring.
These simple-yet-effective cotton T-shirts — washed for both softness and a vintage look — feature different specs than your average pack of white tees, that much is true. Small details like a scalloped hem and raised sleeves provide visual interest that makes the Brando T a smart option for wearing on its own, underneath a rugged denim jacket or perhaps as a casual way to offset a lightweight navy blazer. Of course, a clean tee is also the perfect menswear move when it comes to dressing for a musical festival — if festival-going is on your spring and summer to-do list, then you've found your T-shirt.
And with wearable colors like Folson Grey and Infantry Green, there's never been a better time to wear a simple-yet-classic T-shirt alongside everyday style staples like sturdy selvedge denim and suede Chelsea boots. We're talking casual, cool and very much ready for the warmer months ahead.
But Barking Irons doesn't just make plain ole tees — the brand specializes in eye-catching merchandise for top acts across a spectrum of musical tastes, from Kings of Leon to Willie Nelson. And if you get thirsty after all that headbanging — preferably wearing a Brando T — Barking Irons has you covered there, as well.
You can sip on and buy Barking Irons Applejack (a distinctive apple brandy) across NYC and use it to make some mighty fine drinks along the way — that's just the way the brand would like it, after all. So, the next time you go to buy a new T-shirt — and perhaps a bottle of brandy — think not of the everyday. Maybe think of the Bowery neighborhood in NYC instead? It's your move — step out in style.