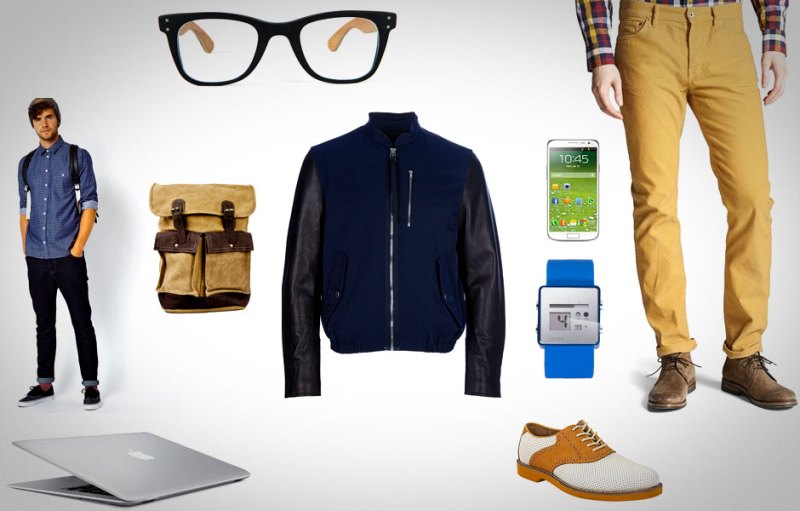 Yes it's September and for those of you who are in college, that means you're probably back to school. We know how tempting it is to just roll out of bed and throw on a hoodie, jeans and a pair of sneakers, but do you think that's really going to impress that pretty sorority girl in your economics class that you've had your eye on? Stop kidding yourself and clean up your look.
First thing's first, you'll need a nice backpack to carry around all those gadgets you need for taking notes and keeping up your Instagram, Facebook and Twitter feeds.  Oh yeah, and for all those books as well. Then go for a nice yet cool button-up shirt a pair of fall appropriate corduroy pants, slick shoes and a hip jacket. Throw on a watch so you're not late to class and glasses so you can see the chalkboard.
Now go see if you've caught her eye.
Biography Wear Bio-Canvas Pack, $80 at karmaloop.com; Nooka Zoo AL Blue Watch, $225 at nooka.com; Minimum Shirt With All Over Pattern, $106.69 at asos.com; Jack Spade Slim Fit Corduroy Pants $195 at shop.nordstrom.com; Macbook Air, starting at $999 at store.apple.com; Drift Eyewear The Caulfield, visit drifteyewear.com; Acne Brando Jacket, $763.14 at farfetch.com; Bass Burlingon Plain Toed Shoes, $84.99 at macys.com
Editors' Recommendations