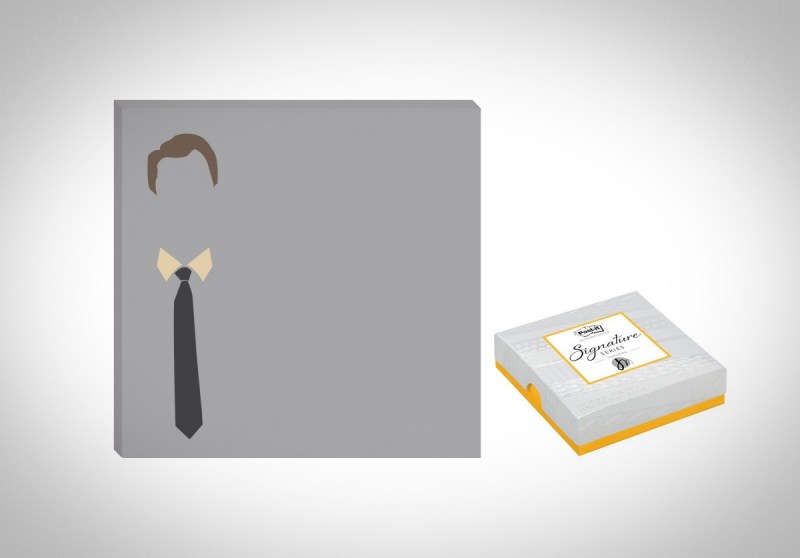 Post-it notes just got a whole of a hell lot cooler.
Post-it Brand's Signature Series has released a new line of limited edition dapper notes. Inspired by the "mad men" of the 1950's and 1960's, this is a must have for all you disorganized Don Drapers out there.
The Signature Series is a collection of premium Post-its, page markers, and list pads created by 16 artists ranging in classic to contemporary designs. The collection is to be unveiled this week at the National Stationary Show in New York City, and we can't get enough of these well-suited pads.
Established artists, illustrators, and pattern makers have gotten into the Post-it game, but the designer behind this particular collection is Morgan Hoff-Golmen, a student at the Minneapolis College of Art and Design.
Hoff-Golmen's idea behind the design was to create a product for the classic businessman who regularly uses office supplies.  Of course she was inspired by the 1960's and "Mad Men, as well as illustrated icons that can be found in every day life; dress shoes, ties, as well as the Empire State Building and Chrysler Building.
What makes these notes so cool, aside from their retro-charm, is that everyone can tap into his (or her) creative side. Blank faces and a pair of glasses are practically provoking us to start doodling, and stop to-do-ing.
You can check out our favorite collection, and others at www.PostitSignature.com
Editors' Recommendations