With Google Home Assistant and Amazon's Alexa taking our song requests, cracking jokes on command to entertain us, and finally ridding us humans of the mundane task of turning our own lights on and off, aren't you getting sick of watching your slack-ass furniture just, like … sit around all the time? Seriously, one good scan of your house and you'll probably feel like you're living in the dark ages. Or at least the 90s. Well, here's some good news: The Renaissance is upon us, and one company is making a play at becoming the Michelangelo of smart furniture.
You might remember Sobro from last year's Sobro Smart Coffee Table, the living room center piece that can charge your phone, cool your brewskies, and do your taxes for you all at the same time (okay, it can't do your taxes, but it's still pretty damn cool). This year, the company is one-upping themselves with a brand new smart table that updates and improves upon all the features that made their coffee table such a hit: behold, the Sobro Smart Side Table.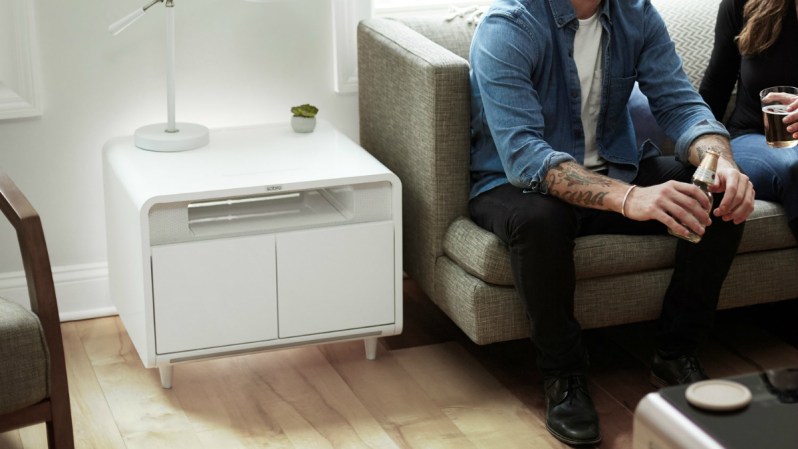 Just like its predecessor, the Smart Side Table has a super sleek, retro-futuristic aesthetic that will make your bedroom look like the sets of Star Trek and Mad Men at the same time. At the moment, it's only available in white, but if the table's Indiegogo campaign hits $1 million in funding, the company plans to offer it in matte black and a white/wood-grain combo finish that can only be described as "fly as hell." Chances of the new finishes don't seem totally out of reach considering the campaign met its full initial funding goal within one hour of going live on the crowdfunding site.
So, what are the features of this little smarty? For starters, the cooling drawer that earned so much love for its predecessor returns in the Smart Side Table. The drawer uses thermoelectric cooling for soundless operation so you can have cold drinks on hand all night without bothersome noise pollution. The table's second drawer is a locking storage compartment where you can stash goodies for safe keeping.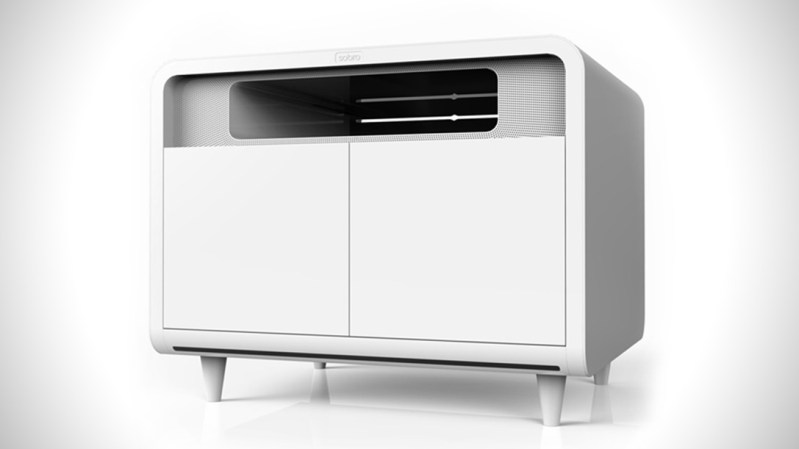 With a name like the Smart Side Table, it should come as no surprise that the table has some app-enabled features and is voice assistant compatible. With the help of the Sobro app, LED lighting on the back of the unit will simulate sunrise to wake you up and dim when it's time to get sleepy. If you'd rather dance than sleep all night, you can use the app to change the lighting color and sync it with your favorite playlists. Where's that music coming from, you may ask? Why, from the two built-in Bluetooth speakers with a 10m pairing range of course! Bonus: If you have two Smart Side Tables, you can pair them together for stereo output. For those nights when you don't feel like busting out your Boogie Shoes, use the app's white noise generator to broadcast some soothing sounds to lull you to sleep. If you need to get up before dawn, an additional motion-activated LED light on the front of the table will help light your way. Dials found on the back of the table let you control the brightness of the lights (or turn them off entirely). WiFi enabled firmware updates via the Sobro app will keep all the amazing features of the Smart Side Table working flawlessly into the future.
Of course, no smart furniture would be worth its salt if it couldn't charge your devices, and Sobro certainly doesn't leave you hanging on that front. A wireless charging pad is built right in to the table's surface and can charge two phones simultaneously. The table is also equipped with four USB ports, two 120v outlets, and two AUX-in ports, with cord channels on the top of the table and at the back of the built-in shelf (along with three magnetic cord wraps on the back) to keep your cables tidy.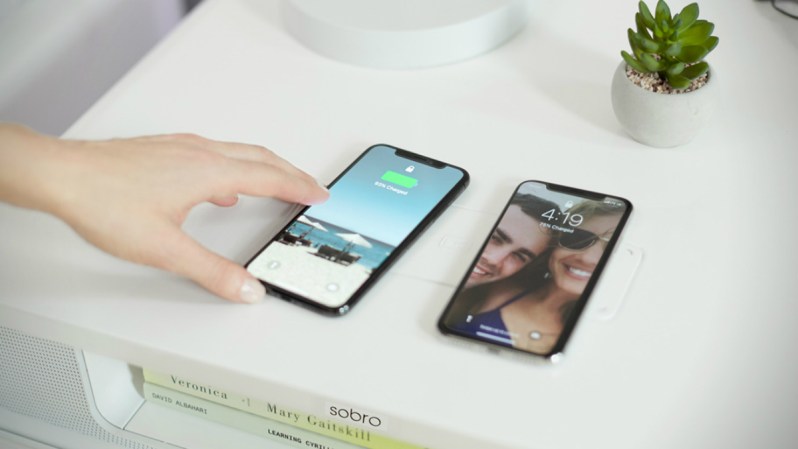 During the Indiegogo campaign, you can snag one of these tables for $349 (or a pair for $629). Think about scooping yours up early 3 once the product hits full release after funding, the table's MSRP will be $899. Planned delivery for the Sobro Smart Side Table is October of this year, but keep in mind that, with any crowdfunding campaign, timelines can change (or sometimes never pan out at all). Sobro pretty much nailed it with their Smart Coffee Table campaign, so we don't expect to see a let-down on this project either. Still, it's a good idea to check out Indiegogo's terms and conditions before dropping some cash.
Editors' Recommendations