Everyone loves a good coffee table. Not only does it serve as a place to prop your feet, throw down your mail and magazines, and, you know, rest your coffee, it also offers a window into the owner's style and aesthetics. A marble-topped table with thin gold legs indicates its owner is more of a minimalist who fancies high-end finishes; a battered wooden table upcycled from vintage barn siding points to an owner that values environmentalism and heritage (and probably enjoys the idea of farming); and then there's the Sobro, a shining, futuristic, and sleek table that serves as a sound system, refrigerator, party hub, storage space, coffee table that wouldn't be amiss in a movie about a tech-loving man living it up in the 22nd century.

And that's because Sobro, the design outfit that created the namesake table, wants you to know that it's on its way to becoming the future of furniture — and the Sobro coffee table is just a taste of that. And what a delicious taste it is.
The coffee table, which is available in black, white, or wood-grain, boasts a tempered glass top, so the same surface where you place your feet and your wine glasses is unbreakable, won't crack or scratch, and will never require the use of a coaster. Spill some bourbon? A whip around the table with a paper towel and the Sobro top shines like new. The table's surface also features a touch control panel that functions as the Sobro's brains, allowing you to alter the LED under-carriage lighting to set the mood for date night, raise and lower the volume of the music blasting through the table's bluetooth operated speaker, and set and monitor the temperature in the table's built-in beverage cooler. Yeah, it's got a fridge inside it.
And that fridge is pretty big considering it can hold up to 32 cans of beer. It can, obviously, hold other beverages like sodas or juices, but really, you should probably just stick to beer. Alongside the refrigerator are two additional storage compartments that can hold all your usual living room refuse; whether you have charging cords, earbuds, or multiple remote controls for your television, Roku, and sound system, there's a place to hide them all away.
But wait, there are even more features to this table. Need to charge your laptop but the outlet's too far? Not so with Sobro, because you've got four standard power outlets along two additional USB charging ports. You can charge your laptop, your phone, your tablet, and whatever else your heart desires all at the same time, and all without ever leaving the comfort of your couch.
The best part of the Sobro, however, is the bluetooth enabled speakers. Not only can you bump your latest Spotify playlist from wherever you are in your house, you can also connect your television to the Sobro to offer a semi-surround sound system (minus the soundbar and subwoofer) running right out of your table.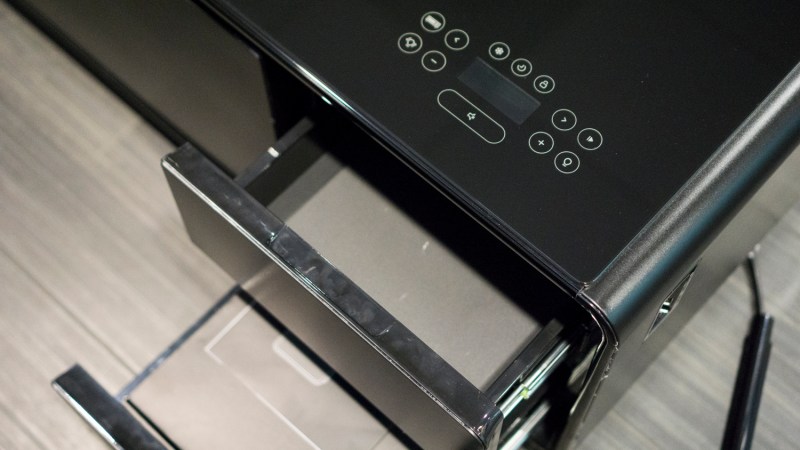 It's not all beer fridges and party jams with the Sobro, though. Unfortunately, it does require a source of electricity. If you, like most people, have your coffee table placed in the middle of the room, it will necessitate running an extension cord. This can be a deal breaker for clean line-loving minimalists. But, if you're using the Sobro in your man cave, rumpus room, or family room, no one is going to care much about that cord on the floor, unless they trip over it. However, Sobro very kindly supplies an anti-trip cord holder to prevent possible tumbles.
Another feature that's not exactly up to snuff at this point: the glass top. While not needing a coaster for drinks is an obvious benefit, the fact that the glass (at least on the black version) shows fingerprints can be infuriating, especially if you're the type of person who likes a pristine surface. That being said, if you don't care about fingerprints on your stainless steel fridge, you shouldn't give a damn about these fingerprints either.
Fingerprints or no, the Sobro is an awesome accessory for any living room, man cave, or office. The Manual has one in our office lobby, and every day at least one new person to the office asks about it. So, at the very least, the coffee table is a conversation starter — no caffeine needed.
For more information, pricing, and the chance to own your very own Sobro, check out the official website.
Editors' Recommendations