Forget everything you learned from The Big Lebowski. It's the coffee table that really ties the room together. Your entire home could be furnished in the finest mid-century modern or live-edge woodwork, but a bland coffee table takes all the impact out of your tasteful appointments. And by bland, we mean anything that blends in too well.

As the center of community and conversation in a space, the coffee table is an opportunity for disruption. It's also an opportunity to look your guests in the eye and say, "Y'all don't know me" in a way that makes them really, really want to.

We present for your consideration: Table Pong.

This work of engineering genius marries pop culture, nostalgia, artisanal know-how, and digital finesse. It's a coffee table that also functions as a music player, a charging station, a clock, and — oh, almost forgot! — an Atari Pong game.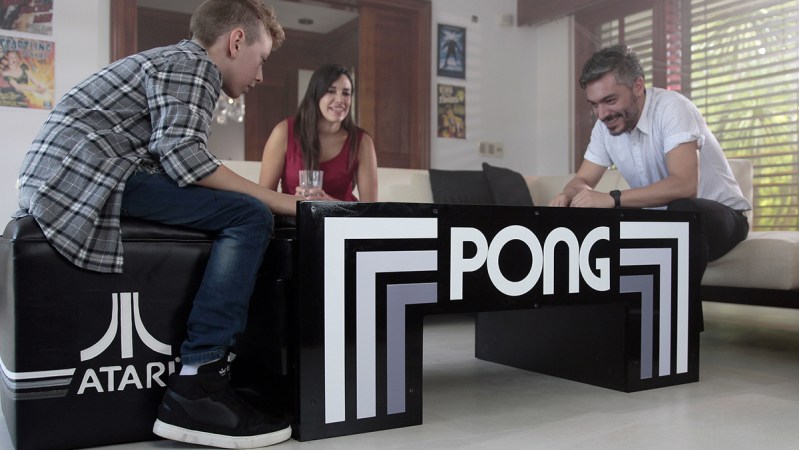 Built with classic arcade-style lines and adorned with stylish typography, Table Pong offers the ideal mix of throwback feels and forward-minded design. At 28 by 19 inches, the table is an anchoring presence in a room of any size. (Those who prefer a toned-down version can order the table sans logo in flat black, white, or brown.) The center game board is protected by a clear panel and tightly sealed against spills. This is first and foremost a coffee table, folks.
In an unexpected twist, the Pong part of Table Pong isn't digital. Instead, a real-life "ball" (the little white square) bounces back and forth between real-life "paddles" (little white rectangles) using a magnet rigged underneath the table and knobs on either side of the console.
Don't worry —the big red plastic buttons have been preserved for that sense-satisfying click. So have all the original sound effects. It's not Atari without the bleeps and bloops.
The console is flanked by LED lights that display the score while you're playing, and function as a clock when you're not. It offers both free play and coin-operation modes, making it perfect for hosting a rent party or a kegger with a cause. An embedded hard drive syncs with Bluetooth so you can jam out to your favorite Soft Cell tunes while playing the game. And since you're pumping electricity through the table, anyway, the makers thoughtfully added some USB ports so that you can tweet and Instagram your glorious Table Pong victories in real time.
The idea for Table Pong began in 2016 with the founders built a much clunkier prototype. Thanks to a ton of popular support and a very successful Kickstarter campaign, the creators were able to refine and design and debut the final iteration at CES 2018, one of the largest tech conventions in the world.
"Our biggest challenge was to find the right balance between the forces that re-create the 2D movement and illusion of the game," co-founder Gerardo Orioli told our brother site, Digital Trends. "We had to deal with two different kinds of forces: magnetic and friction. In order to control them, we had to variate the motor's speeds and accelerations to achieve the right balance; otherwise, the 'ball' would fly out of reach. A lot of research was put into trying different motors and different setups, and into choosing the right magnets and surfaces."
To watch a new interview with the Table Pong team, head on over to Digital Trends. And if Pong was never your thing, check out these refurbished arcade tables or this beer pong golf game instead.
Article originally published on December 14, 2017. Last updated on January 12, 2018 to include details about the CES 2018 debut.