Decorating is hard. There are colors, patterns, curtains, artwork, "fancy" hand towels that you aren't allowed to use (seriously, what's the point of those versus the non-fancy ones?).
It can be overwhelming despite HGTV's promises to the contrary. Luckily, building a space that reflects your refined personal taste doesn't have to be so difficult. You just need to know a few decorating basics.
Movie Posters Are Not Art (But They Can Be)
Believe me, I get it. In college, you couldn't paint the walls of your dorm room, so posters became your only option. If you're like me and can't bear the thought of letting them go, I have good news: you don't have to. Your cherished movie/concert/comic book posters can be made into sleek wall art by having them professionally framed. You'll be amazed how a simple frame and matting can turn them into stylish artwork. The living room is a great area to display your posters, but they can also become a dramatic statement piece in the entryway or dining room (provided there's no appetite-ruining gore).
For an easy and affordable frame job, check out Framebridge. They'll provide the packaging to send them your artwork, they custom build the frame, and ship it back to you ready to hang – all for under $200. Unsure which frame to go with? Framebridge offers a complimentary consultation with one of their designers – something you won't find at most online frame shops.
Don't have a collection of posters to frame but still want to display beautiful artwork in your home? The guys at ARCHIV-E have you covered. From beach scenes to portraits to mountain vistas, their vast collection of photography prints fits any style. They even have shots of the moon from the Apollo missions. Once you select the photo you want, you chose the size and color of the frame (my suggestion: always go with black), and they get to work printing and framing your piece. Each print arrives ready to hang – it doesn't get easier than that.
Don't Be Afraid of Bespoke
Nothing says chintzy like a warehouse sofa. Investing money in high-end, vintage, or custom pieces will instantly up your home style game. The key is knowing which pieces to splurge on and which pieces can be flat-box.
The sofa, dining table, and bedroom set should be the biggest investments in your home. They are the staples of whatever room they are in and should be thoughtful and timeless. Green velvet sofas may be all the rage right now, but if you can't see yourself sitting on one for the next 10 years, take a pass.
Look for furniture with clean, simple lines in natural hues. You can always change the look of your space by adding new accessories such as throw pillows on the sofa or runners for the dining table. Once you have these investment pieces, it's ok to get the rest of your furniture from IKEA. (Who doesn't love their versatile shelving?)
If you've never bought custom furniture before, it can feel overwhelming – where do you even start? Etsy is the place to find some of the best, most creative furniture makers, and most shops will gladly make you a custom piece. Urban Millworks is one of my favorite shops for tables. The shop combines industrial legs with live edge wood tops to create the perfect dining table for an urban or minimalist space.
Still not convinced custom is for you? Try shopping vintage furniture instead. Investing in one or two vintage items will give your space the upscale look of custom, without the high price tag. Chairish is my secret weapon for shopping vintage. They have everything you need for your home, all vintage and in excellent condition. Mid-Century Modern style has come back in a big way, and it's no wonder. The simple lines and neutral colors can easily blend into any style – like this timeless Mid-Century Modern sofa.
Window Treatments Complete the Space
Those cheap, white horizontal blinds from the hardware store with nothing else on the windows just doesn't cut it. Think about professionally designed spaces such as boutique hotels or five-star restaurants. You'll notice that every surface has been addressed, including the windows.
The best way to choose what to put on the windows is to decide how you want the room to feel. For a sense of intimacy in the bedroom, use a heavy-weight fabric drape that can be closed for privacy. In a space like the living room, where you want it to feel open and inviting, a simple sheer curtain will do. Of course, if you have a spectacular view through your windows, not using window treatments at all is just as impactful, so take the horizontal blinds down!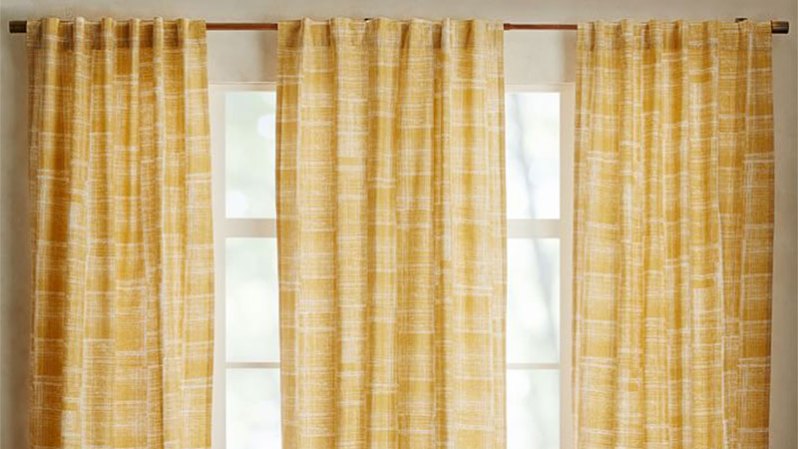 Window treatments are also a great way to add color and pattern to your space. For an urban industrial loft, go with a simple organic patterned drape that will contrast well with exposed brick walls, like this cotton canvas set from West Elm. If your style is more retro, the best window treatment incorporates the classic muted colors of the 1960's, like these deep golden yellow curtains, also from West Elm.
As for the curtain rods, the trick is matching them to the accent pieces in your home. These industrial pipe curtain rods by Etsy shop Industrial Envy look great in a space with built-in pipe shelving. If you have bronze pulls on your bedroom dresser, you could go with this simple, brushed bronze rod from Anthropologie. When you match accent pieces in this way, it creates a more cohesive look.
Add Life to Your Home
The number one tip I give all my clients: buy some plants. Plants are an easy way to add color and life (literally) to your home, instantly creating a more inviting feel. The nice thing is that plants are foolproof — there's no wrong way to decorate with them.
Plants also provide a chance to show off your style by getting creative with planters. For an urban industrial feel, use a copper planter, like this one from Huckberry. For an artisan, hipster vibe, go with handmade pottery. Or for a sleek modern look, check out Flyte's Levitating Planter. Worried you'll kill your plants the second you get them home? We've got you covered.
Framed art photo courtesy of ARCHIV-E.
Editors' Recommendations