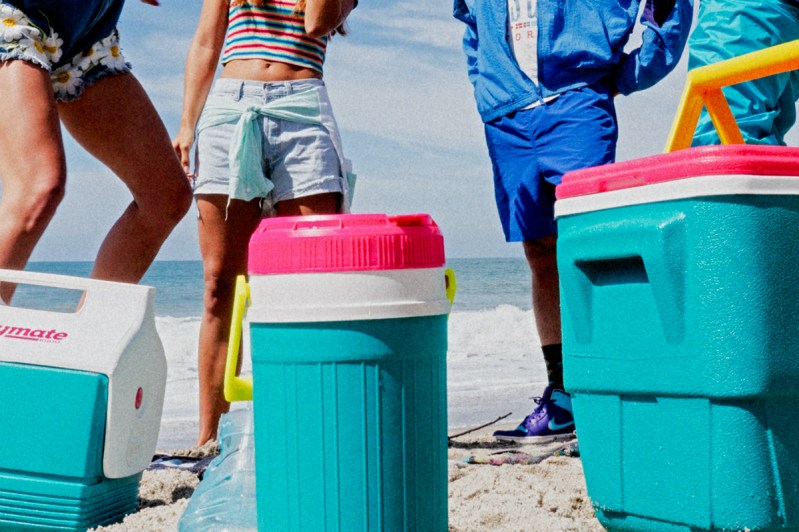 After digging back into the 90's design vault, ice chest experts Igloo have re-released its classic '90s-era Picnic Cooler — just in time for summer.
The epic Igloo Throwback Collection is a special capsule that features the Picnic Basket, the ubiquitous millennial childhood Playmate Mini Cooler, and the Half Gallon Jug, all crafted with the bright, retro '90s-inspired color palette and in the same factories with the same machines as the originals.
"When we decided to re-release the Picnic Cooler we thought the only way to do it was to stay true to our roots and relaunch with the same colors, on the same machines, and in the same factory in Katy, Texas," stated Vice President of Marketing forIgloo, Brad Blankinship. "Additionally, selling at Urban Outfitters allows us to bridge the gap of generations — those who shop there will be able to take a trip back down memory lane and purchase a cooler many of them likely took on road trips with their families when they were kids."
You can trace Igloo's roots from a modest metalworking shop back in 1947, where it began production on instruments that would later define how we live, work, and play. What began as finding ways to bring clean water to the worksite and outdoor explorations quickly evolved into ultra-functional, quality ice chests. You can get yours from Igloo , Urban Outfitters , other major retailers, or just click the buttons below.
Igloo Throwback Collection
Igloo Retro Picnic Basket
The Picnic Basket is the most memorable item in the Igloo Throwback Collection. Super-functional with vivid vintage hues, the 25-quart picnic basket features the iconic hinge-open lid with dual carrying handles and a pebbled texture top, complemented by Cool Riser and Ultratherm technology for a slice of 21st-century effectiveness.
Igloo Retro Playmate Mini
Igloo's Playmate Mini is the perfect grab if you want to flaunt some retro style with your lunch to work or the seashore. Crafted with grab-and-go convenience in mind, the Playmate Mini is reliable as they come, featuring Igloo's trademarked tent-top design in an adventure-designed 4-quart size that can hold everything from a sandwich and a drink to your favorite six-pack of craft beer cans.
Igloo Retro Half Gallon Jug
The Igloo Throwback Collection wouldn't be complete without its classic water jug, which provides Igloo's classic cooling power in a thirst-quenching half-gallon size. Built to keep your drink cold and refreshing this jug ensures you never go thirsty when you're out and about.
For a look at another new Igloo development, check out the brand's new recyclable eco-friendly cooler, the Recool.
Editors' Recommendations