This is not an average book about watches. "Comprehensive" is an understatement. In fact, The Wristwatch Handbook: A Comprehensive Guide to Mechanical Watches, by Ryan Schmidt, makes the case that it is the definitive guide to analog timepieces.
This is a heavy, 200-page+ encyclopedia uncovering every possible mechanic of fine watches. At every turn, it's clear Schmidt carefully researched the subject with painstakingly accurate detail.
Unless you're a major watch collector/enthusiast, it's more information than you would ever need to know. However, it's an incredibly handsome book and the images alone make it a worthy addition to any coffee table lineup. Just perusing through to enjoy the clean lines of traditional diving and nautical watches is a real treat. The following section about world time zone pieces reveals some incredible colors and complications not seen outside luxury settings.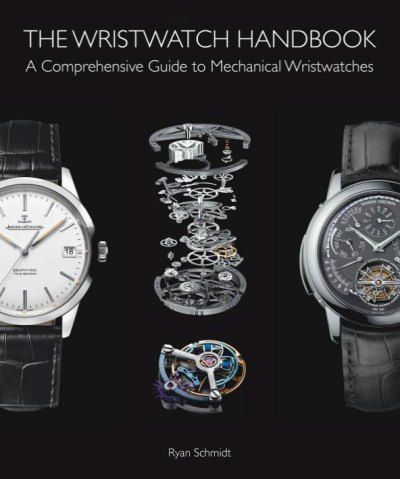 As I was reading, I found myself picking and re-picking dream watches I'd love to own (or at least wear once). I eventually settled on the Hublot Big Bang Unico Bi-Retrograde Chrono King Gold Carbon. Specially designed for the 2014 FIFA World Cup, it has a two-level display for keeping track of both halves of a soccer match and any extra time. It's limited to 200 pieces, costs more than my car, and is an absolute stunner.
Another fascinating concept is a section about analog alarms known as "chiming complications". In our modern world of digital smartphone reminders, it's easy to forget there are still a number of manufacturers creating alarms set by hand. An incredible picture breakdown of how the mechanism works starts the chapter followed by more first-class examples (including the Girard-Perregaux Opera 2, which has four hammers and four gongs that can be set separately).
Even just a casual skim through the book will have you ready to jump into collecting. The Handbook is a dedication to the art of timepieces and illustrates a level of appreciation any major enthusiast in any hobby could understand.
Invest in your copy here.
Editors' Recommendations