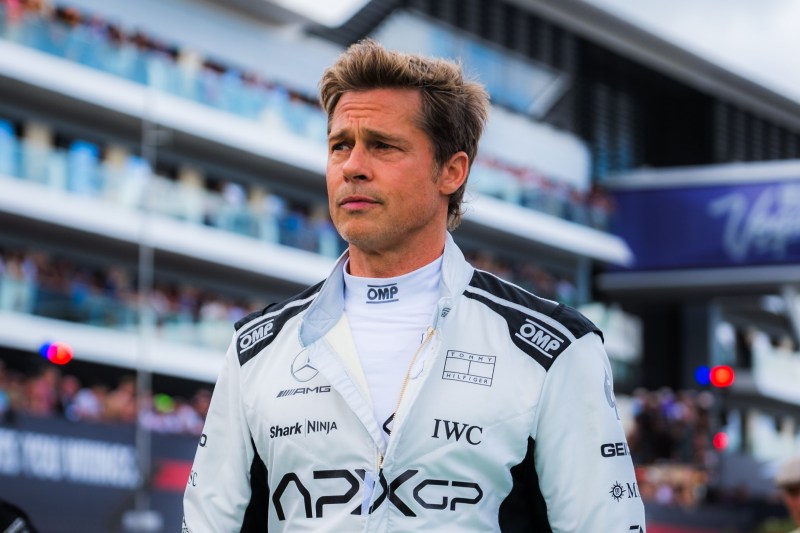 Because he's been a movie star for decades, it can be easy to take Brad Pitt for granted. Thankfully, Pitt is always willing to push himself with each project, and that's why he was at an F1 race over the weekend. Pitt was at Silverstone Race Track for the British Grand Prix, and was even filming in full F1 regalia before the actual race started. Pictures from the filming have gone viral online, and have led some to want to learn more about what exactly Pitt's new movie is about.
What is Brad Pitt's F1 movie?
Pitt's latest movie is being made in collaboration with Formula 1, and features Pitt playing a former racer who comes out of retirement to rejoin his fictional team, APXGP, alongside Damson Idris, who plays his teammate in the film. Although Pitt didn't join any actual racing, he filmed in and around the British Grand Prix, and the team even had its own pit stop on the track.
Pitt is filming scenes for the film alone on the track, and it's believed the computer-generated imagery will be used to make it seem like his driver is participating in the race. Joseph Kosinski, who directed last year's box office sensation Top Gun: Maverick, is set to direct this project, with Jerry Bruckheimer serving as one of the film's producers.
Lewis Hamilton, a seven-time champion who is also the founder Apollo Films, is also involved in the project.
"It's massively exciting to see it all coming together," Hamilton said during a press conference on July 6. "To know that we're [filming] this weekend … There's nerves, naturally, because it's something we've been working on for so long."
Hamilton also said that viewers could expect true immersion from this film.
"Joe is an incredible director … You already saw what he's done with fighter jets, what he did with 'Maverick,' so if you just think about what he's done with that in terms of the dogfights we saw on those jets, which was pretty epic," he said. "There are so many people around the world that are so excited about this sport, wanting to learn more. The fact that we'll have all the original characters that are actually on the grid, and then Brad, is pretty cool!"
Editors' Recommendations