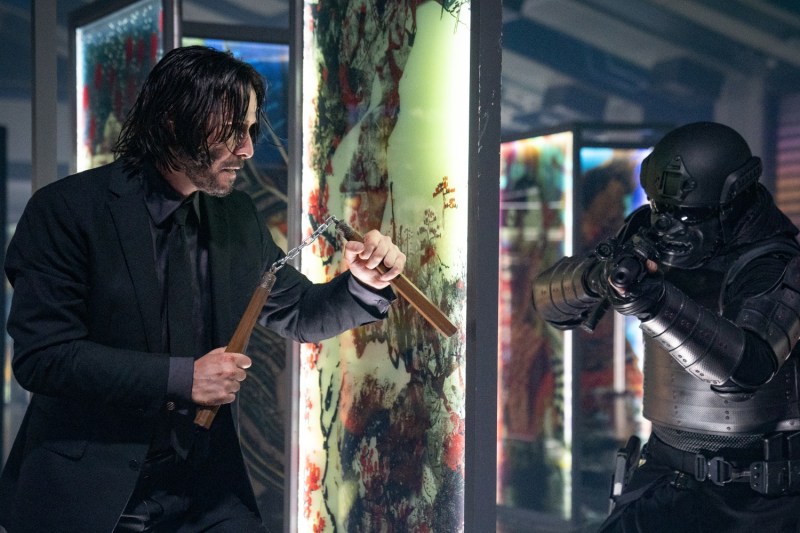 Action movies place fans in the middle of climactic, life-altering events. Through these, we can vicariously experience the thrill of death-defying circumstances without any real danger. The best action actors are the vessels through which we make these memories. Movie stars who take command of an action flick possess an eerie charisma and an earth-shattering sense of confidence. They're a reflection of the qualities we all wish we had under duress, and they continue to captivate us even when the lights go dim and the movie has ended. These are the 10 best action heroes of all time.
10. Scarlett Johansson
Scarlett Johansson wasn't always known for kicking ass in black tights and long red hair. ScarJo came into her own in critical darlings like Lost in Translation with Bill Murray before she won the role of Black Widow in the Marvel Cinematic Universe. It is that exact versatility that she owned before reaching into the depths of her heroism that made her a fan favorite amongst so many other bigger-named heroes in movies like The Avengers.
9. Chuck Norris
Chuck Norris is one of the few action stars who may be even cooler off the screen than on. Norris was originally a martial artist with little interest in going Hollywood full time, but his pure action charisma and natural ability to kick ass on the big screen begged for more film roles. Studios started creating stories that put Norris in the best position to succeed with films like Invasion U.S.A. and Missing in Action. Ironically, Norris's most memorable role was on the small screen, though, with millions of fans remembering him for his role as the titular Walker, Texas Ranger.
8. Sylvester Stallone
Sylvester Stallone may be on the back end of his illustrious career, but in his prime, there weren't many action actors willing to go from sports films to jungle odysseys like he did. Using the underdog role of Rocky Balboa to his advantage early on, Stallone infused a patriotic, grounded approach to his on-screen persona that allowed him to endure through a myriad of sequels in his film franchises. Stallone is currently starring in one of Paramount Plus's best new shows, Tulsa King.
7. Sigourney Weaver
The undisputed queen of science fiction action films, Sigourney Weaver never turned back after her breakout role in Alien back in the 1970s. Weaver broke gender stereotypes by busting down the walls Hollywood would box women into in traditionally masculine genres, proving that leading ladies can kick ass just as well as their male co-stars. Weaver has continued to find success in franchises like Avatar more than four decades after her peak.
6. Keanu Reeves
Unless you're Matthew Perry, you probably love Keanu Reeves (we couldn't be any more confused about why the Friends alum is bitter toward Keanu). One of the nicest men in all of Hollywood juxtaposes his gentle demeanor off the screen with a hard-nosed, ruthless streak in action franchises like The Matrix and John Wick. It seems like Reaves has many more years to add to his resume, perhaps forcing us to move his ranking up later on in his career.
5. Harrison Ford
If you have Harrison Ford in your mind only as 80-year-old Indiana Jones in the recent box-office bomb Dial of Destiny, that's an unfortunate way to envision this legend's career. Ford seemed like he was born to be a star right from the time he first appeared in American Graffiti; he followed up this small role with massive character work in Star Wars as Han Solo. The aforementioned Indiana Jones films followed, and more gritty sci-fi films like Blade Runner are also on the docket. Ford's standoffish style in interviews gives him an extra aura of cool when he ups the stakes as an action hero.
4. Jackie Chan
Jackie Chan is universally loved all over the world, crossing the cultural threshold that so often bars Asian actors from gaining steam in the United States. His love of action stunts and comedic undertones in his work help to welcome different audiences into his orbit, molding his movies into love letters to film fans, no matter what genre they enjoy the most. Chan may be most known for his duo work with Chris Tucker in the Rush Hour movies.
3. Bruce Willis
Bruce Willis' retirement due to a form of dementia was a major hit for action movie fans everywhere. This megastar actor has been entrancing viewers with his powerful performances since the 1990s, with films such as Die Hard, Pulp Fiction, and The Expendables coming to mind first and foremost. Willis is also known for his former marriage to actress Demi Moore, a fact that added to his superstar appeal.
2. Tom Cruise
Tom Cruise might just be the last true blockbuster movie star of his generation. Cruise puts everything he has into his action films, famously doing most of the stunts in the Mission Impossible films and forcing his creative control onto the franchise. It's engaging as a movie-goer that when you go to a Tom Cruise movie, you know he genuinely cares about what he's putting out; it's not just a paycheck for this true action hero.
1. Arnold Schwarzenegger
Who else could be in the number-one slot for action movie actors? Arnold is famous enough that just a single name is sufficient to know his identity. The Austrian combines a hulking frame, a unique foreign accent, and impeccable line delivery to win over fans who enter the theater looking for some fun. From The Terminator to his comedic days in Kindergarten Cop, Schwarzenegger will have people watching his films years after he leaves Hollywood forever.
Editors' Recommendations