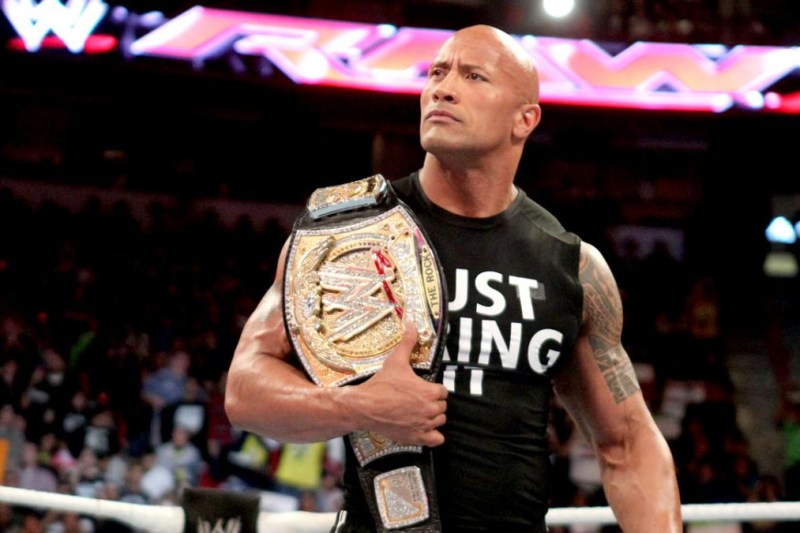 Known most prominently for his extensive history in WWE, Dwayne "The Rock" Johnson is and always will be an unstoppable boulder rolling down the hill of mediocrity and into the valley of triumphant victory. Before his extremely successful career in WWE, Dwayne was a championship defensive end for the University of Miami. After going undrafted to the NFL in 1991, he began to take on his new name and persona: The Rock. As it turns out, this was just the beginning of the volcano for this rockstar, going on to become a globally known film presence following his rocky start in 2001's The Mummy Returns. His appearance in film and WWE was simultaneous for about 5 more years but ultimately he set his sights on the rocky road that is the American film industry. During this time and all the way up to 2007, Dwayne was still being credited in films as "The Rock" or "Dwayne 'The Rock' Johnson". After the people got used to his stony good looks and wicked charm, Dwayne Johnson was a recognizable enough name.
After 20 years in TV and movies, Dwayne has become so much more than what he was. Between all of the work he has been doing, Dwayne has founded his own luxury Tequila (Teremana), co-founded a production company (Seven Bucks Productions), as well as his very own exercise clothing line, and launched "The Rock" earbuds in collaboration with Under Armour. This man is not only a rockstar on screen, he is a rock-solid innovator of business and pleasure. Dwayne has even teased his fans on his hugely popular Instagram account that he might run for president, where he also posts inspiration for life, work, and exercise. This may seem over-the-top silly but out of over 30,000 adults surveyed, 46% supported a presidential campaign for our action movie hero. What makes our guy so lovable? So many things but today we will talk about the many great appearances in film this man has made, starting from the bottom at number 10.
Disclaimer: since the Fast and the Furious series has taken off with no end in sight and launched Dwayne into superstardom, they will be omitted from the list in order to appreciate his other works of film before his big deal.
Editors' Recommendations