The only thing that can match the childhood anticipation of finding a puppy under the Christmas tree is making the decision as an adult to adopt a dog yourself. But for this decision to work, it's important to balance the excitement with careful research. Matching the breed to your lifestyle is an essential consideration. Do you want a dog who will snuggle on your lap while you watch movies? Or do you need a dog who's a little sturdier, one who can follow at your heels along the trail, learn her spot in the canoe, or bound through the powder with you in the back-country?
If you're an adventure lover, you're looking for a dog who will fit seamlessly into your gear-filled life. Consider the following top ten adventure dog breeds that love exercise, travel and the great outdoors as much as you do.
Border Collie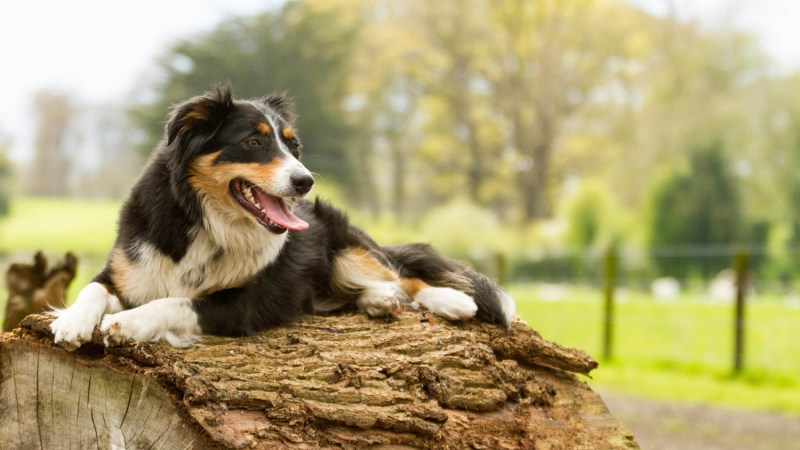 Border collies make great companions in almost any adventure scenario. From hiking and camping to canoeing and mountain climbing, these dogs are completely at home in the great outdoors. Usually black and white, these midsize dogs are known for their intelligence, routinely occupying the top spot on "smartest dogs" lists. In other words, you can teach them just about anything and they love having a job to do. They're also very fast, athletic and agile. Be advised, though, their boundless energy means they need exercise. If you've got a long road trip in mind, you're going to need to make occasional stops for a few minutes of Frisbee or fetch.
Labrador Retriever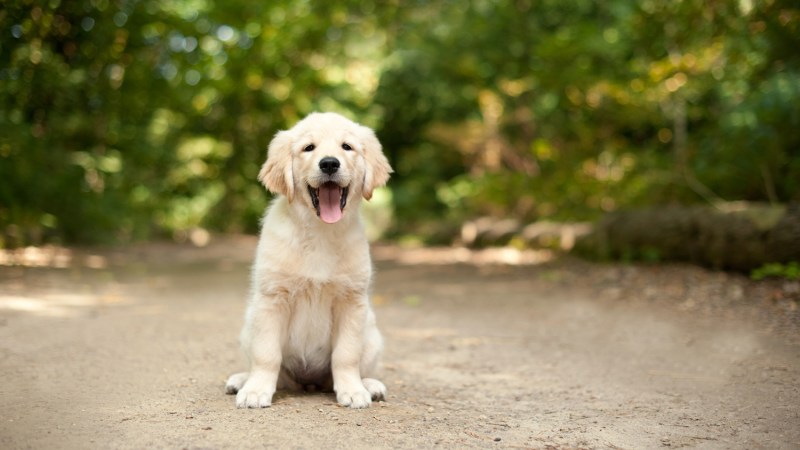 Does your adventure include a beach, river, lake, ocean, swimming pool or large puddle? If so, bring your Lab–this breed, descended from the hardworking St. John's water dog, loves to get wet. One of the most popular dog breeds in the US, labs are happy, playful and good-natured. They love people, as well as other dogs. They also need plenty of exercise, and are prone to obesity if they don't stay active.
Old English Sheepdog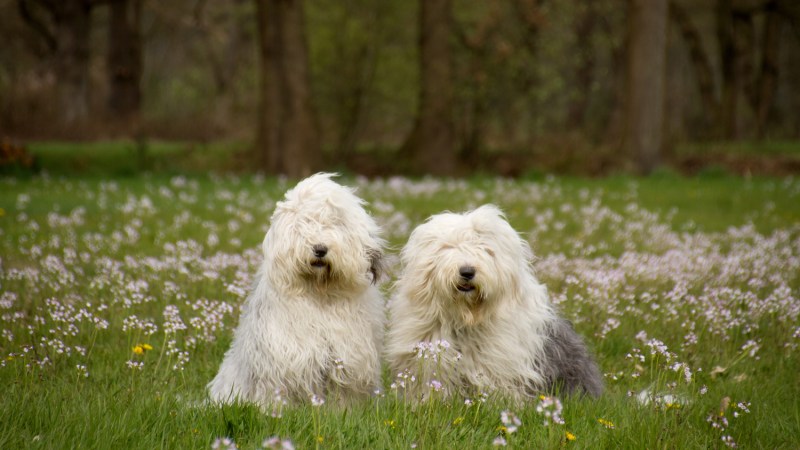 These dogs, one of the oldest known breeds still in existence, were bred to spend their days in wide open spaces. Intelligent, adaptable and lovers of people, sheepdogs have an easygoing temperament. They also don't mind being couch potatoes, which can make them great travel companions when you've got a lot of miles to cover. Known for their trainability, they are rarely nervous or aggressive; they'll keep their composure in crowded environments and even when encountering other animals.
The sheepdog's natural herding instinct frequently comes into play around children or large groups of people, a trait that might come in handy when your crazy friend decides to venture off-trail. Their heavy coat makes them a people magnet, but it can also be a problem in extra hot environments. In other words, this is not the dog you want to take on regular trips to Death Valley.
Alaskan Malamute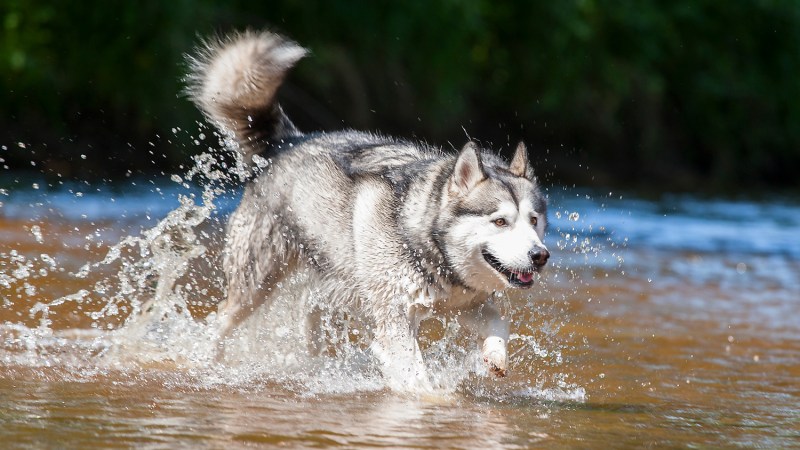 Alaskan Malamutes are playful pups that grow into large, furry workers. Long used as sled dogs in northern, cold climates, these powerful canines are happiest when they're put to work. They are very affectionate and love to snuggle, but they must be taught to respect their owners or they'll begin to act like the alpha dog in the house.
These gentle giants are great with kids and require daily exercise (if they're not pulling sleds). They love hiking and swimming with their owners, and can even pull their own weight on long backpacking trips, literally. They love doggie backpacks and will gladly help carry provisions.
Bernese Mountain Dog
"Bernese" refers to the area of the breed's origin, the canton of Bern, in Switzerland. Originally kept as a general farm dog, Bernese Mountain Dogs are recognized as part of the "working group" by the American Kennel Club. Great with kids, these dogs are a welcome addition to any family that loves the outdoors.
A large, heavy dog with a distinctive tri-coloured coat, they are known to be good-natured and docile. They are outdoor dogs at heart and need regular exercise, though they do not have a great deal of endurance.
Brittany
If you're a bird hunter or interested in becoming one, this is the dog for you. Originating in the Brittany province of France, Brittany dogs are medium-sized, energetic dogs with floppy ears and alert expressions. Often white with liver-colored spots, they are noted for being sweet-natured and easy to train.
Lovers of all outdoor activities, these dogs thrive as hunters. Whether in open country, or in the thick of dense cover, the Brittany will point and retrieve, being ready to hunt and be outdoors on a daily basis. When it comes to a house pet, they can be considered high maintenance. But if they are allowed to hunt and explore, they are wonderful dogs.
Karelian Bear Dog
These tough-sounding dogs, originally bred in Finland to hunt dangerous game such as bear, moose and wild boar, have a fearless temperament to match their sturdy size. Needless to say, they're perfect for your next back-country adventure. These dogs have been used for bear control in Yosemite and Glacier National Parks, so not only will they know if there's a predatory beast in the area, but they'll know how to get rid of it. How's that for man's best friend?
One of the drawbacks of these dogs is their tendency to be aggressive towards other dogs, though they can be trained to restrain this protective instinct. Karelian bear dogs are workers at heart and they need a job to do, along with lots of open space and plenty of exercise. Following their human on outdoor adventures into the bush is a great way for them to get the stimulation they need to thrive.
Rhodesian Ridgeback
The Rhodesian Ridgeback, hailing from Southern Africa, is named for a ridge of hair that runs along their back in the opposite direction as the rest of their fur.
The Ridgeback is excellent for exploring the outdoors and have been used to hunt for large, dangerous game including lions. They are great for most outdoor activities and are extremely athletic. They are noted as excellent guard dogs, though some say they are not necessarily the best option for first-time dog owners, as they require positive, reward-based training in order to be properly socialized.
Irish Setter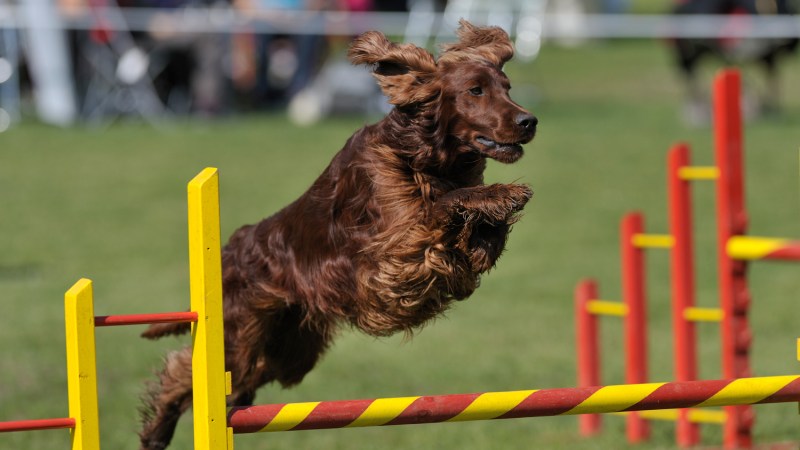 These beautiful, silky-haired dogs were traditionally bred for hunting, specifically for locating and pointing game birds. Their rambunctious, friendly personalities have made them known for being excellent family dogs. Since they need so much attention and exercise, these dogs get along great with children.
Along with being highly intelligent, Irish Setters are very active and require long walks on a daily basis, making them an ideal dog for adventure lovers who are drawn to exploring wide open spaces.
Bluetick Coonhound
The American Kennel Club calls the Bluetick Coonhound "smart, devoted and tenacious." Bluetick bloodlines can reportedly be traced back to dogs owned by George Washington. Frontiersmen used these dogs to hunt everything from raccoons to bear, wild boar, and cougars. Even today, the breed has tremendous drive to hunt and needs regular exercise.
Deeply loyal and companionable, these dogs crave attention and are deeply devoted to their owners. Blueticks are also notorious howlers, known to moan sad melodies well into the night. For guys who like to roam the open highway and strum a guitar under the stars, a Bluetick Coonhound makes the perfect road buddy.
Looking for a dog that can go the distance? Look no further than the best dog breeds for runners. Theses breeds will be your cardio companions all their lives.
Editors' Recommendations