How do you improve upon one of the finest Grand Touring vehicles on the market? Offer not one, but two silky smooth powertrains.
The standard Aston Martin DB11 is a work of art. We first experienced the DB9 replacement last year, and were instantly wowed by its striking design, refined cabin, and scalable performance. Now we'll have another reason to appreciate the sports car: an AMG-sourced V8.
Complementing the DB11's existing 5.2-liter twin-turbocharged V12 is a twin-turbocharged V8 tuned to produce 503hp and 513 lb-ft of torque. Though down about 100 horsepower to the larger mill, the smaller, lighter V8 will give the DB11 a sportier character and improved efficiency. Aston Martin quotes a 0-60 mph sprint of 4.0 seconds and a top speed of 187 mph for the V8-powered version. By comparison, the V12 model hits 60 mph in 3.9 seconds and tops out at 211 mph.
"To be able to offer not one, but two exceptional GT cars is terrific for Aston Martin and our customers," said Aston Martin Chief Technical Officer Max Szwaj. "I'm particularly proud that this car is the first to receive an engine supplied by our technical partner, Mercedes-AMG."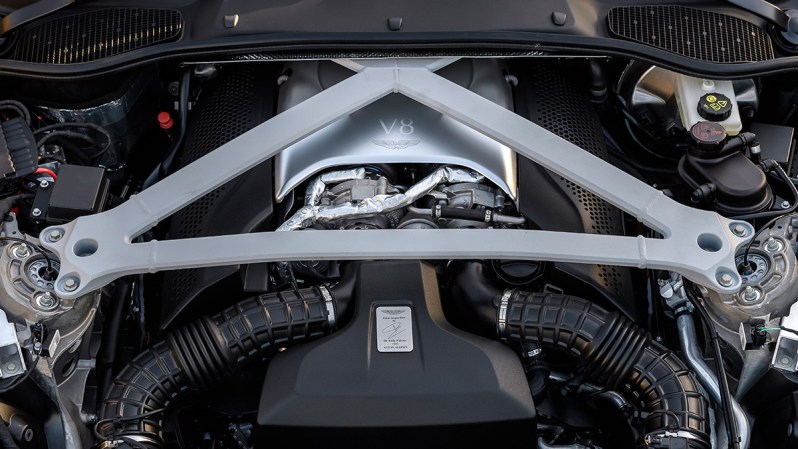 In its base form, this 4.0-liter bi-turbo V8 is used in the Mercedes-AMG C63, AMG GT S, and other AMG performance vehicles, but Aston Martin has developed a bespoke air intake, exhaust and wet sump lubrication systems for the DB11. The powertrain will also be tailored to the DB11's GT performance, with unique throttle mapping and power delivery.
"The DB11 is the most complete and sophisticated car Aston Martin has ever made," quipped Aston Martin President and CEO Dr. Andy Palmer. "Now, with this new V8 engine option we have broadened its appeal by offering a car that will bring the DB11 to more customers around the world while still blessed with the exceptional performance and memorable character that sets Aston Martin apart from its rivals."
Prices for the entry-level (if you can call it that) V8-powered DB11 will start at $198,995. The 6.0-liter V12 variant will command a $17,500 premium. The V8-powered DB11 will debut this weekend at the Goodwood Festival of Speed. Aston Martin dealers are accepting orders as of today.
Editors' Recommendations