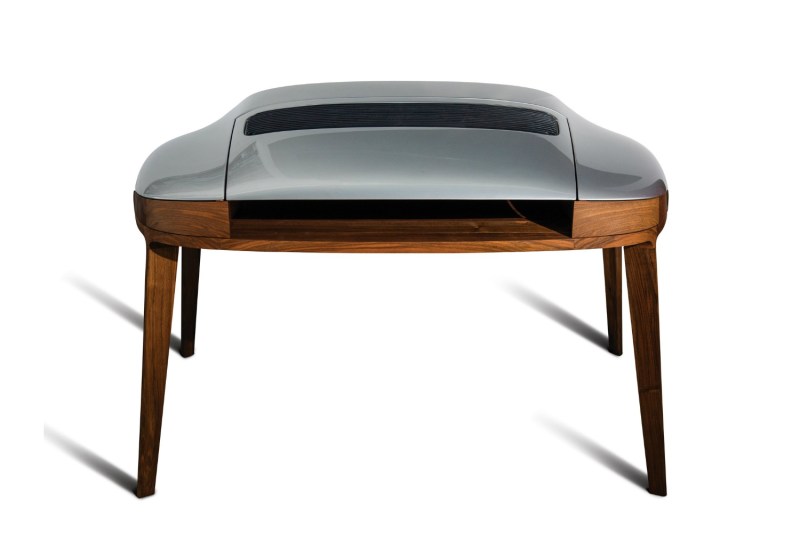 Last year marked a milestone for famed and beloved automaker Porsche. The iconic sports car developer turned 70 years old and to celebrate the brand's longevity, it held a massive auction of Porsche-related items in October 2018. Along with over sixty privately owned cars that went up for bid, a variety of Porsche paraphernalia was sold, including an original set of Porsche 911 sales literature. But our favorite piece to hit the auction block (other than the cars, obviously) was this sleek desk designed by art studio 3 GJB 17.
Built from an original Porsche 911 rear-end panel, the writing desk sold for a cool $30,000. Meticulously designed, the desk has a beautifully sculpted American walnut wood frame with the rear-end panel from a Porsche 911 perfectly fitted on top. The Mid-Century Modern aesthetic of the wooden frame compliments the timelessness of the Porsche panel. Finished in glossy, arctic silver, the panel lifts up on spring-loaded hinges to reveal the wooden writing surface below. It's a seamless blending of disparate parts which combine into a fluid piece that mimics the beautiful curves of the classic sports car.
Along with being seriously stylish, the Porsche Writing Desk is also an ideal workspace. A hidden switch flips on a built-in light and near the switch is a USB port. Two hidden wooden drawers are located where the car's tail lights would be. The drawers just happen to be the perfect size for storing the keys to your actual Porsche.
This one-of-a-kind desk would make a perfect addition to an auto-inspired home office and, for the lucky buyer, is a (slightly) more affordable way to own a Porsche 911, even if it's just a piece of one.
If you're like us, wishing you had an amazing car-inspired writing desk like this one, you're in luck. The team at 3 GBJ 17 specializes in creating unique furniture that integrate car body parts. Whether you have a classic car of your own that you want turned into a piece of furniture, or you just have a dream of owning a custom car desk, the designers will work with you to turn your dream into a reality.
Editors' Recommendations