Nothing against Nissan, but I never thought I'd say, "I want to spend $1 million on a Nissan." That was, until now.
It's a new world, my friends.
In its first-ever collaboration with Italy's Italdesign, Japanese manufacturer Nissan revealed the souped-up new model of the GT-R50 that will commemorate both companies' 50th anniversaries. It makes that 2018 Nissan GT-R NISMO look like child's play.
Less than 50 will be made and each will be run roughly $1.06 million. Keep in mind the top-end 2018 GT-R is about $100,000. And, FYI, you can own an entire town for $1 million.
Drawing on Nissan's GT3 racing experience, the NISMO hand-assembled 3.8-liter V6 VR38DETT engine was enhanced for the GT-R50 to produce an estimated 710 horsepower and 575 lb-foot of torque. Even the wheels are ridiculously good looking (and driving), leaning on a reinforced, dual-clutch rear transaxle, as well as stronger differentials and drive shafts that direct power to the wheels. A revised suspension features the BILSTEIN DampTronic I continuously adjustable damping system. For braking, the Brembo six-piston front and four-piston rear brakes feature bright red, clearly visible calipers.
And if you weren't already excited: add Michelin Pilot Super Sport tires.
The GT-R50 is coated in black with a distinct gold inner element that stretches across the width of the hood and rear. Nissan and Italdesign also pumped up the power bulge in the hood because it looks sexy and why the hell not. The roofline has also been lowered 54 millimeters, lending to an overall muscular look thanks to the slightly raised outer portions.
Nissan did, however, keep its GT-R "samurai blade," aka cooling outlets that sit behind the front wheels. From the back, all you can focus on is the supercar's wide track and muscular flares, and once it's revved, the twin taillights look as if they're floating via black magic.
Buckle up inside for a Batman-esque driving atmosphere that is both modern and high-powered. One isn't enough, so two different carbon fiber finishes were used extensively across the center console and door linings. And the seats? Black Alcantara and black Italian leather. Gold makes its way into understated accents like the futuristic race car-inspired switchgear.
Seeing Nissan's best possible engineering together with the Italian coachbuilding of Italdesign, we have no shame in saying the GT-R50 prototype is first and foremost a damn sexy car. And yes, we recommend being as superficial as possible when looking at it.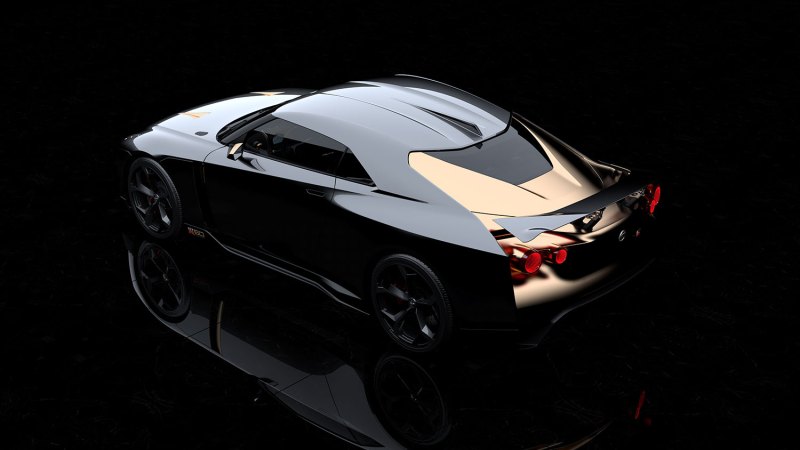 After all, this limited-run supercar is all for fun. Yes, Nissan loves to surprise us with special edition GT-R models, but we're confident in saying this golden jubilee knocks the Skyline GT-R Nismo 400R, R35 45th Anniversary, R32 Skyline GT-R Nismo, and 40th Anniversary releases off the speedway.
"Although this is not the next-generation GT-R, it is an exciting celebration of two anniversaries in a provocative and creative way," says Alfonso Albaisa, Nissan's senior vice president for global design. "How often do you get to ask, 'What if we created a GT-R without limits?' and then actually get to build it?"
Damn Nissan, you looking good.
So before you run around bragging about being a Porsche or Rolls-Royce guy, remember this GT-R50 and shut your damn mouth.