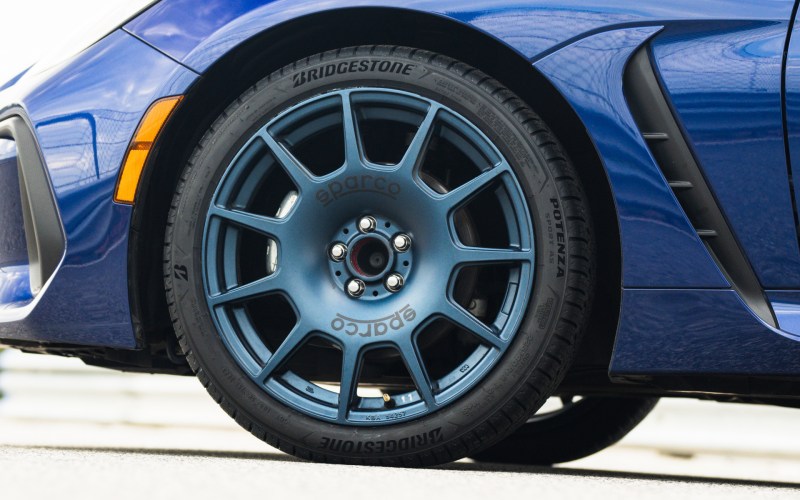 Despite their name, all-season tires are never the best option year-round — though a recent development from Bridgestone Tires might change things somewhat. The company's " ENLITEN technology," which is making its high-performance debut with the new Potenza Sport AS ultra-high performance all-season tire, offers big improvements in winter driving and wet performance, says Bridgestone. (ENLITEN debuted earlier this year on Bridgestone's Turanza EV tire.)
Bridgestone's Dale Harrigle explained: "The incorporation of ENLITEN technology, including custom engineering to enhance wet, winter, and wear capabilities, allows the Bridgestone Potenza Sport AS tire to offset typical tradeoffs drivers might expect from an ultra-high performance tire so they can enjoy a confident vehicle performance no matter the season."
In addition to all-season performance, the new tire tech may also extend the lifespan of your vehicle's rubber — due in part to the inclusion of "PeakLife polymer." The durable new composition has enabled Bridgestone to slap a staggering 50,000-mile limited warranty on its Potenza Sport AS tires. Bridgestone also claims that its polymer doesn't just limit tread wear; it also improves handling overall.
The treads have also been reworked, boasting an asymmetrical pattern, solid rib design, and "full-depth 3D ultra-thin interlocking sipes." This "performance tread" increases grip in wet conditions by funneling water out through a "streamlined network of slots and grooves. So the tire keeps contact with the road, performance improves, and the odds of a vehicle hydroplaning are greatly reduced.
Bridgestone isn't the first tire company to introduce new all-season tires this year — Pirelli has also enhanced its all-season tire offerings. This means that both major tire brands in the U.S. now have new all-season tires, which probably shouldn't be surprising. U.S. consumers have indicated that they want a one-tire-to-rule-them-all fit for their vehicles, and tire companies are responding.
48 sizes available, with more to come
If you want to slap a set of these new Bridgestone tires on your vehicle, there's a good chance you'll be able to. The company is initially launching its Potenza Sport AS ultra-high performance all-season tire in 48 sizes, with 28 more coming in 2024. When all is said and done, a total of 76 sizes will be available for rims between 16 and 22 inches in diameter.
While you're free to slap a set of cutting-edge boots on an old banger, Bridgestone has designed its new all-season rubber with performance vehicles in mind. Several vehicles were listed by name when the company announced the Potenza Sport AS tires, including the Alfa Romeo Giulia, Audi SQ5, BMW X3, Infiniti QX50, Maserati Ghibli, Mercedes-Benz E-Class, Mustang GT, and Subaru BRZ.
Still, if you want to jazz up something a little less impressive than a Maserati, then the redesigned high-contrast sidewall Bridgestone has added to its new set of premium tires will probably look good on anything.
While the new tires did show improved performance in dry conditions, wet conditions, and snow — it is important to note that this performance will vary depending on the exact size of tire used. Price will also vary, so expect to pay a premium on these already premium wheel coverings if your rims are on the larger side.
Editors' Recommendations